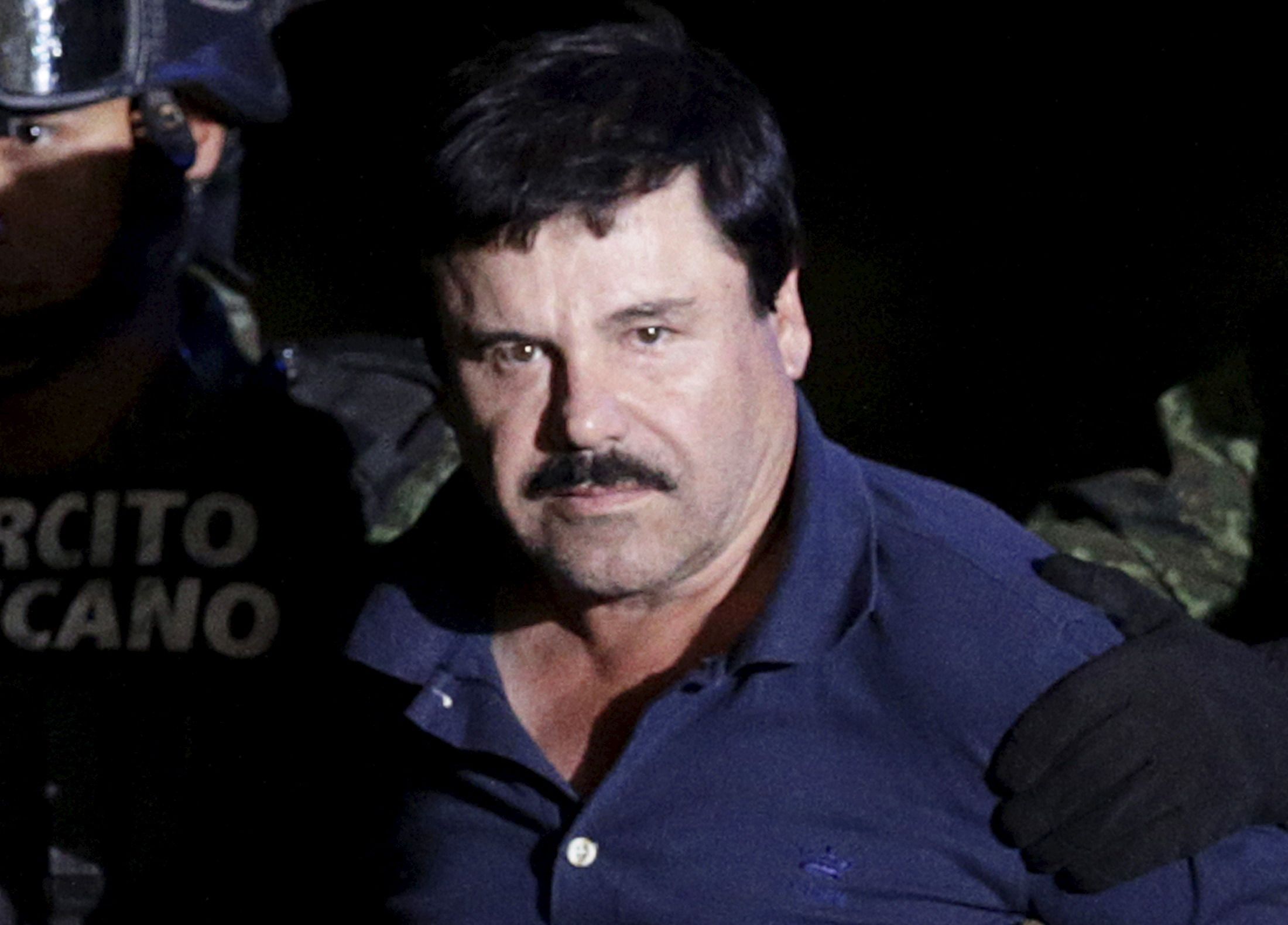 As Mexican authorities begin the process of extraditing Joaquin "El Chapo" Guzman to the United States, prosecutors in key jurisdictions that have secured indictments against the infamous drug lord—namely power centers like New York, San Diego and Chicago—are already lining up to put him on trial first.
"There's a lot of ego involved as to who gets him first," San Diego defense lawyer Jan Ronis tells Newsweek. "Everybody wants a cut of the action."
Marcos Daniel Jiménez, a former U.S. attorney in Miami who oversaw drug cases involving extradited defendants, agrees: "It gets attention for your office. It is good publicity more than anything."
Guzman, head of the Sinaloa cartel, one of the world's most formidable drug trafficking organizations, escaped a high-security prison in Mexico through a tunnel under his cell in July 2015. For months, Mexican authorities seemed unable to find the kingpin—until actor Sean Penn conducted a rare interview for Rolling Stone in October, which authorities say helped them locate Guzman. On Friday, Mexican authorities recaptured the 57-year-old drug lord and returned him to the same Mexican prison from where he escaped.
U.S. prosecutors say that under Guzman's leadership, the Sinaloa cartel worked with Colombian drug producers to drastically increase the flow of marijuana, cocaine and heroin into the U.S. Indictments against Guzman are pending in Chicago, San Diego, New York City, New Hampshire, Miami and Texas, among other U.S. jurisdictions.
Before Guzman's daring escape last year, Mexican President Enrique Pena Nieto had refused to extradite the cartel leader to the U.S. But now, Mexican authorities say they have formally notified Guzman that they are processing U.S. arrest warrants. Once in the U.S., it's up to the Justice Department to determine which jurisdiction is best suited to convict him.
An unnamed Justice Department official told the Associated Press Monday that the department has not reached a decision regarding where it would initially send Guzman. Jiménez tells Newsweek that jurisdictions will make arguments as to why they should have first dibs, but that the most important factor is ultimately "which office has the best overall case against him."
Chicago
Many in law enforcement believe Chicago has the strongest case against Guzman.
Authorities in the Windy City built their investigation with the help of the top U.S. drug distributors in Guzman's cartel—the Flores twins, from Chicago's West Side. In 2008, Pedro and Margarito Flores secretly recorded phone calls with many of the cartel's leaders, including Guzman. Many of the taped discussions related to the shipment of heroin, according to court documents. No other U.S. case includes recordings of Guzman, the Chicago Tribune reports. The Chicago investigation culminated in a sweeping indictment against Guzman in 2009, as well as other key Sinaloa players, including Jesus Vicente Zambada-Niebla, the son of one of Guzman's top lieutenants, and Alfredo Vasquez Hernandez, a logistics officer for the cartel.
The Chicago case is also most likely to persuade Mexican authorities to extradite, Carl Pike, a former high-level Drug Enforcement Administration official, tells the Los Angeles Times. Because the city is a major hub for the cartel, it has more living witnesses able to testify, Pike said, which could help the case. Zambada-Niebla, for instance, is in custody in Chicago and is cooperating with authorities.
The U.S. attorney's office in Chicago has yet to comment on whether it has made efforts to have Guzman sent there.
San Diego
Prosecutors in San Diego brought the first federal charges against Guzman in 1995 in an effort to dismantle a massive cocaine ring that spanned from Southern California to the East Coast. So Jiménez says San Diego will likely ask for preference. But he and others don't think it is a winning argument. "I doubt he would come here, because the San Diego case is so old," Ronis told the San Diego Union-Tribune, referring to the decades-old indictment. "Other cases are fresher, and they probably have more current witnesses and active cooperators on those."
Yet San Diego prosecutors can also point to their experience receiving extraditions from Mexico and prosecuting cartel leaders—as was the case with Benjamin Arellano Felix, the former leader of the notorious Tijuana Cartel. In 2012, the federal court sentenced him to 25 years in prison.
New York
Brooklyn federal prosecutors filed charges against Guzman in 2009, though the office recently combined them with another case in Florida, the Los Angeles Times reports.
The district has ample experience with narcotics cases. It also counts many high-ranking Justice Department officials among its alumni, like Attorney General Loretta Lynch and Assistant Attorney General Leslie Caldwell. Lawyers who spoke with Newsweek say the connections could give the locale a leg-up.
While it is possible that Guzman will be tried in multiple jurisdictions, Jiménez predicts they'll try to consolidate cases and drop other charges.
Regardless of where Guzman's trial ends up after his extradition to the U.S., Guzman, Los Angeles Times reports will likely be housed in the federal Supermax prison in Florence, Colorado—dubbed the "Alcatraz of the Rockies"—as he awaits trial