Where U.S. Withdrawal From Afghanistan Went Wrong: Ex-Commander McKenzie
Retired General Frank McKenzie blamed decisions by both former president Donald Trump and President Joe Biden for the United States' withdrawal from Afghanistan.
Tuesday marks one year since the longest U.S. war came to a stunning end with the U.S. and other nations hastily evacuating the country following the collapse of the Afghan government and a rapid takeover by the Taliban.
McKenzie, who oversaw the U.S. withdrawal as commander of U.S. Central Command, said a series of decisions "took us to that point" in August last year.
What happened "was not preordained," he said during a wide-ranging interview on Fox News Sunday. "It was not set in the stars."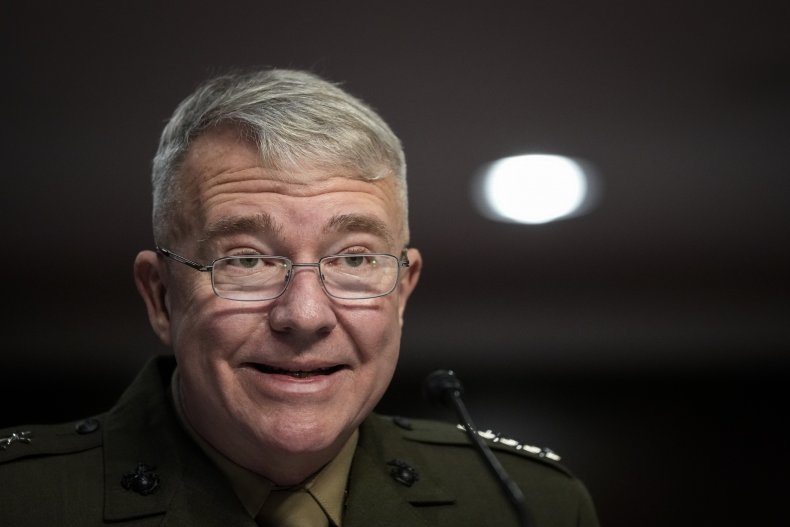 Complete Withdrawal
McKenzie said that the decision to withdraw completely from Afghanistan was a major factor in what went wrong.
"There were alternatives to that," he said, including the possibility of leaving about 2,500 U.S. troops and a "significant" NATO presence to support the Afghan government.
"That would have given us the capability to remain in the country, to continue to pursue our counterterrorism objectives, and we believe avoid the collapse of the Afghan government. We did not choose to do that," he said. "Subsequently, after we made the decision to go to zero, the decision to try to maintain an embassy platform until far too late contributed also to what happened in August."
McKenzie added that he had advised against withdrawing because "we had the opportunity to remain in the country with a small force." He said it had been a "consistent position" of Central Command and its subordinates in Afghanistan that if all troops were pulled out, Kabul would collapse.
"We thought it might be a question of weeks, months, but as we got into the summer and the government of Afghanistan proved unable to marshal its will and its forces to defend their country, you saw an acceleration of the timeline...this was not a particular surprise to us," he said.
Both Trump and Biden Wanted Out
Both Trump and Biden wanted troops out of Afghanistan, McKenzie said, when asked to what extent Trump's decision to negotiate with the Taliban was to blame for how the war ended.
"I believe we had two presidents of the United States that wanted to exit Afghanistan and they might not have had anything else in common, but they shared that common view," he said. "So you had a continuity of objectives across two administrations that really allowed the events to occur in the manner that they did."
Biden on al-Qaeda
Biden had defended the withdrawal of troops from Afghanistan in August last year by wrongly stating that al-Qaeda was "gone."
McKenzie said the U.S. military's position is that the terrorist organization "is there because the Taliban host them. That's why we went to Afghanistan in the first place."
Al-Qaeda "has been rocked back on their heels in recent years, McKenzie said, but he added that both al-Qaeda and ISIS remain present in Afghanistan.
"Both of those entities have a long-term aspirational goal to attack us in our homeland. And given the breathing room to reestablish themselves and reassert their strength, we believe they will do that."
Trump's Doha Agreement
McKenzie said the peace deal signed by Trump's administration with the Taliban in Doha, Qatar, in February 2020 had "the potential to be a useful approach," but it was "evident pretty early on" that the Taliban was not holding up its end of the pact.
"But we never effectively held them to task," he said. "The other unintended effect of the Doha agreement was to keep the Afghan government out of the negotiating process and I believe that had a profound deflationary effect on morale both in the government of Afghanistan and their forces in the field."
Newsweek reached out to McKenzie and the White House for comment.