'The Walking Dead' Season 9 Poster Teases New Location, Time Jump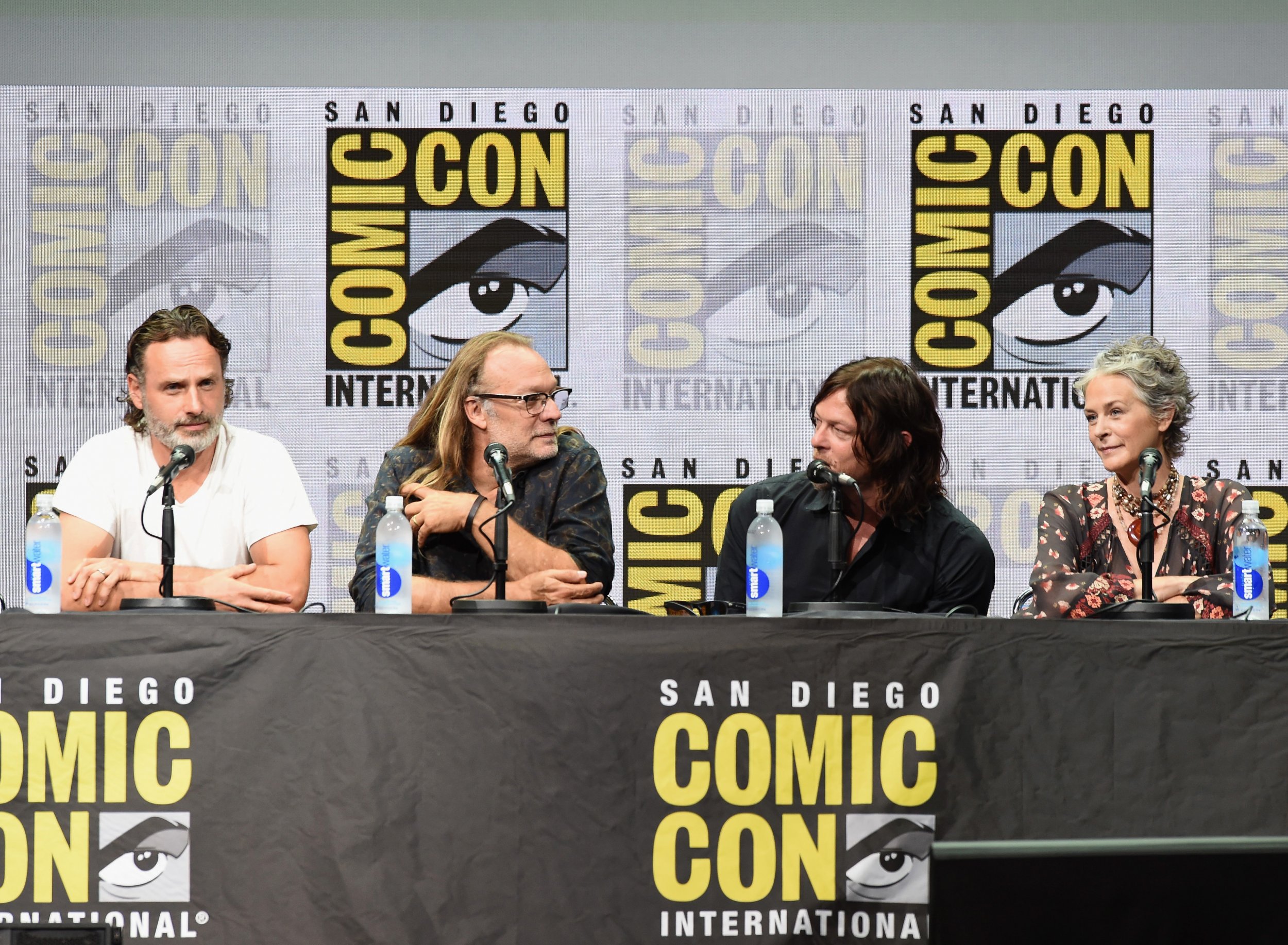 Get ready to see the Walking Dead survivors somewhere new in Season 9, based on the poster AMC released for this month's San Diego Comic-Con and posted by Entertainment Weekly on Friday.
Andrew Lincoln's Rick is at the center of the poster, with Melissa McBride's Carol, Danai Gurira's Michonne, Lauren Cohan's Maggie and Norman Reedus' Daryl on either side of him. Behind them are a helicopter and a U.S. Capitol building—both of which have seen better days—suggesting that they will be in Washington D.C. for at least part of the season.
Rick has gotten a haircut and the grey in his hair and beard shouldn't be too surprising, given that there is going to be a time jump in the season that will feature a couple exits and at least one return.
"We're playing with time in the season, so we get to jump forward in the story," new showrunner Angela Kang revealed at a "Kick-Ass Women of AMC" panel last month, according to The Hollywood Reporter on June 20. The publication then noted that the comics did the same thing after Rick and Negan's war was over. In the comics, action skipped ahead two years. Kang didn't reveal if that will be how long they jump forward in time on the show.
Since Maggie does not look pregnant in the poster (but was when Season 8 ended), that should be taken into consideration for anyone trying to guess on a time frame.
The Walking Dead Season 9 will see both Lincoln and Cohen leave. Lincoln will be in six episodes, Collider reported in May. Cohan will also be back for six episodes (of the first half of the season), according to Deadline in April. She had revealed to Entertainment Weekly that month that she'd be returning, even with her new pilot, Whiskey Cavalier on ABC, and teased, "There's a lot more Maggie story to tell."
Next season will also see the return of one familiar face, Jon Bernthal, who played Shane for the first two seasons, TVLine reported in June. Fans will see Shane against for one episode, but it is unclear how considering he died in Season 2.
Entertainment Weekly also shared the poster for Fear the Walking Dead Season 4B, which includes the series' return date of August 12, on Friday. It features members of the cast, including former The Walking Dead cast member Lennie James (Morgan), walkers and the tagline, "No calm after the storm."