Bernie Sanders Fox News Town Hall Event: How to Watch Live Stream, Time for 2020 Event
Vermont Independent Bernie Sanders is set to appear in a town hall event Monday evening hosted by Fox News Channel anchors Bret Baier and Martha MacCallum.
The Fox News town hall will be broadcast from Bethlehem, Pennsylvania, and is slotted to run from 6:30 p.m. to 7:30 p.m. Monday. The cable news network will offer a live stream of the event through a wide array of TV providers in real-time. Sanders' appearance at the event has been deemed controversial by many establishment Democratic Party members, particularly after the DNC excluded Fox News from officially hosting any 2020 presidential election cycle events.
Sanders last appeared on Fox News when he was interviewed by Baier in December 2018. The self-described Democratic Socialist also participated in the cable news network's lone Democratic town hall during the 2016 presidential news cycle.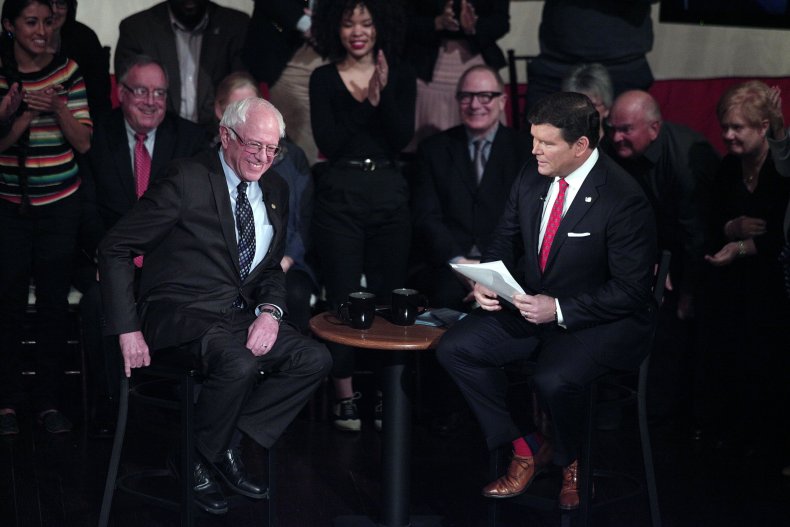 Several Fox News programs and hosts have touted Monday's town hall because Sanders is expected to release his tax returns — something he did not do during the 2016 presidential primaries. The longest-serving Independent senator is expected to focus on the economy, job growth and his Medicare-for-all plans.
Additionally, Sanders is expected to discuss universal health care, tuition-free colleges and his argument for why voters for President Donald Trump — also considered an "outsider" candidate in 2016" — should come back to his campaign in 2020.
Sanders has emerged as an early frontrunner in the 2020 race, having raised more than $18 million in the first six weeks of his campaign. He has appeared at the top of Democratic candidate polls — only trailing behind former Vice President Joe Biden, who has not declared his candidacy.