Where to Watch Fireworks on the Fourth of July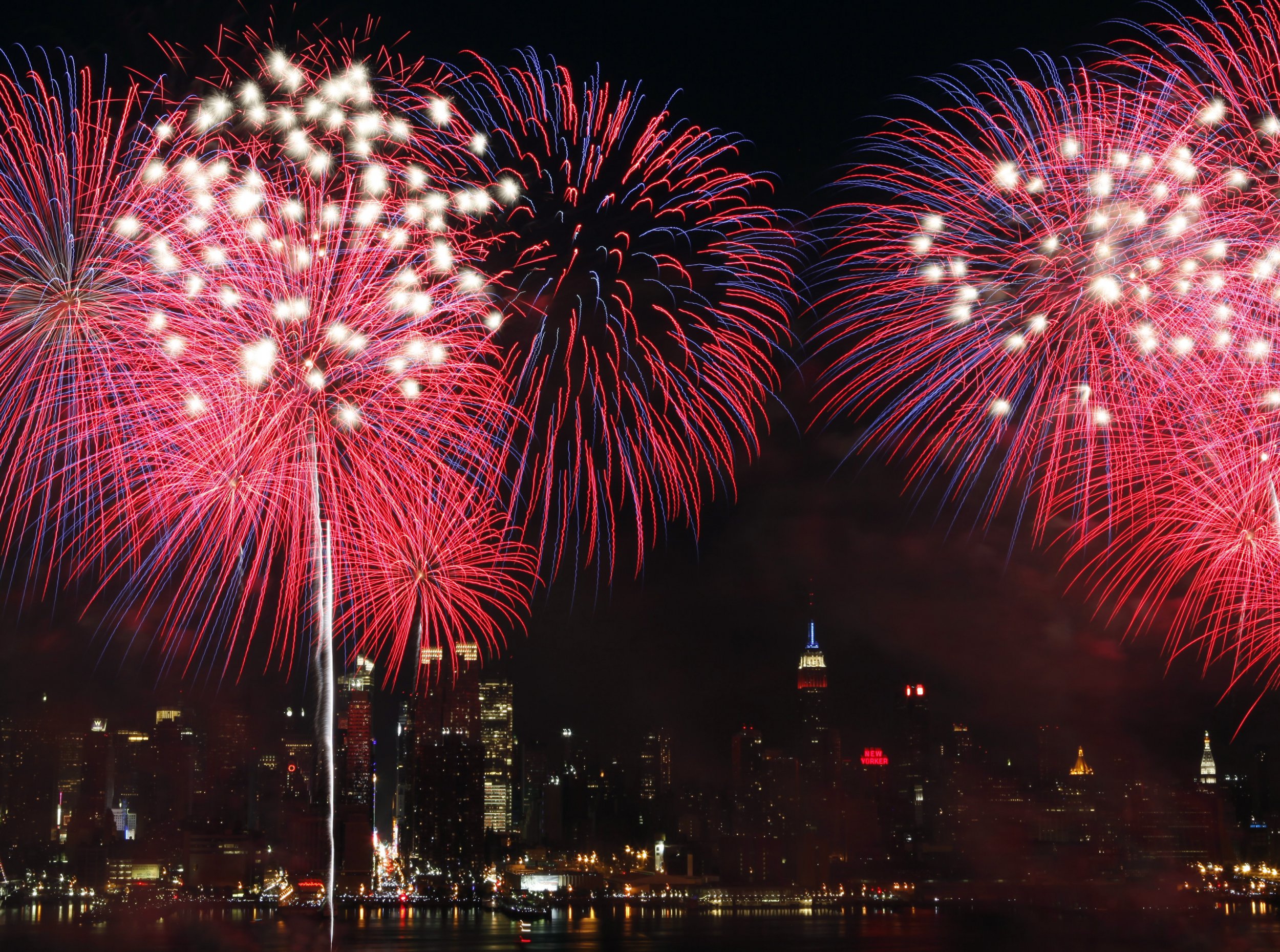 Americans have been setting off fireworks to mark the Fourth of July since the first anniversary of the Declaration of Independence. In other words, our skies have been booming and crackling to celebrate independence even before the Revolutionary War concluded with a victory against the British.
In Philadelphia on July 4, 1777, "the evening was closed with the ring of bells, and at night there was a grand exhibition of fireworks (which began and concluded with thirteen rockets) on the Commons, and the city was beautifully illuminated," according to the Pennsylvania Evening Post. Boston, too, had a display of fireworks that year and several other cities followed suit on subsequent Fourths of July, writes James R. Heintze, librarian emeritus at American University.
More than two centuries later, the grand exhibitions have become grander, the illuminated skies more spectacular and the number of cities hosting fireworks more numerous. Wondering where to watch fireworks this Fourth of July? Here's a list—it's by no means exhaustive—of displays around the country:
New York City: The 39th Annual Macy's Fourth of July Fireworks show lights up the skies above the East River, with barges along midtown and below the Brooklyn Bridge serving as the launch sites for the pyrotechnics. NBC has a national broadcast starting at 8pm. This year's performers include Kelly Clarkson, Ed Sheeran and Flo Rida. Curbed NY and Gothamist recommend good viewing spots.
Boston: The Boston Pops Fireworks Spectacular is a concert and a fireworks show all in one on the Charles River Esplanade. Now in its 42nd year, the event will be livestreamed starting at 8pm.
Philadelphia: This year's Philly 4th of July Jam features a performance by The Roots and a fireworks display over the Philadelphia Museum of Art.
Washington, D.C.: The National Mall Fourth of July Celebration brings Independence Day fireworks to the capital. Nearby Manassas, Virginia, hosts Celebrate America.
Atlantic City: A 15-minute fireworks show in Atlantic City's Marina District includes a reading of the Declaration of Independence and celebratory music.
St. Louis: At Fair St. Louis in Forest Park, fireworks happen early and often, with the last of three nightly displays taking place on Saturday.
San Diego: Big Bay Boom sends 40,000 fireworks explosions over the San Diego Bay on Saturday night. Fox5 San Diego and KTLA in Los Angeles will broadcast the show beginning at 8pm, and the show's music can be heard on The Mighty 1090 AM and Max 105.7 FM.
Minneapolis: The annual Red, White and Boom events attract roughly 60,000 people each year, with live music and fireworks on the Downtown Minneapolis Riverfront.
Nashville: It's no surprise that this city's celebrations are music-centric. Music City July 4th: Let Freedom Sing! will be livestreamed starting at 7:30pm.
San Francisco: Here, fireworks follow a laser light show, both above Pier 39.
Lake Tahoe: The 34th Lights on the Lake features 25 minutes of fireworks over Lake Tahoe's South Shore.
Houston: Freedom Over Texas at Eleanor Tinsley Park is the largest land-based fireworks show in the country, according to the Travel Channel.
New Orleans: Go 4th on the River on the Historic Downtown New Orleans Riverfront features a "Dueling Barges Fireworks Show" over the Mississippi River. Magic 101.9, WWL 870 AM and 105.3 FM, and WWL.com will simulcast.
Pasadena: The 89th annual Americafest at the Rose Bowl stadium includes performances, fireworks and a screening of Despicable Me 2.
While fireworks can inspire awe and excitement, they can induce fear in pets, and setting them off yourself can result in injuries. The most recent annual fireworks report from the U.S. Consumer Product Safety Commission estimated 7,000 fireworks-related injuries between June 20, 2014 and July 20, 2014, or 67 percent of the year's total. Males sustained nearly three quarters of the injuries tallied. The injuries during this month-long period included burns (54 pecent), contusions and lacerations (17 percent) and fractures and sprains (5 percent). Hands and fingers were the most frequently harmed regions of the body, accounting for 36 percent of the 7,000 injuries, followed by head, face and ear injuries (19 percent) and eye injuries (19 percent).
Fireworks shows are "awesome for humans, terrifying for pets," according to the Humane Society, so much so that "animal shelters around the nation report a dramatic increase in lost pets during the holiday." The Humane Society recommends keeping pets indoors with the radio or TV turned on to help counter the sudden bursts of noise, speaking to a veterinarian about medications and techniques that could help calm scared pets and making sure a pet has a collar and identification tag in case they run away.