Where and When Is the Army-Navy Game? Trump Expected to Attend Annual Rivalry
On Saturday, the annual Army-Navy football game will return to Philadelphia and President Donald Trump is expected to watch the 120th matchup in person.
Each year, the West Point Black Knights and Naval Academy Midshipmen take to the gridiron to compete for a year's worth of bragging rights. The competition is one of the longest rivalries in college football history.
Unlike most college football games, which are played on one of the two competing schools' fields, the Army-Navy game has been held at a neutral location since 1944. The location has changed over the years, and New York; Baltimore; East Rutherford, New Jersey; Chicago; Pasadena, California; and Landover, Maryland, have all hosted the game.
The city that has hosted the game the most times though is Philadelphia. Since the Military Academy is located in West Point, New York, and the Naval Academy is in Annapolis, Maryland, the City of Brotherly Love is a logical choice for the game because it's about halfway between the two military institutions.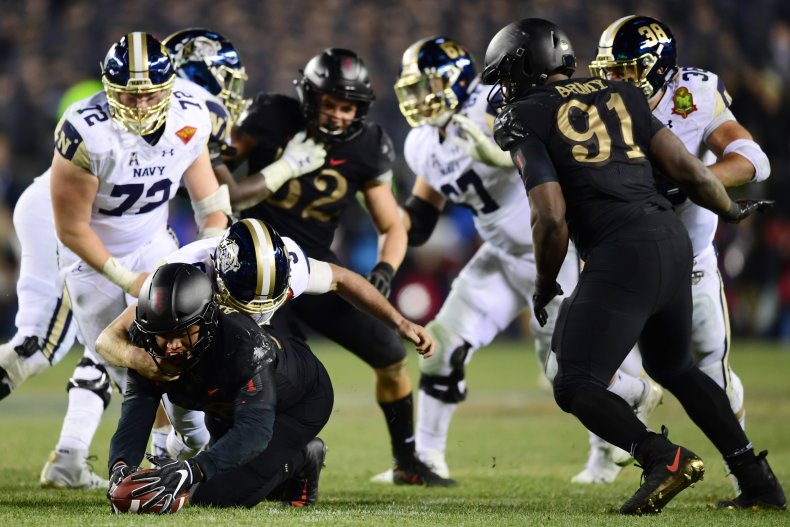 President Donald Trump is expected to be at Lincoln Financial Field, as well. This will be his third time at the game, his second as president. Last year, Trump flipped the coin before the matchup and split his viewing time between the two sides, as is customary. Newsweek reached out to the White House via email to see if the president would participate in the coin toss again this year, but did not receive a response in time for publication.
Kickoff is scheduled for 3 p.m. ET and the team that wins will likely be invited to the White House for a celebration, as has been the case in previous years.
"It was a great experience for everybody," Army coach Jeff Monken told the Army Times in May after the visit. "There's not a bunch of teams that get invited to the White House. It's nice to be one of them."
Navy has more overall victories, but Army has been on a winning streak as of late. They've won the past three games, and if they win on Saturday, Army seniors will be able to graduate with a perfect record against Navy.
An Army victory is far from certain, though, and this could be the year Navy breaks the streak. During the 2019 season, Army's lost more games than Navy, suffering defeat seven times compared to two.