LeBron James Free Agency Rumors: Lakers, Celtics Other Potential Landing Spots after Finals Sweep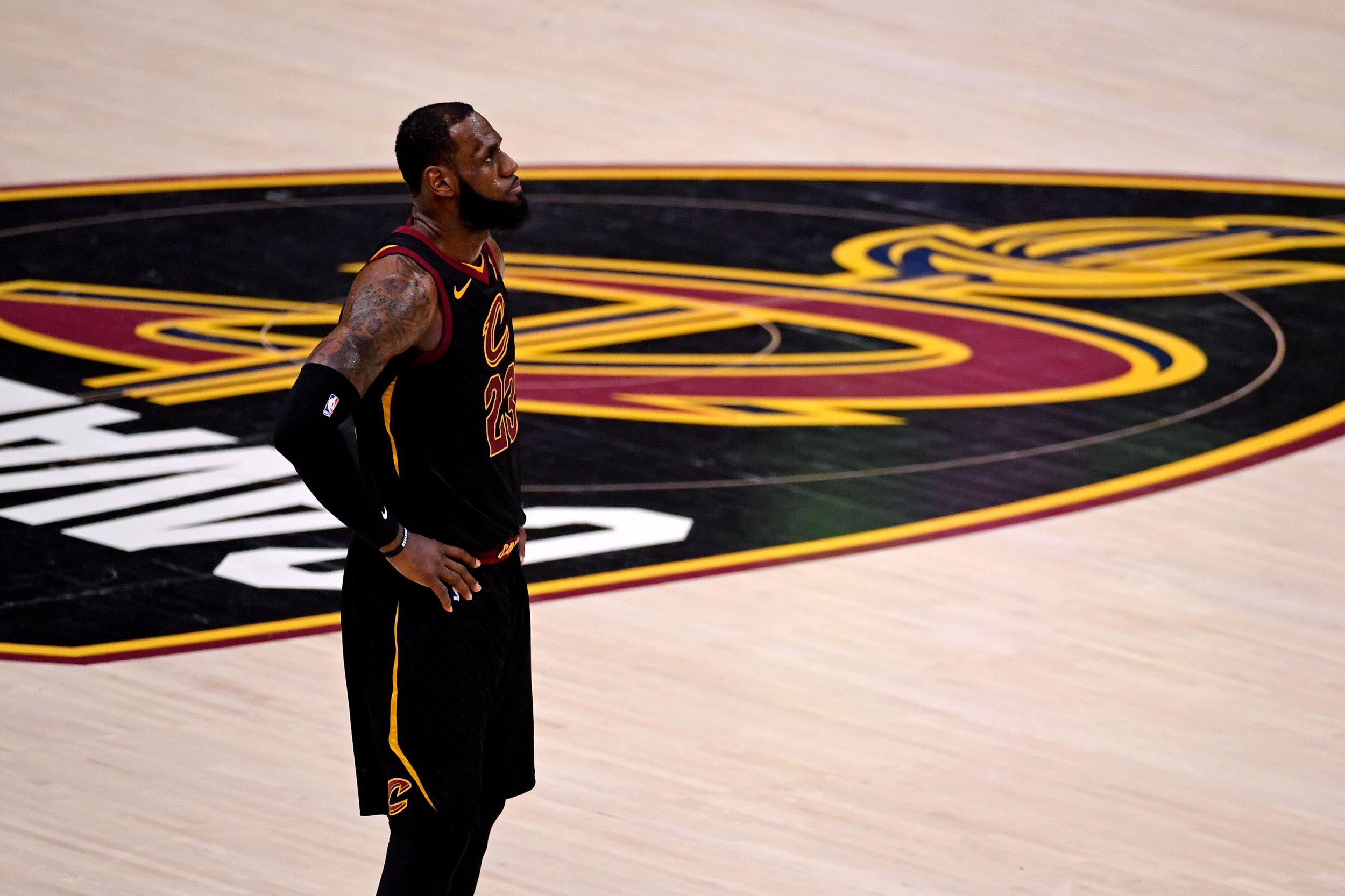 The Golden State Warriors have been crowned NBA champions for the third time in four years after sweeping the Cleveland Cavaliers.
Kevin Durant won his second Finals MVP in a row after his Warriors beat the Cavaliers by 23 points in Cleveland on Friday night. Stephen Curry dominated the game with 37 points and three steals while Durant walked away with a triple double (20 points, 12 rebounds and 10 assists).
Cavaliers superstar LeBron James look dejected but still managed to score 23 points, grab seven rebounds and collect 8 assists. The big question now, however, is will James ever play for Cleveland again?
Rumors have been rife all season that James will opt out of his contract with the Cavs and become an unrestricted agent this summer. Despite a mid-season trade shakeup aimed at revitalizing the team—which did ultimately get them back to the NBA Finals—the Cavaliers looked far short of Golden State.
If James wants to go hunting for a fourth ring, the consensus is he will have to leave Cleveland. But given Akron, Ohio is his hometown, it may be a harder choice than people think to leave.
Here are the most likely destinations (not in order) for LeBron James following the 2017/18 season:
Los Angeles Lakers:
There is something particularly appealing about the bright lights of Hollywood. Looking beyond basketball, James would be able to build his brand while playing for one of the premier franchises in the league.
He already owns homes in Los Angeles and could further his movie career. He played a supporting role in the movie Trainwreck with Amy Schumer.
Then you can look at the basketball reasons. The Lakers have a young team with plenty of cap size. James could join the side and still leave enough money for another superstar to join—Paul George seems likely.
Los Angeles would further James' options post career while also giving him a reasonably strong team to chase another ring with.
Houston Rockets:
The goal here is simple: winning. James Harden and the Rockets came within one win of facing James in the Finals this season. They fell to the Warriors in Houston.
It was an unfortunate result for the Rockets, they lost Chris Paul to injury for the final games of the series. Many fans are probably still wondering "what if".
If James were to join a team with two superstars, that came within one game of defeating Golden State, he may finally have a chance to beatt the Warriors again. The Rockets are arguably James' best chance at another title.
Philadelphia 76ers:
Speaking of strong teams to join, the 76ers are a good option for James. With a young core of Ben Simmons and Joel Embiid, James could slot in as the veteran and missing piece of the puzzle.
Embiid has already been active in trying to recruit James to Philadelphia:
Staying in the east would also be of benefit to James. For years now, the Western Conference has been harder to get through. Battling either the Warriors or Rockets before even reaching the Conference Finals could be too much to handle.
One other thing to mention, James has forged a strong mentor relationship with Simmons. Playing together, with some of the pressure off, may be exactly what James wants.
San Antonio Spurs:
James has always spoken highly of Spurs coach Gregg Popovich. Just this year, he referred to the veteran coach as one of his "all-time favorite people." It also doesn't hurt that San Antonio have been a hugely successful franchise over the past 20 years.
If the Spurs can sort out their issues with Kawhi Leonard, bringing in James would launch San Antonio back into the realm of championship contention.
Cleveland Cavaliers:
Don't count out Cleveland just yet. Immediately following the game four loss, James was asked about his impending decision and whether or not he would leave the Cavaliers. He had this to say:
"The one thing that I've always done is consider my family. Especially where my boys are at this stage, they were a lot younger last time I made this decision four years ago. I've got a teenage boy, a pre-teen and a little girl right now that wasn't around as well. Sitting down and considering everything, my family is a huge part of what I decide to do."
If his family is settled in Ohio, James may decide to stay. It's also worth remembering James can make more money re-signing with the Cavs then moving anywhere else.
Boston Celtics and Golden State Warriors:
These two get mentioned together because they are the definition of a long shot.
Kyrie Irving just moved to Boston to move out of James' shadow and become the leader of a time. It likely won't sit well with him if the Celtics bring James into the side.
According to Stephen A. Smith, James will also consider meeting with the Warriors. This seems just as unlikely a move considering Golden State's cap space would be next to nothing. Durant is also planning to opt out of his contract and sign a better deal with the Warriors this summer.