Where in the World Is the Berlin Wall?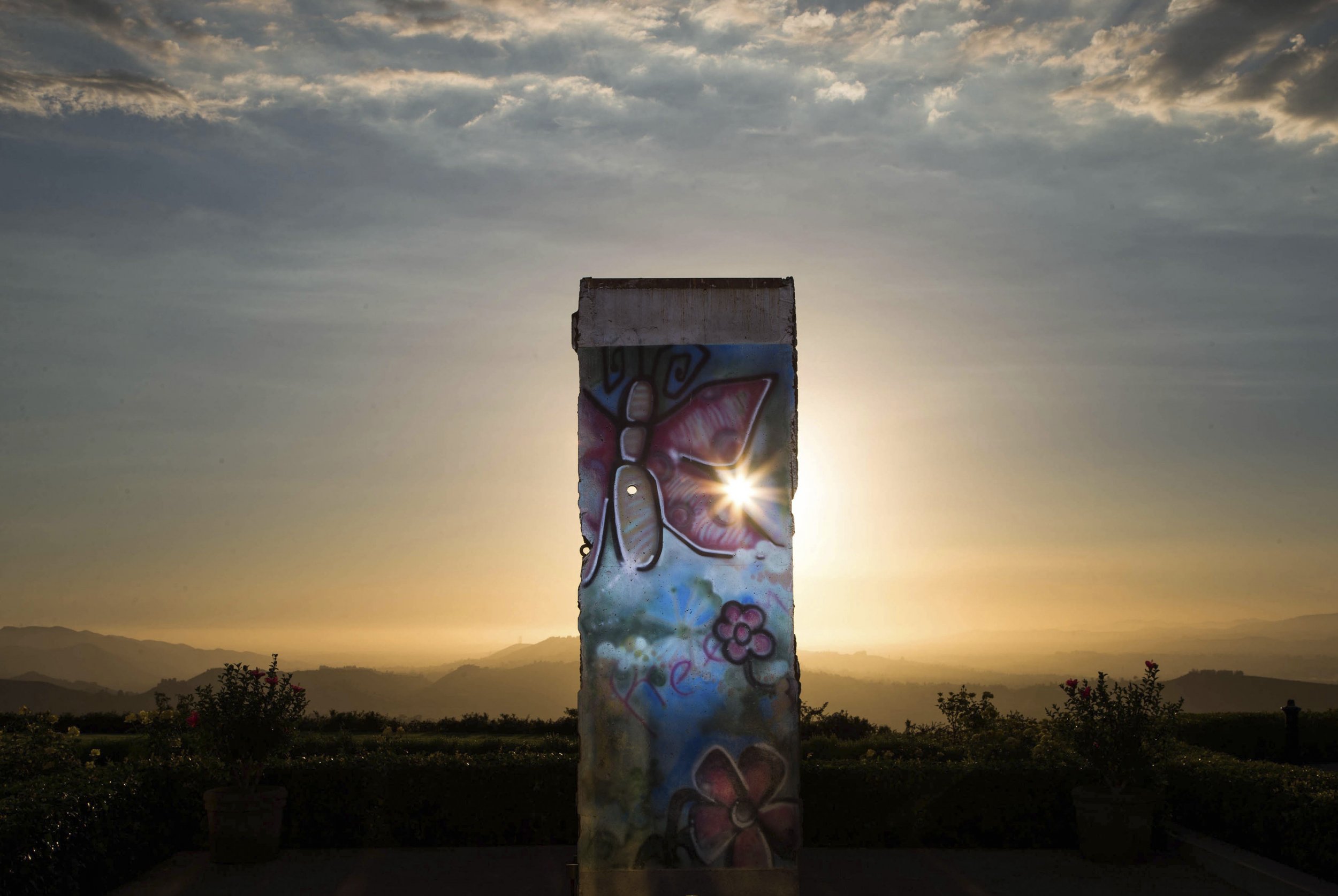 Sunday, November 9, was the 25th anniversary of the "fall" of the Berlin Wall, marking the beginning of the end of a divided Germany. Less than a year later, the Federal Republic of Germany and the German Democratic Republic, better known as West and East Germany, respectively, would sign the Unification Treaty that joined the two together again.
The wall was a more complicated barrier than its name implied, with guards, fences and open areas full of land mines—as much a psychological divide as it was a physical one. At 96 miles long, with an average height of 11.8 feet, according to the Cold War Museum, the wall did not come down in one fell swoop. Nor did it just disappear, or get moved to a single museum, or end up preserved as one monument. Pieces of the wall can be seen today not only in Berlin but all around the world.
"The wall was such an ugly scar in the city of Berlin," Konrad Jarausch, a history professor at the University of North Carolina at Chapel Hill, tells Newsweek. It turned West Berlin into "an island in a Communist sea," he says, and there was a lot of pressure on Germany to get rid of it.
"People started, maybe not on the 9th but on the 10th or the 11th, [people] already started chipping away at it," Jarausch says. Some even put chains around slabs of wall and began to pull them in an effort to dismantle it. In those early days, people simply took pieces of the wall. Jarausch, who visited the city in December 1989, says he has six small pieces he keeps framed.
Stephen Della Lana, an instructor at the College of Charleston's Department of German and Slavic Studies who lived in Germany from 1989 until 1994, says he has chunks of the wall as well. "In 1990 when I went," Della Lana tells Newsweek, "there were holes in the wall. It was like Swiss cheese."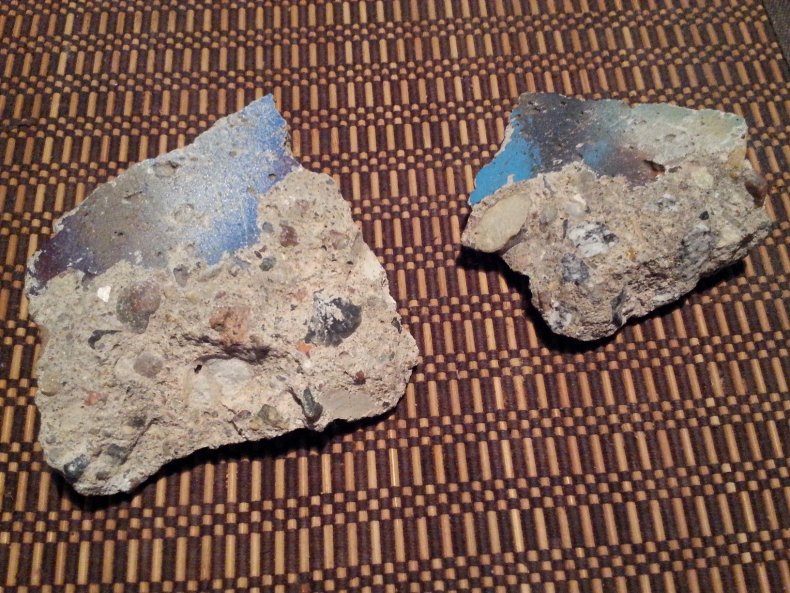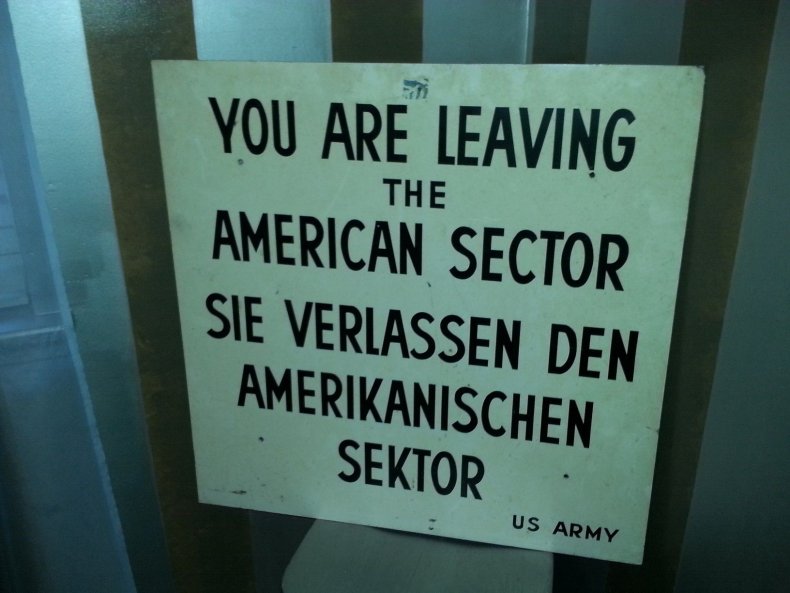 The second wave of dismantling and distributing the wall was "a more concerted political effort to get rid of the wall," Jarausch tells Newsweek, as efforts were made to reconnect the city, including streets and bus and tram lines that had been cut off because of it.
The third wave was when "some smart folks figured out there was potentially a commercial demand" for pieces of the wall, Jarausch says. While officials gave away some segments as symbolic political acts, other chunks started to be assembled in a parking lot outside the city, waiting to be sold.
In contemporary Berlin, large segments can be seen at the Topography of Terror—the site of the Nazis' Secret State Police Office and the Reich Security Main Office, and now a museum—as well as at the Berlin Wall Memorial on Bernauer Strasse (Street) and the East Side Gallery.
Small bits and large slabs of the Berlin Wall can be found not only in its place or origin but also in spots across the U.S. and around the world. One piece is on permanent display at the Ronald Reagan Presidential Library in Simi Valley, California. There are segments at the United Nations headquarters in New York City, at Johns Hopkins University's School of Advanced International Studies and the Newseum in Washington, D.C., as well as the Western Brown Line CTA (Chicago Transit Authority) Station in Chicago.
In Europe, pieces of the wall stand outside the Imperial War Museum in London, the Porte de Versailles exhibition center in Paris and near the European Parliament in Brussels. Segments can also be found in Australia, like at the Harmonie German Club in Canberra, as well as in Asia and Africa, such as in Haifa in Israel, Seoul in South Korea and in Cape Town, South Africa.
Buyers claiming to be selling original fragments of the wall are offering them for sale for as little as $10 to as much as $18,500. But such souvenirs as those found on EBay can be hard to authenticate, writes Charles Passy in MarketWatch. "By one estimate, the wall could have yielded as many as 480 million golf ball-sized pieces," Passy reports.
Beyond museums and libraries, pieces of the wall can be found outside many businesses and language schools, and often a "German presence abroad is adorned with a piece," Della Lana says. They are "used as sort of a message that 'we are also freedom-loving people.'"
Della Lana sees the use of pieces of the wall by German companies as a way to make their presence "palatable" and as a "sort of advertising," he tells Newsweek. "It sort of brings Americans and Germans together as freedom-loving people," says Della Lana, citing the BMW plant in Spartanburg, South Carolina, as an example. In the South Carolina city of roughly 40,000, large segments of the wall sit outside the offices of the Menzel manufacturing company, near locations for BMW and tire maker Michelin off I-85 in Spartanburg.
"It's a part of history, and we don't want to forget," Alois Krussig, technical director at Menzel, told Voice of America in 2009. "I'm glad we saved these segments. We just couldn't grind them up and forget about it."
Parts of the wall can be found in:
Berlin: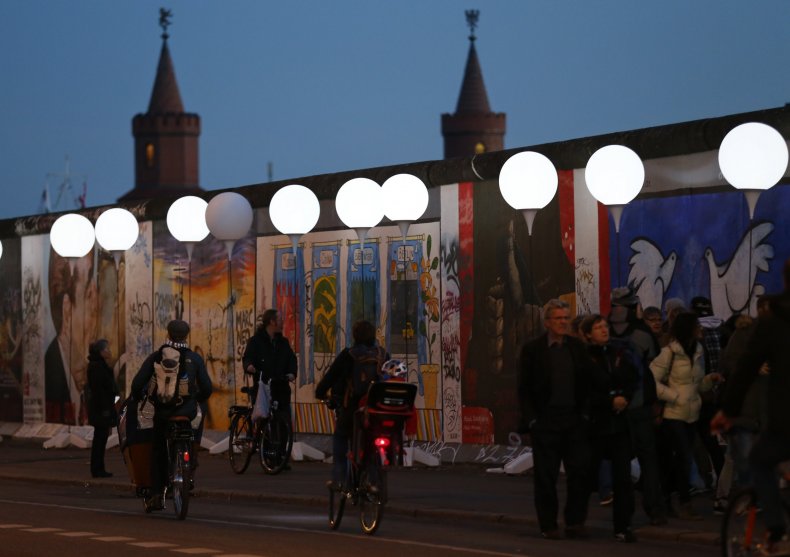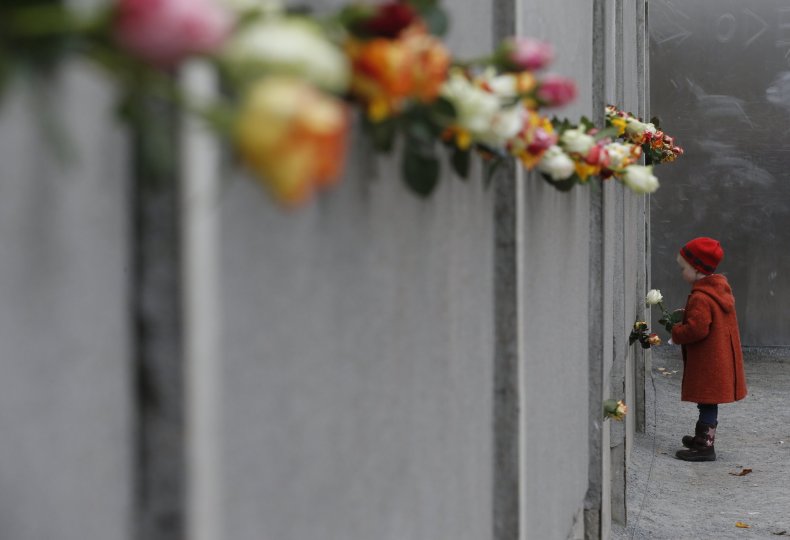 Teltow (south of Berlin), Germany: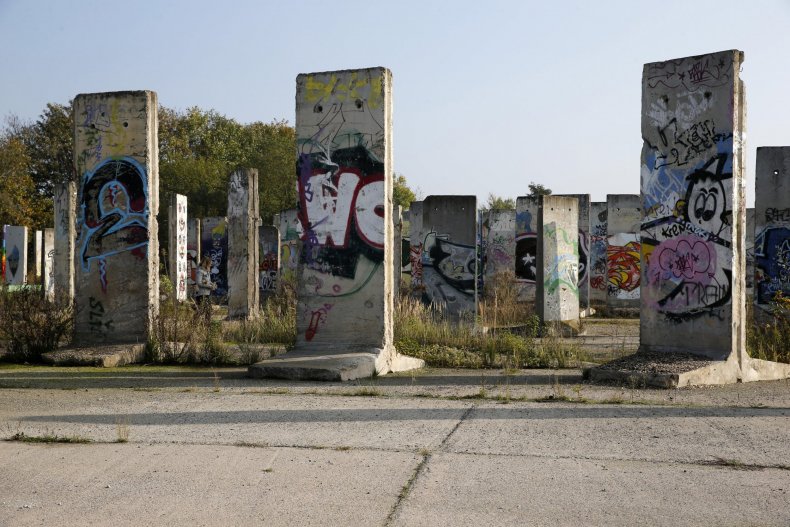 Los Angeles: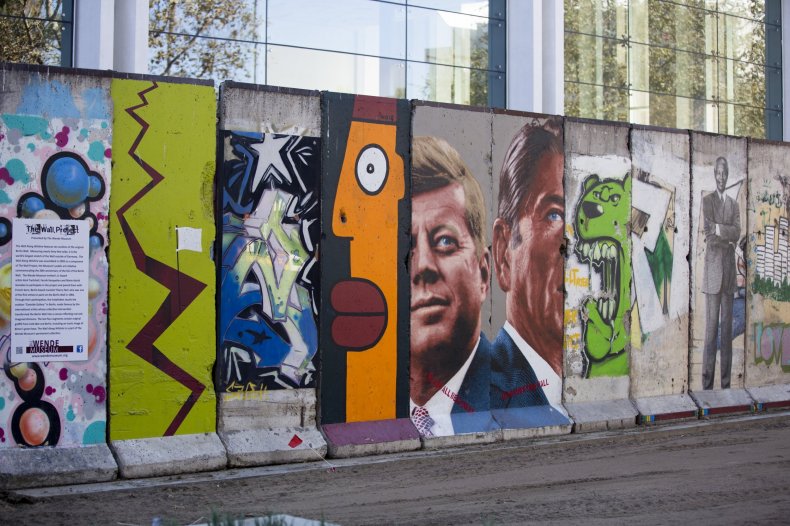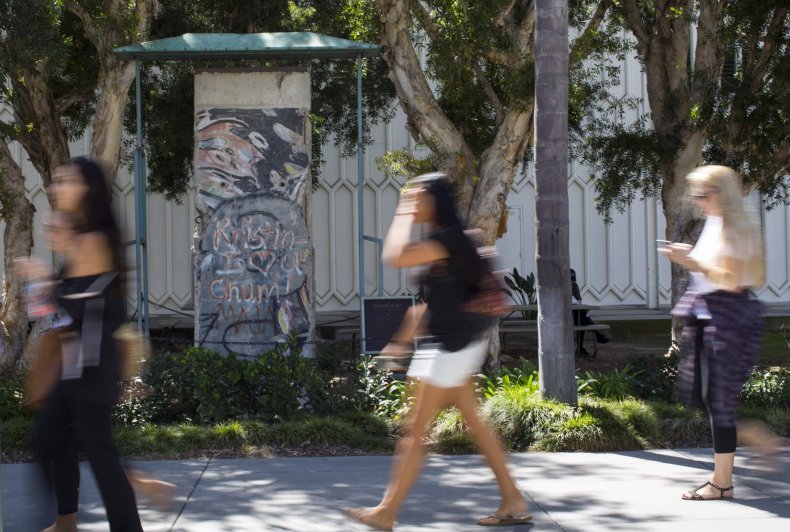 Washington, D.C.: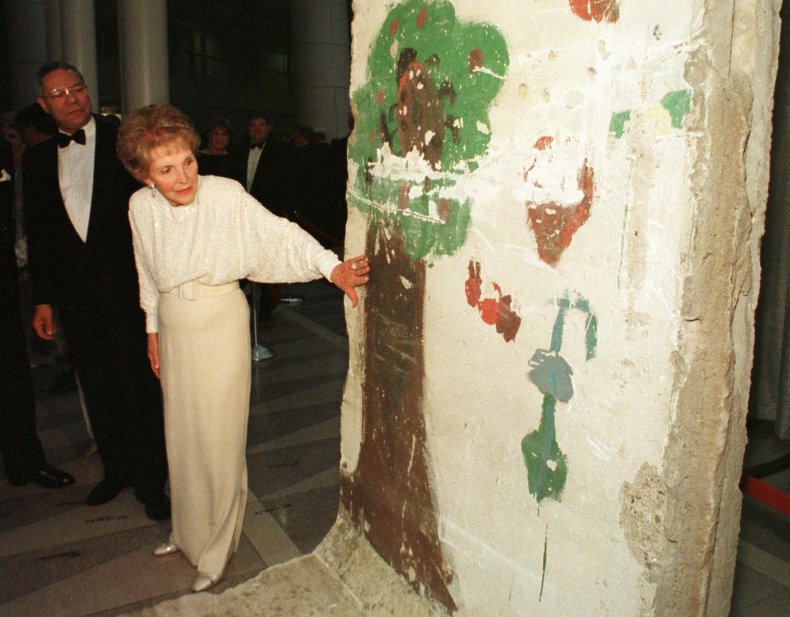 Kingston, Jamaica: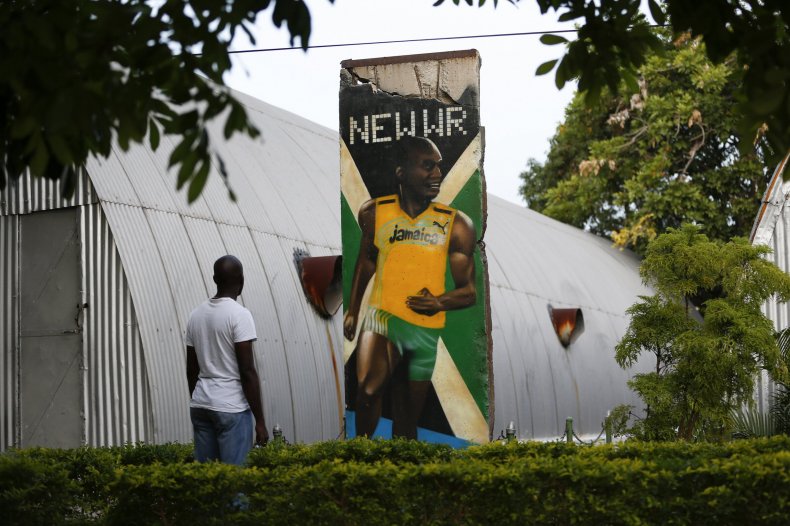 Depok, Indonesia: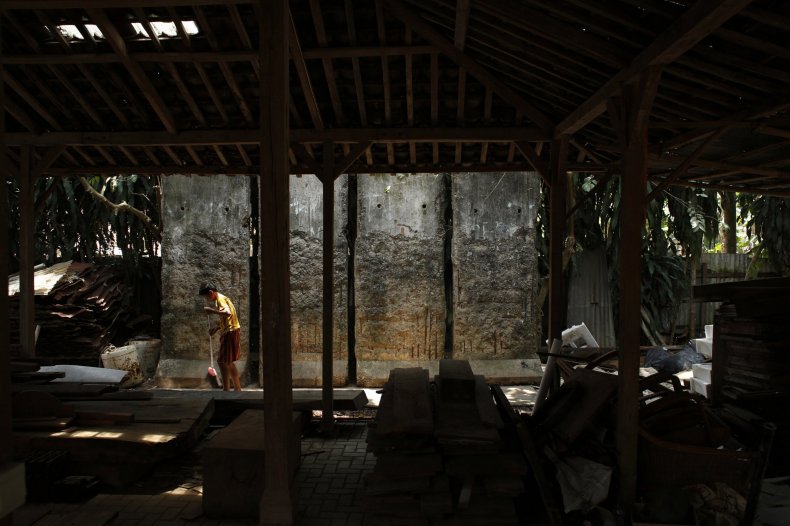 Madrid: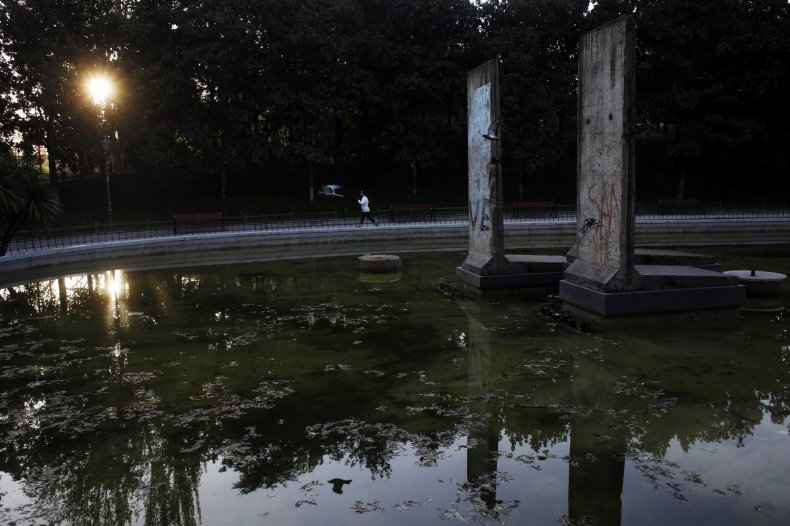 London: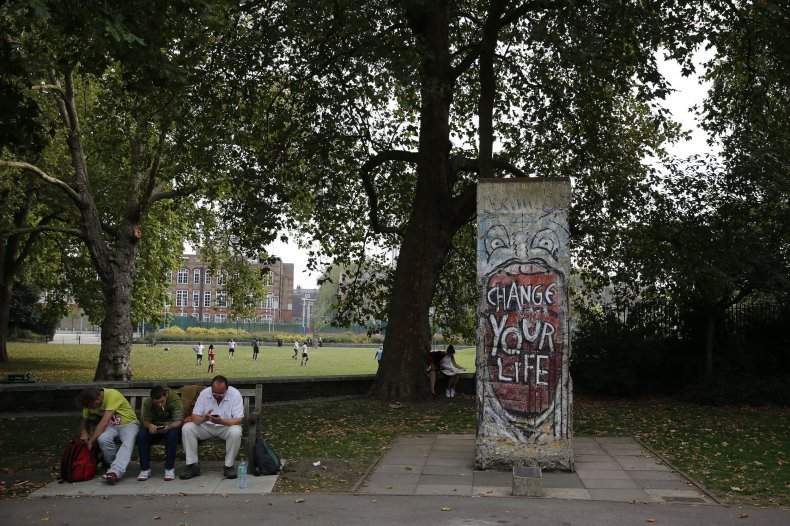 Seoul, South Korea: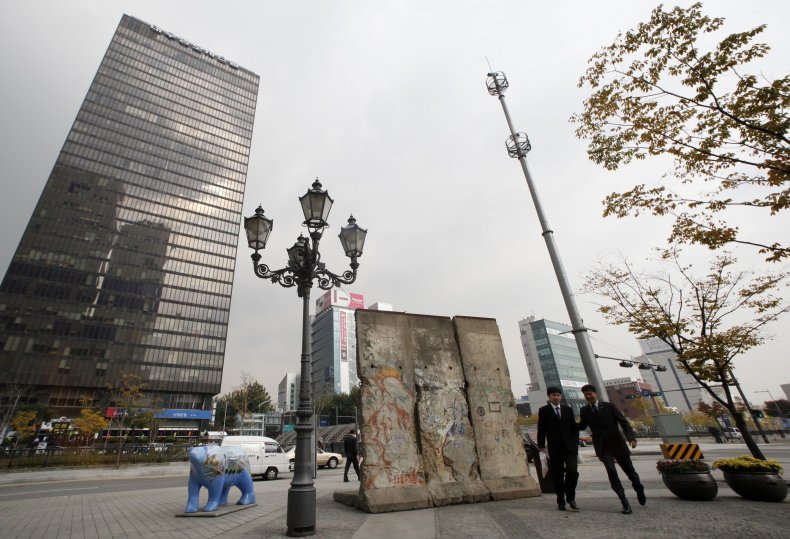 Haifa, Israel: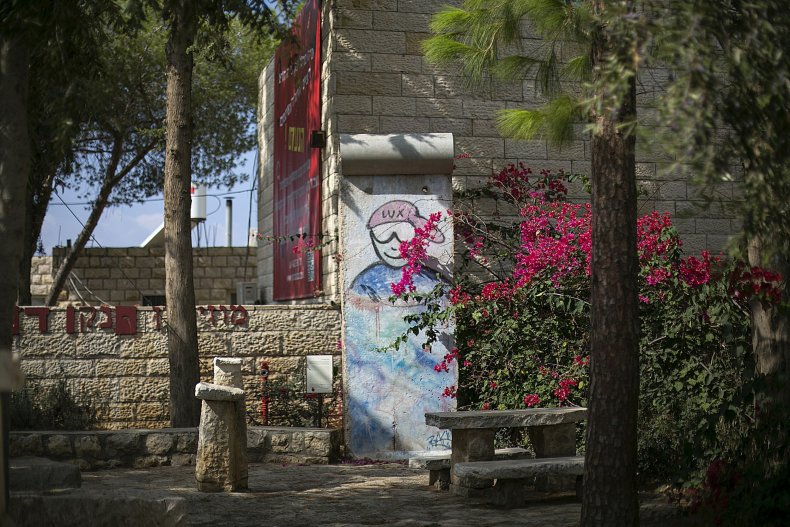 Cape Town, South Africa: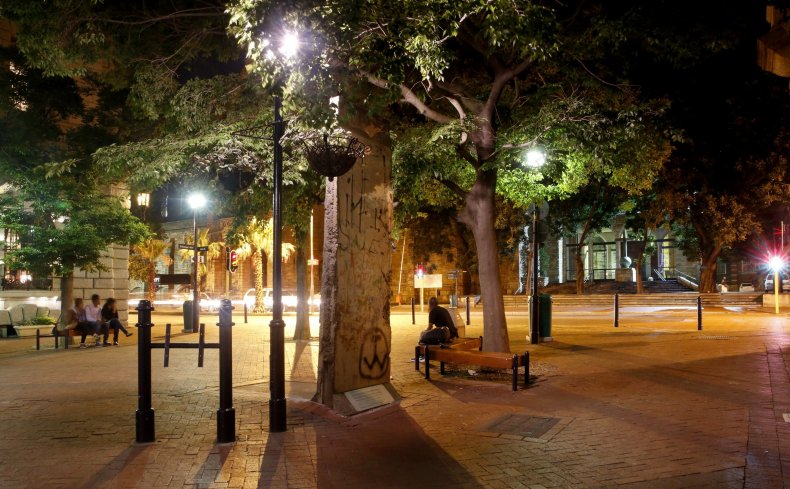 Buenos Aires, Argentina: