Where in the World is Jussie Smollett? Actor in Exile as Chicago Case Files Go Public
Jussie Smollett's 264-page case file was released by authorities in Chicago on Friday, and as its pages become publicly available, he is nowhere to be found.
The former Empire actor has maintained his innocence of allegedly faking a racially motivated attack on himself, and Cook County State's Attorney Kim Foxx decided in March to drop her office's prosecution of these charges. So where in the world is Smollett, and what does his acting future hold?
Smollett is supported by some who believe in his innocence, but others still think the actor cooked up the alleged incident. Important parties, like former Chicago Mayor Rahm Emmanuel and Chicago Police Superintendent Eddie Johnson expressed disappointment in Foxx's decision to drop the case, and said in a March press conference that they viewed Smollett as a criminal. In Hollywood, lines are more blurred, with few in the entertainment industry expressing definitive statements about where they stand on Smollett, and their faith in his future.
The reason Smollett was living temporarily in Chicago in the first place was to film the Fox drama Empire, on which Smollett played Jamal Lyons in 84 episodes of the show. His fate as Jamal seemed uncertain after the allegations against him broke in January, and though his record has been officially cleared of all 16 charges—a legal declaration that states Smollett was entirely innocent—he was written off of Empire's fifth season.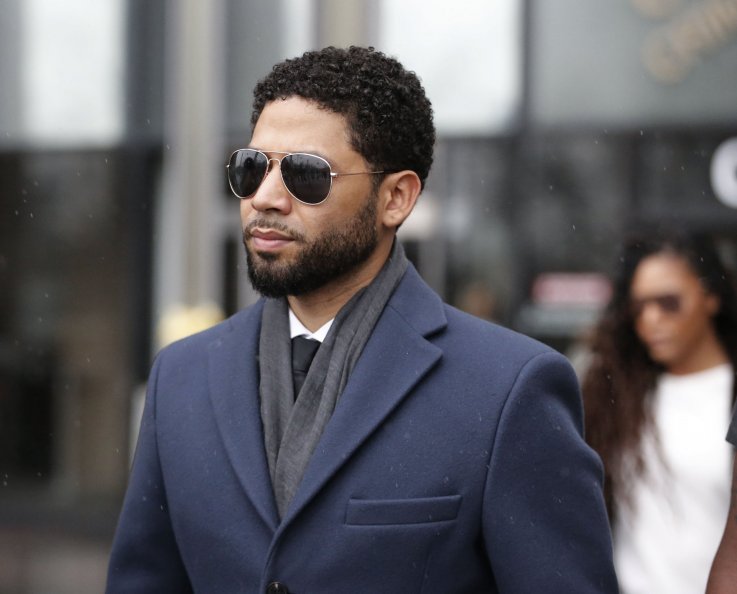 The decision to axe the actor from these episodes came while prosecutors were still pursuing the allegations against Smollett, which were made public in February. Fox released a statement on the decision to remove Smollett from the final two episodes of the season, but expressed no formal decision on the future. It wasn't until late April — after the case had been dropped — that Fox revealed Smollett would likely not return for Season 6. "By mutual agreement, the studio has negotiated an extension to Jussie Smollett's option for season six, but at this time there are no plans for the character of Jamal to return to Empire," the statement, reported by CBS, read.
A representative for Smollett claimed there's still a possible future, though, in a statement to The Associated Press in April. "We've been told that Jussie will not be on 'Empire' in the beginning of the season but he appreciates they have extended his contract to keep Jamal's future open," the statement read. "Most importantly he is grateful to Fox and Empire leadership, cast, crew and fans for their unwavering support."
Past Empire, Smollett's future seems foggy. Unlike many actors, Smollett's IMDB page lists no current or future projects, either filming now or in development. Though the site is far from definitive — particularly with regard to shows and movies that have yet to go into production — the lack of even speculation or rumors on Smollett's upcoming roles is an indication that he has not been publicly linked to anything new. The possibility remains that he could be auditioning, or even cast in a production, but that this information is not being publicized.
Smollett is also known for his music. He released his last album, Sum of My Music, in 2018. He currently has just over 50,000 listeners per month on Spotify.
It seems Smollett is no longer in Chicago, post-legal drama. He was last spotted in Los Angeles at the start of May, according to People Magazine.
Where in the World is Jussie Smollett? Actor in Exile as Chicago Case Files Go Public | Culture