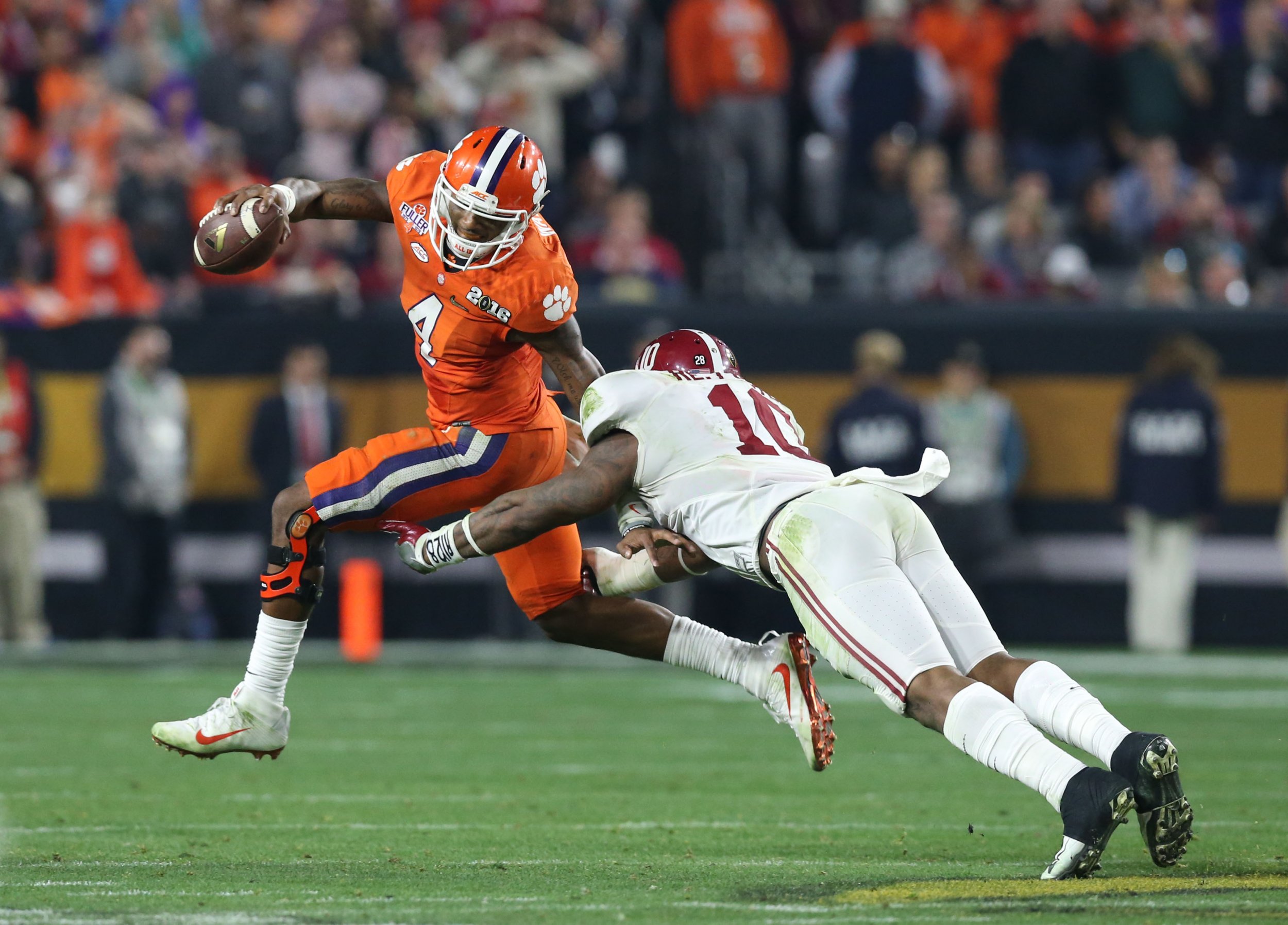 He behaved like a bro, but he may be better-known as a son. Was that Alabama Head Coach Nick Saban's son, Nicholas, flexing and getting in the face of Clemson quarterback Deshaun Watson during the fourth quarter of Monday night's college football national championship game?
With 4:40 remaining in the game, Watson, who finished third in last month's Heisman Trophy voting, completed a 15-yard touchdown pass that put the Tigers within five points of the Crimson Tide, 38-33. Clemson opted to go for a two-point conversion so that it would potentially trail Alabama by only a field goal.
On the ensuing play, Watson rolled out right, searching for an open receiver. With no one open and Tide defenders closing in on him, Watson tucked the ball and headed for the pylon. A pair of Alabama defenders, defensive lineman Jarran Reed and defensive back Eddie Jackson, converged on the spindly sophomore, knocking him out of bounds a yard shy of the goal line.
As Watson sat on the turf, a bald, bearded man standing on the sidelines just a few yards away exulted in triumph. Clad in a white polo shirt and jeans, he approached Watson, unleashing a primal scream as he threw a right fist pump that was aimed toward the ground, but flew uncomfortably close to the Clemson QB. The truculent fan then broke into a flexing pose.
Social media was unkind to the anonymous figure, who had he been an Alabama player might have been penalized for taunting. No flag was thrown.
By Wednesday morning the man's likeness was being compared to that of Nicholas Saban, the only son of the future Hall of Fame coach, on a few sports blog sites. An Alabama athletic department spokesperson, when contacted by Newsweek, said that this is the first that he had heard of it. Later Alabama said that it would have no comment on the man's identity.
The Crimson Tide prevailed, 45-40, as the dynasty rolled to its fourth national title in the past seven years under Saban. And as for over-the-top enthusiasm of that one fan, this man's—whether he be the coach's namesake or not—was nowhere near the most egregious we have come to expect from Alabama fans.
Only five years ago, there was the incident in which Tide loyalist Harvey Updyke poisoned Auburn fans' most beloved oak tree, the one on Toomer's Corner in Auburn, Alabama. And in January of 2012, after Alabama defeated LSU 21-0 to win the national championship in New Orleans, a 33-year-old Tide alum, Brian Downing, rubbed his genitals in the face of a passed-out Tiger fan on Bourbon Street. Downing was sentenced to a two-year jail term.