Where's Kevin Ware? And Other 2015 NCAA Tournament Observations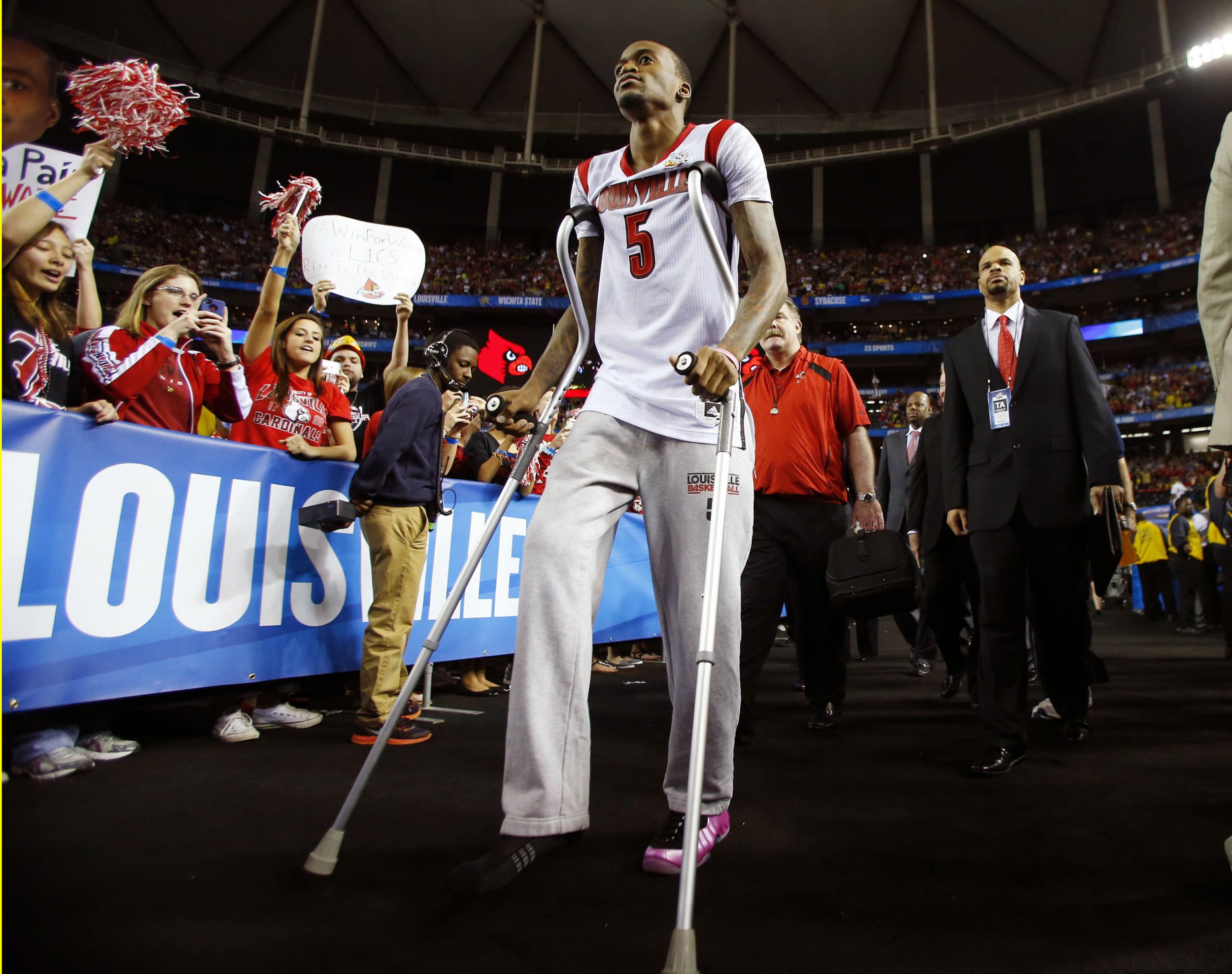 Remember Kevin Ware? His story provided the pathos for March Madness just two years ago. In an Elite Eight game between Duke and Louisville, Ware, then a sophomore guard for Louisville, suffered a compound fracture of his lower right leg after landing awkwardly on it while attempting to block a three-point shot. Ware's bone protruded out of his skin, a sickening sight that caused three of his teammates to fall to the court in spasms of disbelief.
The Cardinals won the national championship eight days later and Ware, who sat courtside that night, was the feel-bad/good story of the Final Four.
Two years later Ware is playing for Georgia State. On Sunday he scored 18 points in the Sun Belt Conference championship game to lead the Panthers to a 38-36 defeat of Georgia Southern and an automatic berth in the NCAA tournament. Georgia State, a 14-seed in the West region, will open against No. 3 seed Baylor in Jacksonville on Thursday afternoon.
Postscript: In the on-court celebration following Georgia State's two-point win, Panther head coach Ron Hunter tore the Achilles tendon in his left leg jumping off the bench. "On a scale of 1 to 10 (for pain)," said Hunter, "I'm at 17."
On to our 15 other observations….
1. With a 34-0 record and having won 13 games by at least 20 points, Kentucky is the prohibitive favorite entering the tournament. Some people will tell you that the Wildcats remind them of the 1983 Houston Cougars, which featured future Hall of Famers Clyde Drexler and Hakeem Olajuwon, or the 1991 UNLV squad that also entered March Madness undefeated and seemingly invincible.
John Calipari's Cats remind me most of Globo-Gym: a mercenary crew of ringers that was assembled for the sole purpose of winning a trophy and then disband immediately (and it should be noted that like that infamous crew from Dodgeball, Kentucky is not explicitly violating any rules). It is worth remembering that Houston, UNLV and Globo-Gym all have one thing in common: They failed to win their final game.
2. Kentucky is the No. 1 seed in the Midwest. Three years ago the Wildcats defeated Kansas in the national championship game. Eight Wildcats saw action in that 67-59 win over the Jayhawks (the 2 seed in this same region this year). Of those eight, six now play in the NBA and one plays in the NBA Developmental League. The eighth, Kyle Wiltjer, who played three minutes and missed one shot, transferred to Gonzaga. Wiltjer, a 6-foot-10 swing man from Portland, was the leading scorer (16.7 ppg) this season for the Zags. At 32-2, Gonzaga is the No. 2 seed in the South region and has won more games than anyone except...Kentucky.
3. Eight head coaches in this year's tournament have won an NCAA championship as coaches: Mike Krzyzewski, Duke (4); Rick Pitino, Louisville (2); Roy Williams, North Carolina (2); John Calipari, Kentucky; Tom Izzo, Michigan State; Bill Self, Kansas; Larry Brown, SMU; and Steve Fisher, San Diego State.
Two head coaches won NCAA titles as players: Bobby Hurley of Buffalo led Duke to a pair of national championships in the early 1990s and was the 1992 most outstanding player of the Final Four. Steve Alford of UCLA led Indiana to the 1987 national championship.
Bo Ryan of Wisconsin, the No. 1 seed out of the West, won four national championships as the head coach of the University of Wisconsin-Platteville, a Division III school.
4. This year's Final Four will take place at Lucas Oil Stadium in Indianapolis, which is also the site of the NCAA headquarters. Indianapolis will be hosting the Final Four for the fifth time since 1995, which is the last year a city west of the Rockies (Seattle) hosted the Final Four (never mind that no school has won more NCAA championships than UCLA, a school that is most definitely west of the Rockies).
Why is this? The NCAA mandates that the Final Four venue have a minimum seating capacity of 65,000. That figure, by the way, is larger than the enrollment of the largest school in the country, Arizona State (60,000)—and yet students will still get the crappiest seats at the Final Four, you can count on it.
In two years the West will at last host a Final Four again—in Glendale, Arizona, at the University of Phoenix Stadium. And no, the University of Phoenix, an on-line institution, does not have a basketball team.
5. Oklahoma freshman forward Khadeem Lattin is the grandson of David "Big Daddy" Lattin, who played in the NCAA championship game that most closely approximates Selma or Rosa Parks refusing to move from her bus seat. In the 1966 title game, heavily favored Kentucky, with an all-white starting five, was upset by Lattin's Texas Western team, all of whose starters were African-American. It was the first time an all-black starting five appeared in the NCAA championship game...and the last time an all-white starting five did.
The contest beat Selma to production, as it was immortalized in the 2006 film Glory Road.
The Sooners are a 3-seed in the East region, and would not meet the Wildcats until the championship game.
6. During Louisville's run to the Final Four in 2012, coach Rick Pitino praised his selfless center, Senegal native Gorgui Dieng, by saying, "I love Africans!" Pitino was referring to the utter lack of a sense of entitlement players from that continent have. The fourth-seeded Cardinals face No. 13 seed UC-Irvine on Friday. The Anteaters boast the tallest player in the tourney, 7-foot-6 Mamadou Ndiaye, also from Senegal. How much does Pitino love Africans now?
7. The NCAA Tournament Selection Committee vows each year that with so many teams in the field, what sometimes comes across as a conspiracy is simply the product of coincidence writ large. And they may be telling the truth. Still, you have to love the 1-16 matchup in the Midwest region on Thursday between Kentucky and Manhattan. The Jaspers are coached by Steve Masiello, who last March accepted a job at South Florida. However, when that institution checked Masiello's résumé, they discovered that he was lying when he stated that he had graduated from Kentucky. South Florida rescinded the job offer and Manhattan put Masiello on leave until he finished his course work to obtain his undergraduate degree.
So when these two meet on Thursday night, expect a plethora of "What do Steve Masiello and Kentucky's players have in common?" snark on Twitter.
Also, Southern Methodist coach/vagabond Larry Brown meets his former school, UCLA, in a second-round game.
8. In this year's field of 68 schools are 21 that have won an NCAA title, while defending national champion Connecticut is absent. Can you name them (answer at bottom)? Our pick for school most likely to cut down the nets for the first time, although we agree it's highly unlikely: Notre Dame.
9. On HBO'sLast Week Tonight on Sunday night, host John Oliver rightly eviscerated the NCAA for much of its hypocrisy. After all, the tournament rakes in more than $1 billion per annum for the NCAA and any reporter who has covered it understands how tyrannical the NCAA is about branding rights.
On the other hand, the average student loan debt in America is $29,000, which is roughly eight months of full-time wages for the average first-year college graduate. Also, as to former Connecticut guard Shabazz Napier's claims of "going to bed hungry," did anyone in Storrs notify Napier that he could qualify for $5,600 in Pell Grant money each academic year, to spend any way he pleases?
Yes, the NCAA is reaping a monstrous economic windfall each March and April with this tournament. To advocate that players deserve some of that money is reasonable (and also incredibly complicated). To claim that they are "starving" or that they do not receive far greater benefits than the average student, however, is specious.
10. There are as many teams (1) in the tournament from Wyoming (Wyoming), the least populous state in the Union, and North Dakota (North Dakota State), the fourth-least populous state, as there are from Florida (North Florida), the third-most populous state.
11. Notre Dame guard Jerian Grant, a fifth-year senior who is a first-team All-American, was dismissed from school on December 23, 2013, "due to an academic matter that [he] did not handle properly." Grant was averaging 19 points per game at the time and may have opted to turn pro, as his younger brother Jerami had after two seasons at Syracuse, had he completed the season in uniform.
Instead, Grant was academically reinstated and chose to return to South Bend. The son of former NBA forward Harvey Grant (and nephew of former Michael Jordan teammate Horace Grant, Harvey's twin brother), Jerian led the Fighting Irish to the ACC tournament championship and was recently named ACC Player of the Year...even though Duke freshman Jahlil Okafor will likely be the No. 1 overall pick in the NBA draft.
12. For the second year in a row, the NCAA scoring leader and his father will have roles in college basketball. Last year the nation's scoring leader, Doug McDermott of Creighton, played for his dad, Bluejay head coach Greg McDermott. Creighton lost to Baylor in the third round, i.e. its second game (An aside: We need to stop referring to the four games in Dayton as "first-round" games and refer to them by their proper title, "midweek sports programming").
This year's scoring leader is Tyler Harvey of Eastern Washington, whose father, Frank, is an NCAA referee. Frank Harvey has worked the last three NCAA tournaments, but has decided to sit this one out so that he may attend Tyler's first-round game against Georgetown in Portland, Oregon.
13. Sunflower Powers: Kansas would play Wichita State in a third-round contest (again, i.e., each school's second game) if they both win. The two schools, located just two hours apart, last met in 1993 as the Jayhawks have no interest in losing face to the Shockers. The last time they met in the NCAAs, in 1981, Wichita State won 66-65.
Kansas won it all in 2008, which is also the only year all four No. 1 seeds advanced to the Final Four. Wichita State entered last year's brack-analia with a 34-0 record, just like this year's Kentucky team, but then was bounced in the third round by...Kentucky.
14. Belmont, a 15-seed, faces No. 2 seed Virginia in a second-round East region contest. The Bruins advanced to the NCAA tournament thanks to a sniper's-aim three-pointer by Taylor Barnette in the final seconds of the Ohio Valley Conference tournament championship game. That three by Barnette, a lefty, ended Murray State's 25-game win streak and bounced them from the NCAA tourney field (some would say unfairly) while advancing Belmont into it with an 88-87 win.
We almost forgot to mention...Barnette is a transfer student. His previous school? Virginia.
15. The average fan can name at least one starter from three of the four No. 1 seeds. Duke? Jahlil Okafor. Kentucky? Willie Cauley-Stein or Karl-Anthony Towns. Wisconsin? Frank "The Tank" Kaminsky. Villanova?...Hello?...We're waiting. Jay Wright's ballclub is not only the least lauded No. 1 seed, it's also the third-most popular choice among teams named Wildcats, behind Kentucky and Arizona, to cut down the nets in Indy.
Beware, though: Villanova finished 32-2, tore through the Big East tournament, and has the right blend of outside shooting and interior size. One last thing: This is the 30th anniversary of Villanova's monumental upset of heavily favored Georgetown in the NCAA championship game.
Answer: Arizona, Arkansas, Cincinnati, Duke, Georgetown, Indiana, Kansas, Kentucky, Louisville, Maryland, Michigan State, North Carolina, North Carolina State, Ohio State, Oklahoma State, Oregon, UCLA, Utah, Villanova, Wisconsin, Wyoming.