Where is Mitch McConnell? GOP Leader Nowhere to be Seen as his President's Shutdown Drags on
As Donald Trump's partial government shutdown over border security stretches into its fourth week, officially becoming the longest shutdown in U.S. history, Republican leader Mitch McConnell is nowhere to be found.
The Senate majority leader was not in Washington D.C. on Friday as lawmakers adjourned for the weekend after voting to give federal workers back pay whenever the government reopens. McConnell skipped his customary remarks on the Senate floor, instead heading home to Kentucky.
With McConnell's absence, Democrats had the ability to take control of the conversation on Friday. During his remarks on the floor, Senator Chris Van Hollen accused McConnell and his caucus of being "AWOL in the middle of this shutdown."
"They are hiding out. They want to hide behind the president instead of doing their jobs as leaders in a co-equal branch of the government," Van Hollen added.
McConnell has avoided commenting on the shutdown or Trump's demands for border wall funding in public, instead quietly letting the president take center stage. McConnell has also missed some of the White House meetings and press conferences that have been attended by other Republican lawmakers.
McConnell's absence has become increasingly noticeable as Democrats continue to pass bills to reopen the government that have only stalled in the Senate.
"Leader McConnell and Senate Republicans have a responsibility, not simply to wait for the President, but to intervene," Senate Minority Leader Chuck Schumer said in remarks on the Senate floor earlier this week.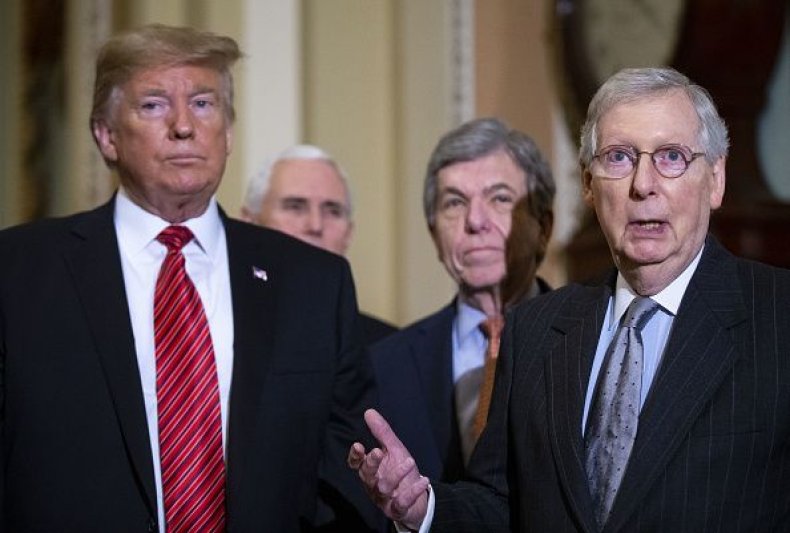 But McConnell has made it clear that he is not going to intervene, telling Politico last week that he doesn't see any action leading to an "outcome."
"And I want to get an outcome," McConnell told the news outlet. "That will be determined by the president and Senate Democrats."
But Trump and Democrats are at a standstill, as both sides refuse to compromise on border security. The president has demanded $5.7 billion in funding to construct his long-promised border wall between the U.S. and Mexico. But Democrats, who now control the House of Representatives, say they will not sign off on a bill that includes wall money.
At one point, Trump threatened to declare a national emergency at the southern border in order to sidestep Congress for border funding. But the move was criticized by Republicans, who suggested that it would set a dangerous precedent for future Democratic presidents. Trump announced on Friday that his administration is no longer looking to declare a national emergency.
"This is where I ask the Democrats to come back to Washington and to vote for money for the wall, the barrier, whatever you wanna call it, it's OK with me," Trump added during the White House roundtable on immigration. "They can name it whatever they, they can name it 'peaches' — I don't care what they name it but we need money for that barrier."