Where's Mohammed bin Salman? Not Dead, According to Saudi Arabia
Saudi authorities have released new video footage of Mohammed bin Salman amid conspiracy theories alleging the crown prince has been dead for more than a month.
The undated video shows Salman chairing a meeting of the Council of Economic Affairs and Development in Jeddah, Saudi Arabia, that apparently took place on May 29, according to CNN.
On April 21, heavy gunfire was heard around the royal palace in Riyadh. According to the Saudi Press Agency (SPA), the shots were fired by security guards neutralizing a hobby drone flown within the palace perimeter. There were no casualties, and 82-year-old King Salman was not at his palace, a Saudi official told Reuters at the time.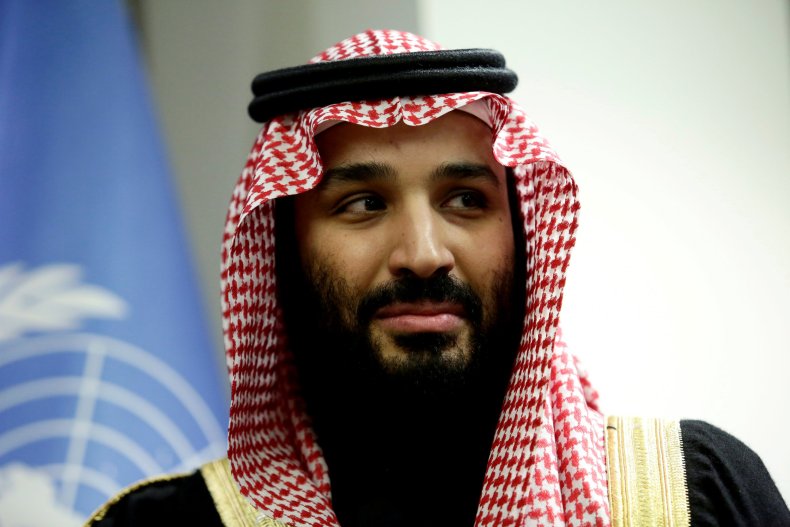 However, questions arose regarding the whereabouts of the crown prince, who usually has a high media profile and is regularly seen meeting fellow leaders and chairing events. Unusually, he was not pictured or filmed by Saudi media for several weeks after the drone was shot down.
Media agencies in Iran—Saudi Arabia's archrival—took the lead on the conspiracy theories, alleging that the gunfire in Riyadh was in fact a coup attempt, and that the crown prince may have been killed.
Iran's Kayhan newspaper quoted intelligence reports and anonymous officials who claimed "at least two bullets" hit Salman during the incident "and it is even possible that he is dead." The paper also questioned why the crown prince was not pictured with U.S. Secretary of State Mike Pompeo on his first visit to Saudi Arabia. The Saudi state department dismissed reports of the crown prince's death, and told The Washington Times that Pompeo had "recently interacted" with Salman.
Related: Saudi Arabia's crown prince won't apologize for being rich: "I'm not Gandhi"
Though he is still crown prince and not king, Salman is the anointed successor to the throne and oversees much of the kingdom's policies. According to anonymous officials quoted by NBC News, the king is "not consistently lucid."
The 32-year-old Salman usurped his cousin to become crown prince in June 2017. Since the power grab, Salman has been working to cement his influence in the Middle East. As defense minister, Salman oversaw the deployment of Saudi forces to Yemen in 2015 to fight Tehran-backed Houthi rebels, a campaign he has maintained as crown prince. Salman also pushed for a diplomatic blockade of neighboring Qatar, which he accuses of funding terrorism.
On the home front, Salman drove a corruption clampdown targeting more than 200 officials, businessmen and royals. The accused were forced to pay fines to be released from jail—where there were allegations of torture—netting the government more than $100 billion.
Salman is also the key figure behind Saudi Arabia's Vision 2030 initiative, which aims to move the Saudi economy away from its reliance on oil production and to cultivate a modern "vibrant society."