'Where's My House?': Homebuyer Shocked to Discover Half of Property Missing
Bishnu Aryal saved for over a decade to pay $700,000 for what looked like his dream property in Sydney.
The mortgage broker, who moved from Nepal to Australia, saved for a deposit on a $398,950 block of land in Edmonson Park, south-west Sydney, to build the house. He later signed a building agreement with construction company Zac Homes in 2016 for a custom off-plan build, which cost him a further $322,000.
But later he got a shock, realizing that what he paid for was a house half the expected size. That wasn't the only issue — one side of it looked like a normal house while the other side looked like it was missing. Aryal was in so much shock, that he "nearly fainted".
Although Aryal said he made the agreement for a free-standing home, three years later when he checked progress he realized contractors had built a duplex on half of the block.
"I called the supervisor and asked him what's going on, why is the house like this? And he said "it's a duplex, semi-duplex", and I nearly fainted that day," Aryal told Australia's A Current Affair television program on Monday night.
The father-of-two's house stands out like a sore thumb among a row of regular duplexes, which look complete, each with another building attached to the side. Instead Aryal's house looks half-finished and the block has a drab grey wall with no windows in the middle of it, where the broker thought the middle his property was going to be.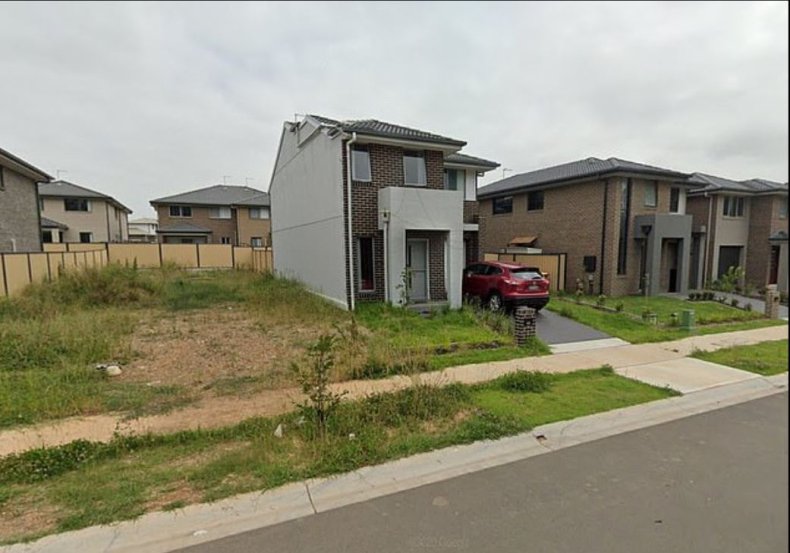 "Where's my house?" Aryal asked the TV program. "I want the rest of my house."
"It's not a free-standing house, it's not a duplex, it's half a house. And it looks embarrassing."
Although Aryal speaks English as a second language, he insists he definitely did not sign up to have "half a home." Zac Homes said the building was initially meant to be a single free-standing home but later claimed it had to change the development plan to meet local council regulations, which reportedly said that the block needed to be an attached house.
The broker claimed he trusted the process and did not look at the new plans to downsize his property when they were sent over. Instead, he forwarded them to the bank. The construction company insisted Aryal had several opportunities to pull out of the contract.
A company spokesman told the Daily Mail that "appreciates the frustrations of Mr and Mrs Aryal surrounding the delay in the issue of the Occupation Certificate, these delays are not caused by Zac Homes."
"Instead, Zac Homes has worked diligently and at its own cost to attempt to remedy the outstanding matters so that the Occupation Certificate can issue," he added.
Muhammad, a neighbour, described the home as a "pretty ugly". The peculiar-looking building has had passers-by take photos of it.
"A lot of people are always taking photos on the street. They think it looks pretty ugly."