'Where's My Money?': Mitch McConnell Home Vandalized After $2,000 Stimulus Check Vote Blocked
Americans are showing their disdain for how legislators handled the latest stimulus package by vandalizing Congressional leaders' homes, including House Speaker Nancy Pelosi and Senate Majority Leader Mitch McConnell.
Pelosi's California home was vandalized on Friday night, and on Saturday morning, similar sentiments were found spray-painted onto McConnell's Kentucky residence. Messages left on both leaders' homes indicated that people wanted $2,000 stimulus checks—not the $600 ones that were sent out—and additional COVID-19 relief.
McConnell told Newsweek he's spent his career fighting for the First Amendment and peaceful protest, but said this goes beyond constitutionally protected speech.
"This is different. Vandalism and the politics of fear have no place in our society," McConnell said. "My wife and I have never been intimidated by this toxic playbook. We just hope our neighbors in Louisville aren't too inconvenienced by this radical tantrum."
A message left on McConnell's door questioned, "Were's (sp) my money?" according to WAVE, and another said, "Mitch Kills Poor."
Americans have started to receive their second stimulus payment, worth $600 for individuals, but legislators faced criticism for the payment being too little, too late. President Donald Trump was among the critics and called for legislators to increase payments to $2,000, which garnered support from some people, but has failed to pass both chambers of Congress.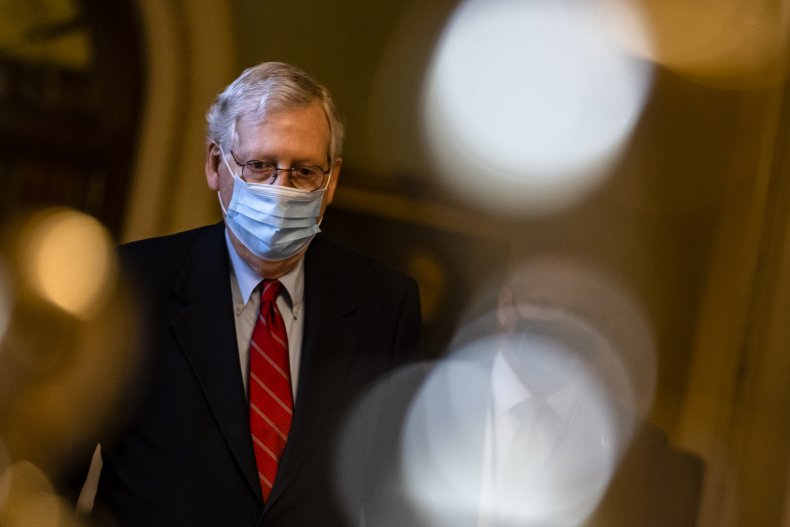 The House passed legislation on Monday authorizing the $2,000 direct payments, but McConnell blocked Senate Minority Leader Chuck Schumer's attempt to pass it by unanimous consent. McConnell called the $2,000 payments "socialism for the rich," although he did attempt to pass a bill of his own that included the payments bundled with a repeal of liability protections for social media companies, as Trump wanted.
"Let's be very clear: There is one way, and only one way, to pass $2,000 checks before the end of the year. And that's to pass the House bill. It's the only way to get the American people the checks they need and deserve," Schumer said.
At $900 billion, the most recent stimulus package is significantly less than what Democrats originally wanted, and Pelosi put the onus on Republicans as to why Americans weren't seeing more relief. She said Republicans who blocked a vote on the $2,000 checks were in "denial" of the hardship Americans were facing.
The Democratic leader has taken flak for her own role in the stimulus negotiations. Ahead of the bipartisan, bicameral bill's passage, some argued she was digging her heels in too hard on provisions that were holding up the entirety of the relief. Pelosi stayed firm in her assertion that Democrats made the right moves, although not everyone sees it that way.
Hours before news broke of McConnell's home being vandalized, vandals spray-painted graffiti onto Pelosi's San Francisco home. On New Year's day around 2 a.m., police responded to a vandalism call, and images from her home show "we want everything" and "cancel rent" spray-painted on her garage.