"Why the lockdown of societies now and not in any previous virus of our lifetime?" radio host Dennis Prager asked Hoover Institution senior fellow Victor Davis Hanson on Wednesday. "The official explanation is that the data proves to us that coronavirus is much more easily transmissible and much more toxic than, say, H1N1," he answered. "All I'm suggesting is that there's a lot of data that does not yet substantiate that theory."
To some, this sounds like a reasonable conversation about the most significant topic on the planet. To others, the hint that government officials and the media might want to slow down a bit when it comes to coronavirus is akin to heresy and therefore unfit for the airwaves. Indeed, both Prager and Hanson have been pilloried for such views, as have others.
Case in point are Dr. Mehmet Oz and Dr. Drew Pinsky, medical doctors who are also media personalities, hence a TMZ reporter ambushed both of them with his TV camera and demanded they address previous assertions of media-hype surrounding coronavirus.
"Get your flu shots. It's way more likely to kill you than corona," said Pinsky.
"Healthy people without a chronic illness are going to do just fine with coronavirus; why get all worked up about it?" said Oz.
While a good deal of the 2,100 people who commented beneath the videos excoriated the doctors, many others agreed with them, though when some of them attempted to share the videos on Facebook, they say they were prevented from doing so. Others complain that a host of good-news stories, such as one indicating that Tom Hanks was doing well despite testing positive for coronavirus, were removed or tagged as spam by Facebook. The giant social-media firm did not respond to Newsweek's request for comment, though it tweeted that such stories were removed in error and had been restored.
Anecdotally, at a "lounge" in Los Angeles (one of the few remaining businesses where strangers are still free to gather and prefers that its name not be mentioned), customers this week, practically in unison, were blaming the media for panic-buying at grocery stores. "Where's my toilet paper?" one patron shouted at a TV screen while a journalist was delivering more bad news about coronavirus.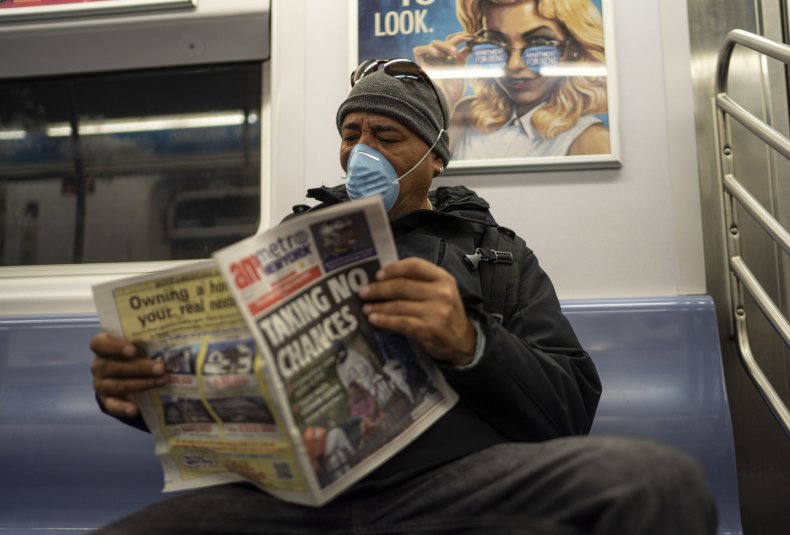 It appears, then, that there's a segment of society—those less concerned about coronavirus than others are—that feels underserved by the mainstream media, even while they remain glued to their TV screens for the latest developments.
On Prager's show, Hanson spoke of the damage to the economy and of a "bizarre competition" among governors to see who can shut down the most businesses, then he added: "When people voice these concerns ... there's a growing chorus, then they're demonized as deniers, like they're questioning global warming and they're going to get millions killed."
Prager, who made a movie starring himself and comedian Adam Carolla about free speech called No Safe Spaces and sued Google for censoring his educational videos, lamented that one outlet labeled him a "f**king ing liar" for questioning the media's take on coronavirus, while Free Thought Blogs published a piece wondering, "Why does Dennis Prager still have a Twitter and YouTube account?" and called him "an ignorant old man sitting around lying about the coronavirus."
"Calling for calm," said Hanson, means you'll be accused of "having an agenda, or of being an enemy of the people ... it silences people."
That Prager and Hanson are both conservative is meaningful, as there's a political divide: According to a March 10 Axios poll, 62 percent of Republicans think news outlets are exaggerating the seriousness of coronavirus while just 31 percent of Democrats agree. Therefore, it's no surprise that Fox News host Sean Hannity and radio star Rush Limbaugh are also under attack for suggesting things aren't as bad as they seem.
But while Hannity has certainly railed against "mass hysteria" (and he has received reams of coverage excoriating him for it) he told Newsweek that his detractors are cherry-picking his commentary in order to criticize him.
"I have taken the coronavirus seriously since I discussed it on my show on January 28. My February 10 interview with Dr. Anthony Fauci as well said it all," Hannity said. "It is just sad the media mob and others have politicized a virus for a political advantage."
That won't placate Media Matters for America, which is encouraging advertisers to pull commercials off of Fox News because its "coronavirus coverage put its viewers and the public at risk."
The progressive watchdog group is also busy trying to get journalists to report that Limbaugh is dangerous. In one clip it is circulating, Limbaugh goes off on the media for reporting that coronavirus is 10 times more lethal than the flu, a statistic coming from Fauci, the director of the National Institute of Allergy and Infections Diseases.
"The flu has a mortality rate of about 0.1 percent, so Fauci places the new coronavirus lethality rate at somewhere around 1 percent," Limbaugh says in the clip. "That's the story. It isn't that it's 10 times more lethal than the flu, and this is how this crap gets politicized! Pardon my yelling, but this stuff is what ticks me off."
Politifact is also bashing Limbaugh for identifying coronavirus as a strain of the common cold, calling the assertion "false" because it is "part of a family of viruses that produce illnesses ranging from the common cold to more critical diseases such as SARS or MERS." The website owned by the Poynter Institute adds that "most cases of the 2019 coronavirus have been mild, but it's been lethal for some people."
Of course, there's no consensus that a more "measured" approach to reporting on coronavirus—as several people interviewed by Newsweek put it—is a risky proposition. Hanson, for example, predicted that legal scholar Richard Epstein and physician-scientist John Ioannidis would get "backlash they won't believe" for articles where the latter says coronavirus may be a "once-in-a-century evidence fiasco" and the former says data "falls short of justifying the draconian measures that are now being implemented."
Ioannidis told Newsweek he's "been inundated by emails to a degree I have not witnessed before," mostly to thank him. "The media has really capitalized on the horror, curiosity and panic," he said. "It gets them more clicks. But there's a point of saturation where it impacts the ability to think clearly. I'm happy to work from home for two weeks, but can we please get some more data?"
Epstein also said he has been receiving messages that "thank him for being the voice of reason," and he added: "It's just tragic. You're gonna lock down Illinois for 288 cases and one death? That's mad. The overreaction is really dangerous."