'#WheresWarren' Trends After NBC/WSJ Poll Leaves Elizabeth Warren Out of Hypothetical Matchups Against Trump
"#WheresWarren" became a trending topic on social media Tuesday after a poll from NBC and The Wall Street Journal omitted results pitting Senator Elizabeth Warren against President Donald Trump in a hypothetical match-up in the November 2020 presidential election.
Five other candidates were included in the question, but those who agreed to be polled were reportedly not even asked Warren's chances against the president.
Warren's absence from that survey follows a poll sponsored by the same outlets which show Warren in fourth place overall with 14 percent of national Democratic support. That ranking ties her with former New York City Mayor Mike Bloomberg, but places her behind former Vice President Joe Biden with 15 percent and front runner Vermont Senator Bernie Sanders, who ended up with 27 percent.
Newsweek reached out to the Warren campaign for comment but did not receive a response in time for publication.
Twitter users were surprised by Warren being left out of the survey beginning the #WheresWarren hashtag, which peaked at number two on the list of trending topics, to express their dismay.
"And for their next trick... corporate media will make Elizabeth Warren completely vanish," tweeted progressive activist Adam Best. "Voila!"
"Where is Warren?" tweeted California for Warren, posting a Where's Waldo-esque picture. "#WheresWarren #Warren2020""
Lehigh University journalism professor Jeremy Littau called the poll's omission of Warren "stunning."
"I'm not a conspiracy theorist," Littau tweeted, "but I have seen a lot of this the past week. It's just stunning. There isn't even a legit gatekeeping reason to do it. She's ahead of three of those people in delegates."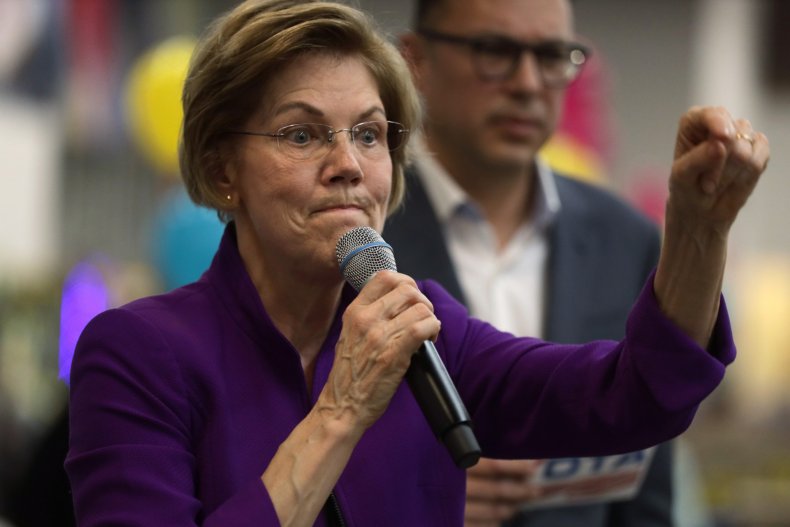 Former Florida Democratic Congressional candidate Dr. Dena Grayson tweeted, "This is CRAZY. @ewarren is a top-tier candidate and should be included in any serious discussion of the #DemocraticPrimaries. @NBCNews needs to acknowledge their MAJOR gaffe and immediately correct the record. #WheresWarren"
A question concerning a hypothetical primary race against Bloomberg also excluded Warren, including only Sanders and former South Bend, Indiana Mayor Pete Buttigieg.
Warren has also won eight delegates placing her in third place nationwide. Buttigieg has the most delegates with 23 while Sanders trails Buttigieg with 21.
During a campaign speech in Nevada Tuesday, Warren said people in America are "afraid" of the current political landscape.
"[People] are afraid for children, locked in cages at our border," Warren said. "They're afraid for children in lockdown in our public schools, they're afraid for women, they are afraid for people of color, they're afraid for LGBTQ people, for trans people."
Warren encouraged the crowd to "fight back" against that attitude saying, "Fighting back is an act of patriotism."
Warren faces off against five other candidates in the ninth Democratic debate in Las Vegas on Wednesday, which is hosted by NBC News and MSNBC.