Which Airlines Are Assisting in Afghanistan Evacuation Mission
Several commercial airlines are jumping in to assist the U.S. military in its mission to evacuate people from Afghanistan amid the Taliban's takeover of the country.
On Friday, Alaska Airlines became the latest company to offer up services to the humanitarian effort. The Seattle-based airline said it would operate military charter flights to transport evacuees within the U.S. and is prepared to offer additional support to the Department of Defense.
"We are proud to support our military service members and grateful to all our employees who have served our country around the world, many of whom have reached out to offer their assistance during this time of need," Alaska Airlines said in a statement. "Our values drive us to do the right thing and be kind-hearted, and we will bring this same sense of service to these operations and those we welcome on board as our guests."
Alaska Airlines joins six other companies in providing aid to the military.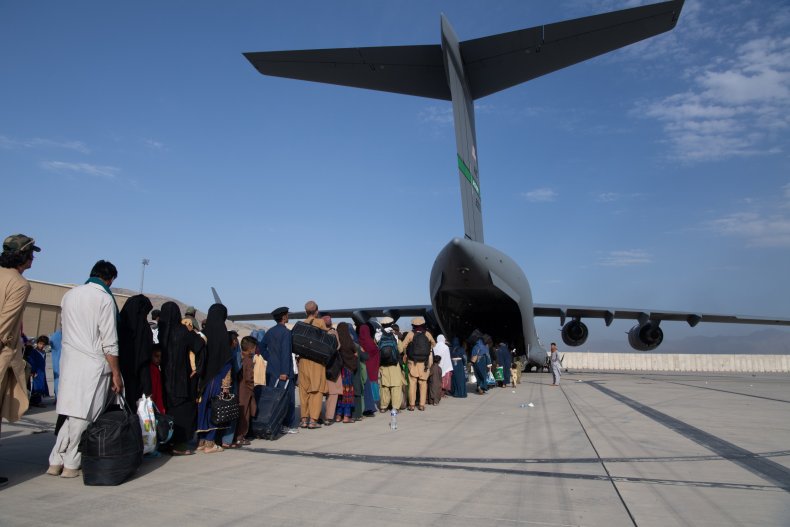 American Airlines, Atlas Air, Delta Air Lines, Omni Air International, Hawaiian Airlines and United Airlines have all voluntarily signed up for the Civil Reserve Air Fleet program (CRAF).
"It's a program that was designed in the wake of the Berlin airlift after World War Two to use commercial aircraft to augment our airlift capacity," President Joe Biden told reporters on Sunday. CRAF was last used in the U.S. invasion of Iraq between 2002 and 2003.
The airlines will not fly to Kabul, Biden said, but will move evacuees from the temporary safe havens and interim staging bases they've been flown to by the military to their destination in the U.S.
United Airlines will provide four aircraft to the ongoing mission; American Airlines, Atlas Air, Delta Air Lines and Omni Air will provide three aircraft each; and Hawaiian Airlines will provide two aircraft.
The airlift mission was sent into chaos on Thursday after a bomber from the Islamic State militant group's Khorasan branch (ISIS-K) targeted the Hamid Karzai International Airport. The attack outside the airport killed at least 13 U.S. service members and a number of Afghan civilians.
Pentagon spokesperson John Kirby and Army Major General William D. "Hank" Taylor told reporters Friday that they anticipate more attempted attacks as the military continues evacuations in Kabul.
"We have seen firsthand how dangerous that mission is, but ISIS will not deter us from accomplishing this mission," Taylor said.
Approximately 12,500 evacuees left Kabul on Thursday, Taylor said. More than 300 U.S. citizens were among those transported by the U.S. military.
Kirby told reporters that officials are "still planning on ending this mission at the end of the month," the Biden administration's self-imposed deadline to withdraw all troops from Afghanistan.