Which College Football Teams Remain Unbeaten? Latest Heisman Trophy and College Football Playoff Odds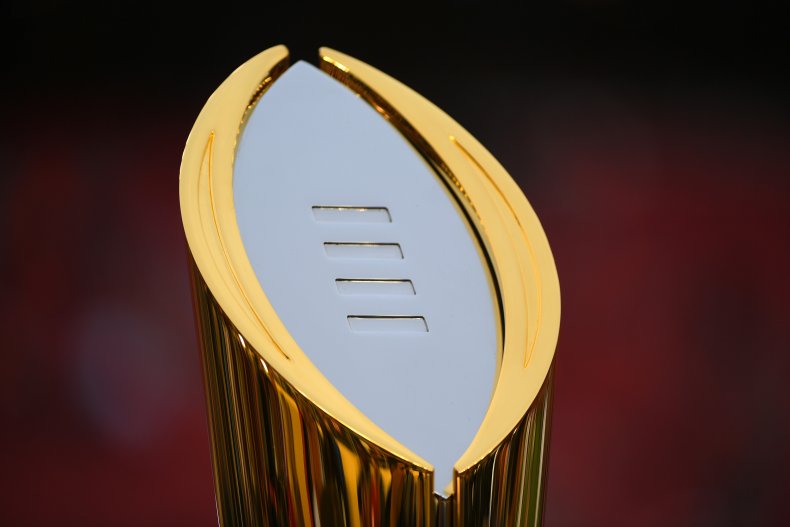 The end of week 12 in college football brings in new AP poll rankings, new College Football Playoff rankings and new Heisman trophy odds.
Following week 12, only three teams remain undefeated, the LSU Tigers, the Ohio State Buckeyes and the Clemson Tigers. Each of these teams has been unstoppable and have been rewarded in their rankings.
LSU Tigers
The LSU Tigers, led by Heisman trophy favorite Joe Burrow, have been ranked as the No. 1 team in the nation in the Associated Press' Top 25 Poll and the College Football Playoff rankings. They have been the number one ranked team in both polls for the past two weeks and will look to remain in the top spot when they host the Arkansas Razor Backs this Saturday.
Despite their No. 1 ranking, the Tigers are still not considered the outright favorite to win the College Football Playoff Championship. Bovada and DraftKings sportsbooks give the Tigers +250 odds to win, while Fanduel lists them at +450.
Ohio State Buckeyes
The Buckeyes are currently 10-0 and are ranked second in both the AP poll and by the College Football Playoff selection committee. Despite scoring a total of 129 points in their past two games against Maryland and Rutgers, the Buckeyes have fallen in rankings since week 10.
Following their Week 10 win against the Wisconsin Badgers, they were given the number one ranking in the by the CFP committee. Their past few wins have not gone unnoticed, but their strength of schedule ranking may play a part in being behind LSU. According to Teamrankings.com, LSU has the second-hardest schedule while the Buckeyes have the sixth.
Regardless of their rankings and schedule difficulty, the Buckeyes are currently the outright favorite to win the College Football Playoff Championship in a number of sportsbooks. Bovada lists the team at +190, DraftKings has them at +200, and Fanduel gives them +175 odds. The Buckeyes will look to remain unbeaten when they face the No. 9 ranked Penn State Nittany Lions in arguably their toughest matchup to date.
Clemson Tigers
Clemson is the third and final undefeated team in college football. They are currently ranked third in both the AP poll and College Football Playoff. Clemson's entry into the top four of the playoff rankings is somewhat new considering they were ranked fifth in the week 10 playoff rankings. Their strength of schedule has also played a part in their rankings, considering that they have the 39th toughest schedule.
Clemson may be ranked below LSU in the polls, sportsbooks still consider them more likely to win the National Championship. Clemson is given +275 odds on Bovada, +225 on DraftKings and +175 on Fanduel. Clemson has a bye this Saturday, but will look to keep their season perfect when they face the South Carolina Gamecocks during week 14.
Heisman Trophy Favorites
LSU's Joe Burrow has remained the Heisman favorite and the betting odds have continued to show it. Prior to the Tigers tenth-straight win against Ole Miss, he was given odds to win the trophy ranging from -900 to -1000.
After throwing for 5 touchdowns and 489 total yards during week 12, Burrow's odds have changed. Bovada currently lists Burrow at -1200, DraftKings gives Burrow -1115 odds and -800 on Fanduel. Burrow will look to add to his already strong Heisman resume during LSU's upcoming game against Arkansas.
Following the injury suffered by Alabama quarterback Tua Tagovailoa, Ohio State quarterback Justin Fields has taken over as the second favorite to win the award. Fields has had a very strong season, leading his team to a 10-0 record while throwing for 2,164 yards and 31 touchdowns. Bovada gives the Buckeyes quarterback +600 odds to win while DraftKings and Fanduel list Fields at +700. Fields can improve his odds during his game against Penn State during week 13.
Oklahoma Sooners' quarterback Jalen Hurts falls into the third spot for Heisman trophy favorites. Hurts has had a stellar season throwing for 3,039 total yard and 28 touchdowns, but also has one loss under his belt. Bovada has given Hurts +1100 odds to win the trophy, DraftKings lists the quarterback at +1200 and Fanduel has him at +1600. Hurts is set to take on TCU during the Sooners' week 13 matchup.
The only non-quarterback that is a current top choice for the Heisman trophy is Wisconsin running back Jonathan Taylor. Wisconsin currently has a record of 8-2, but Taylor has made a strong case for the Heisman. Taylor has rushed for a total of 1,463 yards and 17 touchdowns. Taylor is given +7500 odds on Bovada and +10000 odds on DraftKings and Fanduel. Taylor and the Wisconsin Badgers are set to take on Purdue during week 13.
Corrected Arizona to Arkansas on November 22 at 5:09 PM.