Which Companies Are Still Doing Business With Russia?
More and more companies are suspending their operations in Russia as the country enters a third week of fighting with Ukraine.
Many multinational companies are coming under global pressure to cut ties with Russia amid threats of consumer boycotts.
The war continues to present a major humanitarian crisis, with at least 1.5 million Ukrainians having been displaced from their homes and forced to flee the country since the conflict began in late February.
Businesses and large companies are continuing to blacklist Russia, including new shuns from two large hotel chains and tech companies. This has led to a significant backsliding of the Russian economy.
However, some companies are remaining in operation in Russia for a variety of reasons.
Here Are the Companies Still Doing Business With Russia:
Uniqlo
Clothing company Uniqlo is remaining operational in Russia, with the brand stating that clothing is a basic human need that the Russian people should not be deprived of.
"There should never be war. Every country should oppose it. This time all of Europe clearly opposes the war and has shown its support for Ukraine. Any attempt to divide the world will, on the contrary, strengthen unity," Tadashi Yanai, president of the brand's parent company Fast Retailing, said in a statement, per Reuters.
"Clothing is a necessity of life. The people of Russia have the same right to live as we do."
There are 49 Uniqlo stores in Russia and the company said it will continue to monitor the situation.
Burger King
The fast-food company has said they cannot simply close all of their locations in Russia due to legal reasons.
However, parent company Restaurant Brands International has said it plans to redirect profits from Burger King's Russian franchisees toward humanitarian efforts supporting Ukrainian refugees.
"BK Russia is a standalone business owned and operated by our franchisees in the country. We have long-standing legal agreements that are not easily changeable," the company said in a statement, via Sky News.
British American Tobacco (BAT)
British American Tobacco is set to continue selling cigarettes in Russia.
The cigarette manufacturer, whose brands include Lucky Strike and Rothmans, has said it will suspend capital investment and scale back marketing and business activities but will not completely pause operations.
"We are deeply concerned about the conflict in Ukraine. The safety and wellbeing of our people there and across the region is our first priority. We have full local establishments of 1,000 people in Ukraine and 2,500 in Russia. Our thoughts are with them all at this incredibly difficult time," the company said in a statement, per The Guardian.
"In Ukraine, we have suspended all business and manufacturing operations and are providing all the support and assistance we can to our colleagues, including relocation and temporary accommodation. Our businesses bordering Ukraine are providing assistance to the humanitarian relief effort."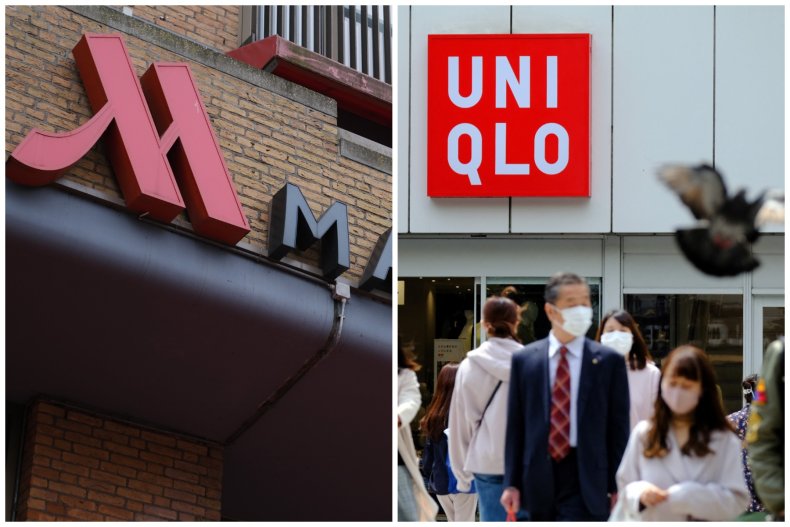 Nestle
Nestle has stopped advertising in Russia and will not be working on any capital investment at present. However, the food and beverage multinational has said it will continue to provide essential food products in the country.
A spokesperson said, per ITV: "As a food company and employer, we also have a responsibility toward the people in Russia and our more than 7,000 employees—most of whom are locals.
"We will continue to ensure a reliable supply of safe and essential food products to the local people in the country.
"Our diverse range of essential food products includes baby food and breakfast cereals. We have consistently stayed the course—also during difficult times—to serve the local people who need it the most."
Mars
Another major food and drink company still operating in Russia is Mars. However, the company is providing food and an initial cash donation worth $2 million to Ukraine.
CEO Grant Reid said, per the company website: "We are appalled by what is happening in Ukraine and are striving to provide our courageous Ukrainian associates with the support they need.
"Their safety is our absolute priority and teams of Mars Associates have been working diligently to provide shelter, financial security and aid."
Hilton, Hyatt, Marriott and Accor hotels
Hospitality groups and hotel chains are facing mounting pressure to end their Russian operations.
Hilton and Hyatt have halted new developments and suspended investments in Russia, while Hilton also closed its Moscow corporate office.
Accor also announced that it had suspended all planned openings and future developments in Russia but confirmed it will "continue to operate in Russia in some capacity as we play a key role in supporting employees, local communities, [non-governmental organizations] and international media on the ground."
"We have never left a country in turmoil and presently have no plans to do so," it told trade news site Hotel New Now.
Marriott has not closed any hotels in Russia but said it is "working with charitable organizations on the ground focused on providing meals, healthcare and safe water" for Ukraine.
Shell
The oil giant released a statement to say the company was "appalled by the war in Ukraine" and called its decision to purchase Russian oil "difficult."
Shell explained in its statement that "without an uninterrupted supply of crude oil to refineries, the energy industry cannot assure continued provision of essential products to people across Europe over the weeks ahead."
The company said: "Cargoes from alternative sources would not have arrived in time to avoid disruptions to market supply."
Shell has said that any profits from any Russian oil it purchases will go towards humanitarian aid to Ukraine.
PepsiCo, McDonald's, Coca-Cola and Starbucks are among the latest to suspend operations with Russia following boycott calls earlier this week.
"The Coca-Cola Company announced today that it is suspending its business in Russia," the company said in a statement on Tuesday.
"Our hearts are with the people who are enduring unconscionable effects from these tragic events in Ukraine. We will continue to monitor and assess the situation as circumstances evolve," the statement continued.
PepsiCo also said on Tuesday that it, too, would suspend business in Russia.
CEO Ramon Laguarta said in a letter to employees on Tuesday: "Given the horrific events occurring in Ukraine we are announcing the suspension of the sale of Pepsi-Cola, and our global beverage brands in Russia, including 7Up and Mirinda. We will also be suspending capital investments and all advertising and promotional activities in Russia."
However, the company confirmed that they will still provide "daily essentials such as milk and other dairy offerings, baby formula and baby food."
Starbuck's CEO Kevin Johnson said in a letter on Tuesday: "We condemn the unprovoked, unjust and horrific attacks on Ukraine by Russia, and our hearts go out to all those affected.
Follow our live blog for updates on the Russia-Ukraine conflict.