Which Companies Are Giving Employees Election Day Off in the U.S.?
Major companies will be giving their employees the day off, or make accommodations allowing them to vote, on November 3 this year to mark Election Day.
Companies including Coca-Cola and Walmart will ensure their employees are able to vote as part of a partnership with Time to Vote, a coalition of businesses representing 2 million workers.
By joining Time to Vote, companies commit to enabling their employees to vote this year, through either paid time off on Election Day, having no meetings on November 3, or providing resources for mail-in ballots and early voting.
Michael Waldman, president of the Brennan Center for Justice, a leading nonpartisan voice on voting rights and elections, said in a press release for Time to Vote: "When the business community comes together to take a stand on issues that affect all Americans, it sends a powerful message.
"Ultimately, a culture shift will meaningfully boost voter participation, and business leaders can help drive that shift."
Marc Benioff, CEO of Salesforce, is giving his employees the day off and said on Twitter: "Salesforce is giving all employees worldwide the day off to vote on Election Day.
"The best policy here will not be time-bound but will take into account the unique challenges facing voters this election cycle. All employees have Election Day off."
Twitter is also giving its employees the day off on November 3, with an internal memo saying: "Given the importance of voting, going forward all national election voting days that take place on a weekday will be a paid day off.
"Since the U.S. presidential election falls on a workday (November 3), we will plan to close all U.S. offices on that day."
Which Companies Are Giving Employees Election Day Off in the U.S.?
ElectionDay.org has listed more than 500 companies that are giving its employees Election Day off. Some of the major companies are listed below:
Adidas
Airbnb
Cerner Corporation
Coca-Cola
Electronic Arts
Etsy
Eventbrite
Fannie Mae
FCA Chrysler
Ford
General Motor
Jackson Hewitt
Levi Strauss & Co.
Lyft
Mailchimp
Mercedes Benz Stadium
Paramount Pictures
Pinterest
Shutterstock
Uber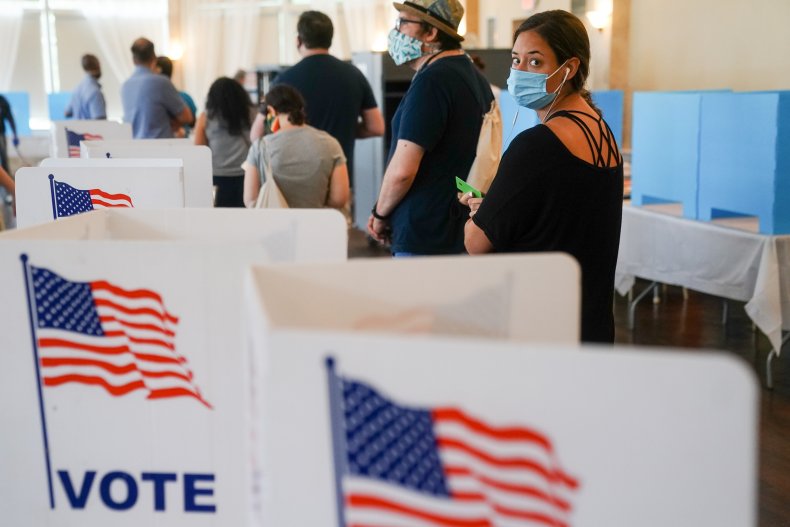 Major Companies Committed to Allowing their Employees Time to Vote
Time to Vote has listed hundreds of companies that will allow their employees time to vote, whether that's with a paid day off or other accommodations. Some major companies taking part are listed below:
Abercrombie & Fitch Co.
Ben & Jerry's Homemade, Inc
Best Buy
Diane von Furstenberg
DICK'S Sporting Goods
Expedia Group
Gap Inc.
Glossier
Nike
PayPal
Pepsi Co.
Target
Walmart