Which Country Will See The Next Mining Disaster?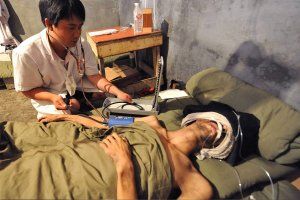 After the last Chilean miner was rescued from the San José mine, rescue worker Manuel Gonzalez ascended from the 700-meter-deep drill hole, and President Sebastián Piñera asked what he was thinking on the way up. Gonzalez replied: "That hopefully things in Chilean mining will now be different." This near-tragedy will surely bring about changes in Chilean mining. But several other countries are in line for the next big accident if they don't also take a cue.
Topping the list is China, with 2,631 accidental miner deaths last year, followed by some former Soviet states (Kazakhstan, Ukraine, Russia), as well as Colombia and Turkey. Statistics vary, as many accidents are not even reported, but the International Federation of Mine Workers' Unions estimates that overall, 12,000 workers die in accidents each year. Mining has always been a risky activity, but experts blame lax laws and enforcement, inadequate worker training, and low investment in technologies for the unusually high accident rates in some countries.
Workplace accidents are not the only worry. In July, the Chinese mining company Zijin caused a massive acid-waste spill in the Ting River that poisoned drinking water for some 60,000 people. Zijin has been moving to expand into other nations, such as Peru, which is a worrisome trend, says Keith Slack, a senior policy adviser at Oxfam America. These countries must push for reform. The next mining disaster is unlikely to have such a miraculous ending.