While federal officials have said the United States' battle with the current coronavirus surge is not yet over, several major cities have begun reaching the point where infection case numbers are starting to drop off.
Surgeon General Vivek Murthy said during an interview with CNN earlier this week that some areas of the country that were first to struggle with the Omicron variant's surge have begun to see case numbers decline. Other areas that were slower to battle the variant have yet to report peaking case numbers.
The nationwide rise in new cases has been widely credited to the rapid spread of Omicron, which was first reported to the World Health Organization in November. The variant's presence was first confirmed in the U.S. in early December. By the end of 2021, Omicron cases had been reported in all 50 U.S. states.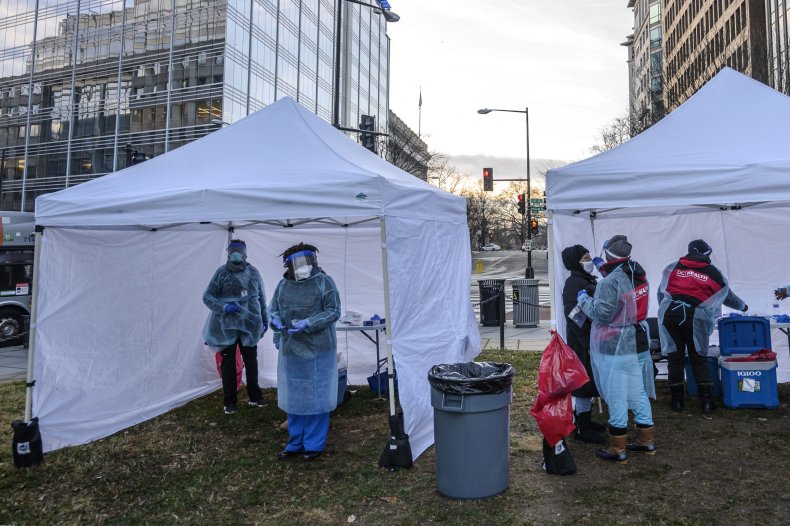 Murthy told CNN that the country as a whole hasn't yet reached its highest number of reported cases amid the current surge. He said the coming weeks would be "tough."
"The challenge is that the entire country is not moving at the same pace," Murthy said. "The Omicron wave started later in other parts of the country, so we shouldn't expect a national peak in the next coming days."
Murthy pointed to New York City as one place where case numbers were beginning to level off. Health officials there told local media outlets on Wednesday that the Omicron surge was "clearly in retreat."
Health officials in Chicago, Philadelphia, Miami, Boston and Washington, D.C., have similarly reported small declines in new cases over the past week.
In California, the first state to confirm an Omicron case, researchers in Los Angeles and San Francisco said this week the current virus surge is peaking. Omicron variant cases in California didn't begin to rise until mid-December, according to The New York Times, unlike some of the areas Murthy cited that reported an early surge and have begun to report a leveling off in daily case numbers. Researchers predicted case numbers in California would begin to decline by the end of this week, the Times said.
In states like Washington and Texas, most cities haven't yet reached the peak of the Omicron surge but are expected to do so soon. Researchers at the University of Texas at Austin told KXAN-TV earlier this week that they anticipated the peak would be reached shortly. Experts said there are signs that case numbers may be starting to drop in Houston.
In Washington, state officials told local media outlets earlier this week they believe the state's Omicron surge is "close" to reaching its peak.