Spoilers: Which 'Modern Family' Character Is Pregnant? After Death Twist, Show Introduces New Plot
With death comes new life; a phrase that could be appropriately applied to Modern Family in its farewell season. After the acclaimed sitcom killed off Claire Dunphy and Mitchell Pritchett's mother DeDe Pritchett in October, the show's next plot twist involves a character discovering she's pregnant. Spoilers ahead, the long-running series is clearly aiming to go out with a bang.
During Wednesday's episode of Modern Family, it was revealed that actor Sarah Hyland's character Haley Dunphy would be expecting her first child. After Haley was criticized for apparently having Peter Pan syndrome, she and Dylan (Reid Ewing) went to the carnival. As they were riding bumper cars, Haley stopped to apply lipstick. Dylan bumped into her car, which caused for the tube to get stuck up her nose.
From there, the pair ventured to the hospital. In completing all the necessary tests, medical professionals determined that not all was right as she has a bun in her oven.
"Just wanted to let you know, the x-ray shows no broken nose," the doctor told Haley and Dylan. To this, Dylan acknowledged how "childish" they were acting and the doctor suggested the pair "enjoy it while they can."
"Yeah, who says we have to race into being adults?" Haley said. "Why wouldn't you want to enjoy a care-free life as long as you could?"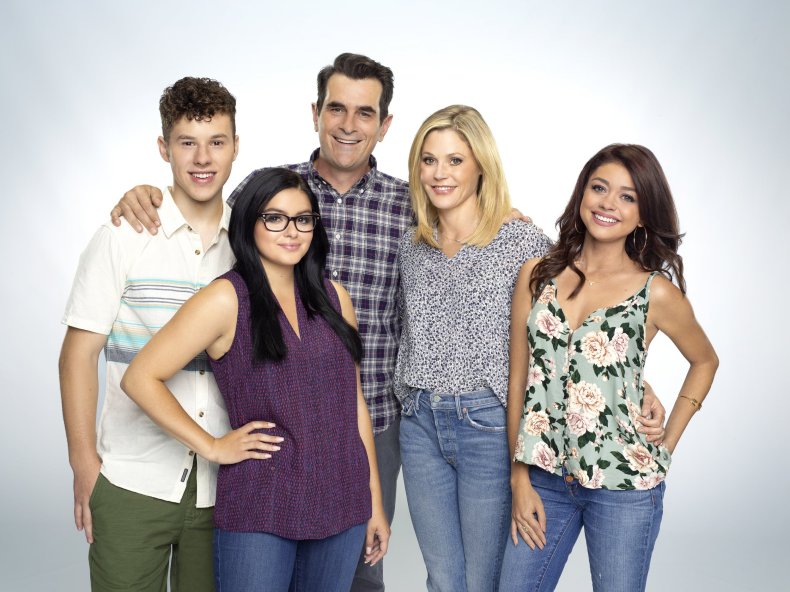 The doctor responded, "At least until the baby comes." Haley, unfazed, suggested that phase was "years away" before the doctor explained how they discovered she was pregnant when running a standard blood test on her.
Before Wednesday's episode aired, Hyland teased her character's pregnancy to fans. She shared an Instagram post that instructed fans to "buckle up for tonight's brand new episode" because the experience was "gonna be a BUMPY ride." The 27-year-old later confirmed all pregnancy speculation by posting a picture where she's wearing a faux baby bump.
"Well, I guess the cat's outta the bag!!! Or more like the bump's outta the shirt," Hyland wrote on Instagram Thursday. "That was a horrible joke. I apologize."
In October, Hyland hinted to The Hollywood Reporter of her desire to see Haley finally mature in Season 10.
"I think it's about five years past her time," she said. Hyland praised the writers for the way they handled the death of DeDe, blending comedic moments with more serious ones in a "tasteful" manner. "There are so many things I loved about that storyline," Hyland said to THR. "I think especially the idea of a brother and sister having a very different relationship to the family member that has passed and being able to come to solid ground on how they feel."
Modern Family airs Wednesdays at 9 p.m. ET on ABC.