Which Paul Brother Is Fighting Floyd Mayweather After 'Hat' Brawl
Floyd Mayweather and YouTube star Jake Paul were involved in a bizarre altercation that sparked a brawl exactly a month before the former boxing star fights Paul's brother, Logan, in an exhibition bout.
On Thursday, Mayweather and Jake Paul squared off during a media appearance at Miami's Hard Rock Stadium, which will host the fight on June 6.
Paul then took off the boxing Hall of Famer's hat and ran away with it, sparking a major scuffle as security guards got involved and tried to separate the two.
"Jake Paul wanted some attention, and he got it. And so did I," Mayweather told The Athletic.
However, he sounded more confrontational when, speaking to ESPN, he vowed to fight both Paul brothers.
"I don't have to talk about what I'm going to do," he said.
"The world knows what I'm going to do," Mayweather said. "I'm willing to fight both in the same night."
Here's all you need to know about the upcoming fight on June 6.
Which Paul brother is fighting Floyd Mayweather?
Both Paul brothers are YouTube stars-turned-boxers, therefore some confusion is somewhat inevitable. Jake Paul was involved in a mass brawl after stealing Mayweather's baseball cap at a press conference on Thursday, but it will be his brother Logan stepping into the ring to face the retired world champion next month.
Logan Paul fight record
Paul lost his only professional fight and that was against fellow YouTuber Olajide William Olatunji—better known as KSI—in November 2019.
Jake Paul fight record
So far, Jake has emerged as the better boxer of the two Paul brothers, winning all his three fights by KO.
In November last year, former NBA player Nate Robinson needed medical treatment after being knocked out cold by Paul.
Robinson, who was making his boxing debut, was floored twice and twice got back up, before suffering a brutal knockout in the second round.
Floyd Mayweather fight record
Mayweather's career ranks among the best ever in boxing. The 44-year-old won 11 major world titles, was the lineal champion in four weight classes and held The Ring Magazine titles in three different classes.
Mayweather retired undefeated after winning all of his 50 career bouts with 27 KOs. In his last professional fight, he stopped UFC star Conor McGregor by 10th-round TKO in 2017 at T-Mobile Arena in Las Vegas.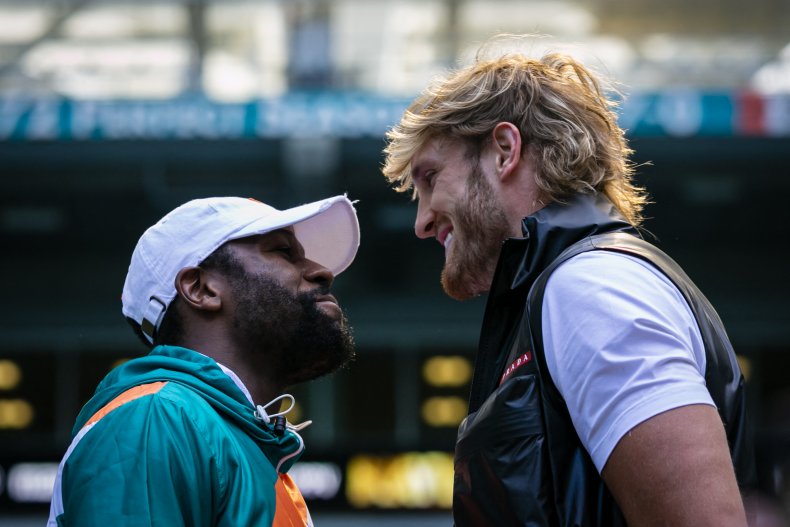 Logan Paul weight and height
At 6ft 2, Paul is listed as a cruiserweight and for his fight against KSI, he tipped the scale at 199.4 pounds. His reach was listed as 73 inches.
Floyd Mayweather weight and height
At 5ft 8, Mayweather is considerably shorter than Paul, though his reach is fairly similar at 72 inches. Mayweather's weight has fluctuated throughout his career, but the heaviest he's ever fought was 151 pounds against when he defeated Miguel Cotto in 2012.
The Athletic reported that given the difference in weight between Mayweather and Paul, a 30-pound gap will be agreed with the former coming in at 160 pounds and the latter at 190 pounds.