Throughout its 10 episodes, The Last Dance featured an array of fascinating interviewees. ESPN's documentary told the story of Michael Jordan's final season with the Chicago Bulls through the eyes of Jordan himself, as well as his former teammates and coaches.
From Magic Johnson to Larry Bird, Charles Barkley and Isiah Thomas, Jordan's former adversaries and foes all featured, along with the late NBA commissioner David Stern and his successor Adam Silver, a smattering of high-profile NBA journalists and even Barack Obama.
There were, however, a couple of notable absences. Jordan's ex-wife Juanita is rarely mentioned and while Jordan's parents feature prominently throughout the show, his kids only make fleeting appearances in Episode 1 and Episode 10.
A number of players who crossed paths with Jordan also did not feature. Speaking on The Dan Patrick Show after the final two episodes aired on Sunday night, The Last Dance's director Jason Hehir revealed Karl Malone and Bryon Russell both refused to be interviewed for the show, but declined to elaborate on the motives behind their choices.
Malone and Russell featured heavily in game footage showed during Episodes 9 and 10, which delved into the Bulls' triumphs in the 1997 and 1998 NBA Finals against the Utah Jazz. The Bulls won both series 4-2, clinching their fifth and sixth NBA titles, while Jordan added a personal fifth and sixth NBA Finals MVP crown to his trophy cabinet.
In many ways, Malone and Russell will forever be linked to the play that defined Jordan's final act as a Bulls player.
In Game 6 of the 1998 NBA Finals, with the Jazz up 86-85 and 22 seconds left, Malone posted up and received the ball, while being guarded by Dennis Rodman.
With Malone looking over his left shoulder, Jordan arrived from his blindside and stripped "The Mailman" of the ball, before dribbling down the court.
The Bulls opted to not call a timeout, leaving Jordan one-on-one with Russell, the Jazz's best perimeter defender who, as revealed in The Last Dance, had boasted about his abilities to guard Jordan.
With the clock ticking down to 10 seconds, MJ took on Russell by stepping left-to-right towards the elbow, before suddenly crossing over back to his left and raising to shoot.
With Russell off balance and scrambling to stay on his feet, Jordan released the final jumper of his Bulls career, giving his team an ultimately crucial lead with 5.2 seconds left.
While Russell may have chosen not to appear to avoid revisiting a moment that's been replayed time and again over the last 22 years, Malone's absence is somewhat more surprising.
In The Last Dance, the NBA's second-most prolific scorer ever comes across as very magnanimous in defeat, climbing aboard the Bulls' team bus to congratulate Jordan after the 1998 NBA Finals.
Jordan's heroics prevented Malone and the Jazz from potentially establishing a dynasty, but "The Mailman" isn't the only man to have been denied an NBA title by MJ.
If it wasn't for Jordan, Charles Barkley, Reggie Miller and Patrick Ewing may not have retired without an NBA title to their names, yet they all appeared in The Last Dance.
Malone and Russell were not the only players not to feature in the documentary.
Despite being the starting center in the Bulls' second three-peat, Luc Longley is absent from the documentary, which Hehir put down to monetary constraints.
"It was not due to our unwillingness to find him, or his unwillingness to participate, it strictly was a budgetary concern,' Hehir told ABC News Breakfast at the end of April.
"So I regret for our Australian audience, that Luc doesn't sit down for an interview in this but his face and his presence certainly were felt."
In his book Running with The Bulls, Longley did not conceal his dislike for Jordan.
"I'd have to say after he came back, I really didn't like the guy [Jordan]," the Australian wrote.
"I found him difficult to be around and he and I obviously didn't see eye-to-eye. We were at each other's throats in practice and [...] that was a case of frustration from both of us, mostly from him."
Similarly, while Episode 3 and 4 touched on the feud between the Detroit Pistons and the Bulls that defined the Eastern Conference at the end of the 1980s and the beginning of the 1990s, Isiah Thomas is the only former member of the "Bad Boys" to feature—save for Rodman, who won two titles for the Pistons in 1989 and 1990 before moving to the Bulls in 1995.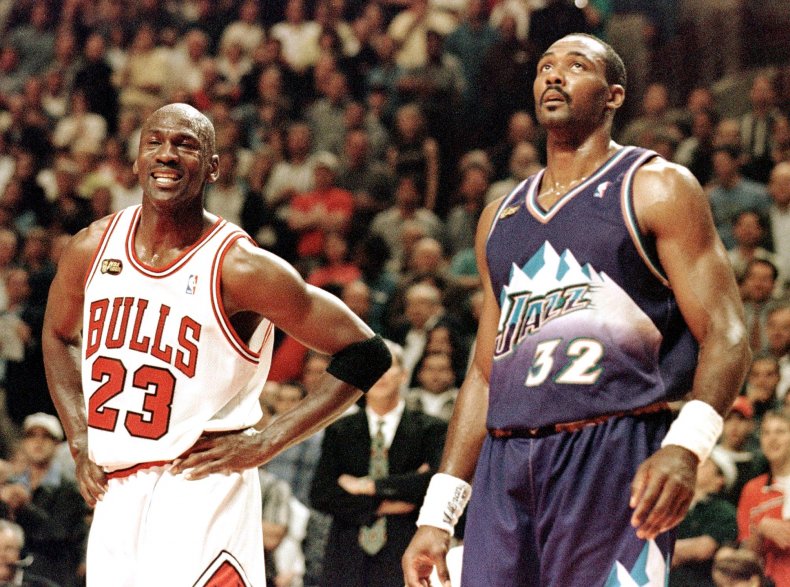 About the writer
Dan Cancian is currently a reporter for Newsweek based in London, England. Prior to joining Newsweek in January 2018, he was a news and business reporter at International Business Times UK. Dan has also written for The Guardian and The Observer.