Which Pork, Pepperoni Products Have Been Recalled?
Twenty-seven pork and pepperoni products possibly tainted by listeria have been recalled by meat producer Alexander & Hornung. The products are believed to have been sold at more than 500 stores across the United States, the U.S. Department of Agriculture (USDA) reported last Friday.
The original recall, issued December 5, was for approximately 2,320,774 pounds of products, but the recall was expanded last week to include more products. Alexander & Hornung now estimates the recall is for 2,320,774 pounds of fully cooked ham and pepperoni products.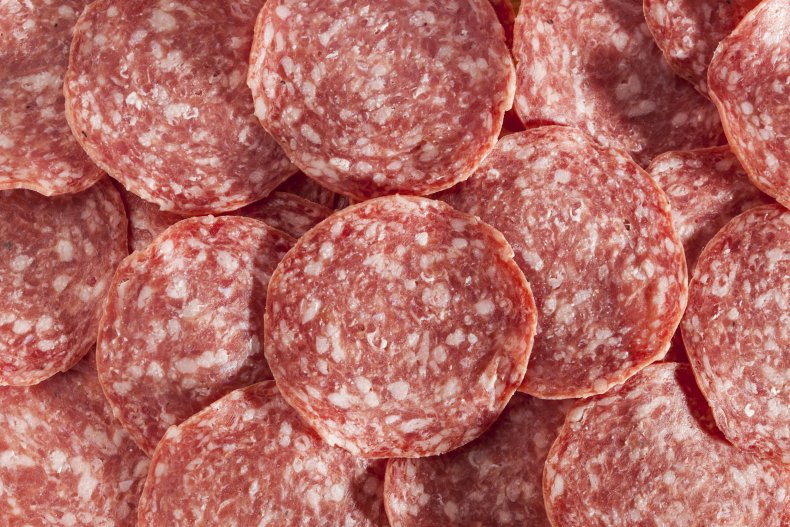 To identify if a product is on the recall list, check for the establishment number "EST. M10125" inside the USDA's mark of inspection. Products with that number on the label are on the recall list.
The recall is for products from such meat brands as Alexander & Hornung, Amish Valley, Big Y, Butcher Boy, Five Star, Food Club, Garrett Valley Farms, Lancaster, Niman Ranch, Open Nature and Wellshire Wood.
The USDA's Food Safety and Inspection Service provided a full list online of the recalled products manufactured by Alexander & Hornung, a Michigan-based unit of Perdue Premium Meat Co.
The USDA's website also has photos of several of the products that were recalled to show consumers where they can locate the establishment numbers.
The USDA said that many of the products may still be in people's homes and that the recalled products were reportedly produced on various dates.
In its announcement about the recall, the USDA said the products may be contaminated with listeria monocytogenes. Consumption of food contaminated with listeria monocytogenes can cause listeriosis, a serious infection that primarily affects adults 65 and older, people with weakened immune systems, pregnant women and newborns, according to the U.S. Centers for Disease Control and Prevention. While it's less common, people outside of these risk groups can also be affected.
Symptoms of listeriosis include fever, muscle aches, headache, stiff neck, confusion, loss of balance, convulsions and gastrointestinal symptoms such as diarrhea.
Listeriosis may also cause an invasive infection that could spread beyond the gastrointestinal tract. Complications in pregnant women from such an infection can include miscarriages, stillbirths, premature delivery or a severe infection in the newborn.
Antibiotics are used to treat listeriosis. People who experience listeriosis symptoms after they believe they have consumed contaminated food should seek immediate medical care and inform a health care provider about the contaminated food.
As of publication time, there have not been any confirmed reports of people suffering adverse reactions from consumption of the recalled products.
A spokesperson from Alexander & Hornung told Newsweek that customers can call 1-866-866-3703 for a refund.
Update 12/22/21, 4:35 p.m. ET: This story was updated with a comment on refunds from an Alexander & Hornung spokesperson.