Which Republican Senators Could Block McConnell's Obamacare Repeal Bill?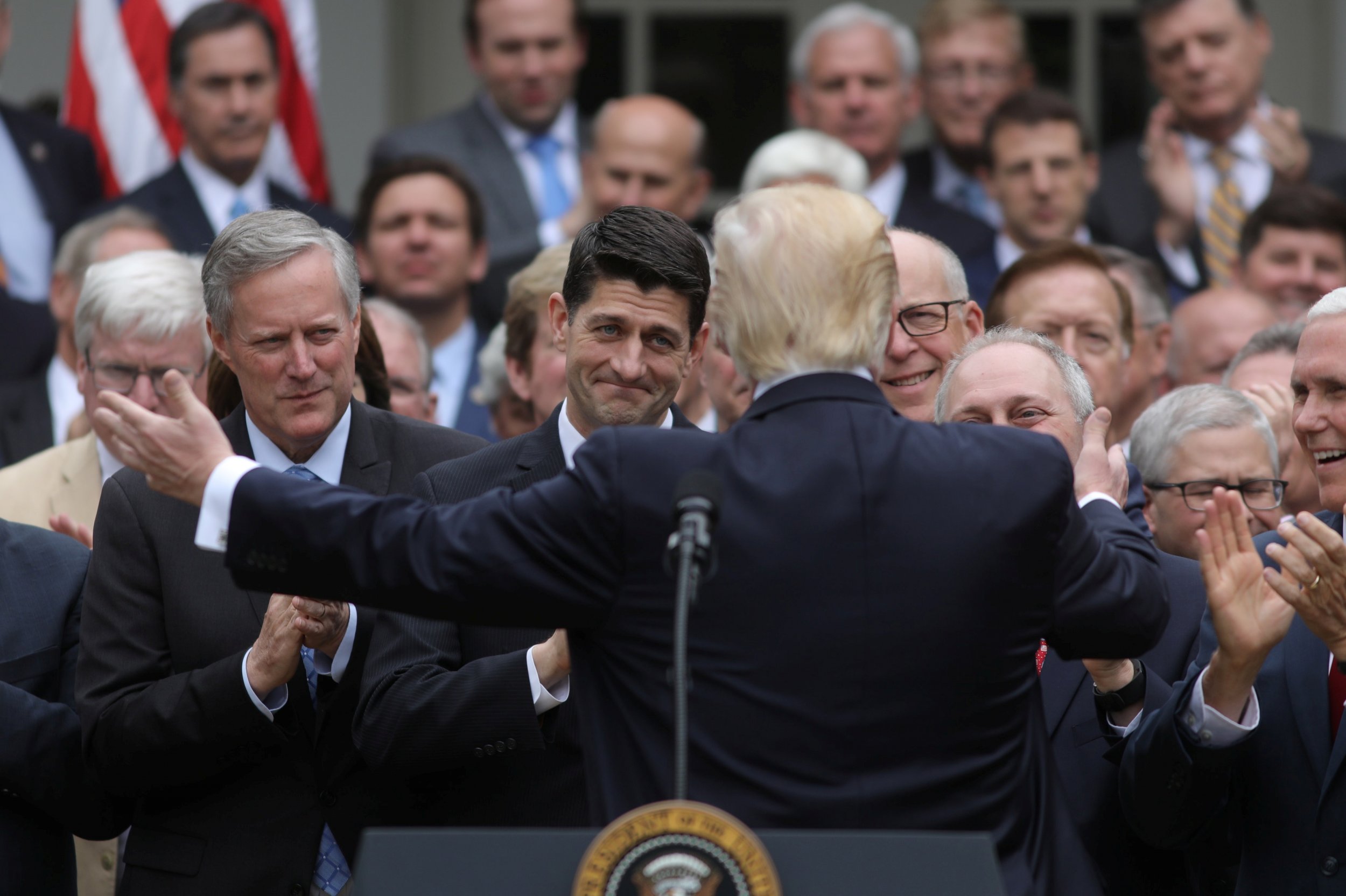 As Democrats demand more transparency, Senate Majority Leader Mitch McConnell and allies are scrambling to piece together a health care bill that can garner 50 votes in the Senate.
After the House narrowly passed an Obamacare repeal bill, Senate Republicans have been meeting behind closed doors to draft a new bill that will appeal to lawmakers in that chamber. The GOP plans to roll out its bill Thursday morning in an all-conference meeting.
Related: Senate Republicans' Obamacare bill could hinge on three women
McConnell wants to force a health care vote by July 4 and may bring the bill to the floor regardless of whether he has the votes to pass it, Axios reported. Some Republican senators are complaining they too are in the dark about what is in the bill.
Democratic Senate Minority Leader Chuck Schumer is confident no Democrats will vote for the bill. If all Democrats vote against it, they'd also need at least three Republicans to do so to prevent its passage. If the Senate votes 50-50, Vice President Mike Pence would almost certainly cast the tie-breaking vote in its favor.
Although the Senate bill is expected to differ from the House bill, it is still expected to include some loss of health coverage. The bill passed in the House would lead to 23 million people losing health care over a decade, according to the nonpartisan Congressional Budget Office.
Here are the Republican senators who may decide the fate of the health care bill, and where they currently stand.
Lisa Murkowski, Alaska
Lisa Murkowski is one of the Republicans who has been most vocal in raising her concerns about the bill and the process. On Wednesday, she said that she doesn't know what will be in the bill and that she needs time to "run the numbers" before supporting any health care bill. She is considered one of the key swing votes on Obamacare repeal, calling the House bill "flawed" and saying it would not increase access or decrease cost for Alaskans. She wants Alaska to retain its Medicare expansion under Obamacare, and supports federal funding for Planned Parenthood.
Dan Sullivan, Alaska
While Dan Sullivan, like Murkowski, has voiced support for repealing Obamacare, he has remained neutral on the current effort. Under the House's American Health Care Act, Alaskans would see the largest premium increases, at around $12,000 each year by 2020, according to the Center for Budget and Policy Priorities. Sullivan said he is raising concerns about "some of the structural challenges in a state like Alaska" as he works on the bill.
Shelley Moore Capito, West Virginia, and Rob Portman, Ohio
In West Virginia, 200,000 people were covered by the Affordable Care Act's Medicaid expansion. The state also has been hit particularly hard by the opioid crisis, and Shelley Moore Capito has said West Virginians have greatly benefited from Medicaid expansion, especially those with mental health issues and opioid addiction. "We can't just drop them off and wish them good luck," she said. Rob Portman has expressed similar concerns on the immediate reversal of Medicaid expansion and funding to fight the opioid crisis. Capito and Portman lead a group of Republicans who favor phasing out Medicaid expansion over seven years instead of reversing it more quickly.
Susan Collins, Maine
Susan Collins has been an outspoken opponent of the AHCA, saying it "really misses the mark." She has said she can't take a position on the Senate's current efforts because she has not seen the bill or the CBO's assessment of it, but she has expressed concern over coverage for those with pre-existing conditions and a rollback of Medicaid expansion.
Rand Paul, Kentucky, and Mike Lee, Utah
On the other end of the spectrum are Rand Paul and Mike `Lee, who may not support the bill if they do not consider it conservative enough. "My promise to the voters was to repeal Obamacare, and it looks more like we're keeping a good chunk of Obamacare," Paul told The Boston Globe. Lee has said he has "grave concerns" over the Senate's bill, saying he is worried it leaves Obamacare too intact.
Jeff Flake, Arizona, and Dean Heller, Nevada
Jeff Flake and Dean Heller are up for re-election in 2018, and they are considered vulnerable. With the AHCA's unpopularity among voters, Flake and Heller may think twice before supporting a similar bill in the Senate. Heller has expressed concern about pulling back Medicaid expansion too fast, and Flake has said McConnell's July 4 goal is "pretty quick." Both have called for Obamacare repeal, but they come from states that expanded Medicaid and are under scrutiny on the issue.
Bill Cassidy, Louisiana
Bill Cassidy has been critical of the House bill and has called on Trump to fulfill his campaign promises of covering those with pre-existing conditions, eliminating mandates and lowering premiums. Cassidy, a physician, has said the bill should follow the "Jimmy Kimmel test." Cassidy said a child born with a congenital heart disease should be covered, "even if they go over a certain amount." Kimmel disclosed that his newborn son has a serious heart defect while pleading for affordable health care on his late-night show. Without Cassidy's support, it's difficult to imagine a bill getting to 50 votes.