Which States Have Mandated Masks? Nevada Becomes 19th to Issue Order
Nevada is the latest state to issue a mask mandate, joining 18 other states and the District of Columbia.
Nevada Gov. Steve Sisolak announced that people will be required to wear face coverings while in public from 11:59 p.m. June 25. In a press conference on Wednesday, Sisolak said: "For Nevada to stay open, we must make face coverings a part of our daily lives.
"The last thing I want is for monetary fines or criminal penalties to be imposed on Nevadans, which is why I strongly encourage everyone to follow this directive."
Other states have issued statewide mandates in the last two weeks, including California, North Carolina and Washington.
On Tuesday, Washington state Gov. Jay Inslee announced that a statewide mandate to wear face masks will go into effect on Friday. Inslee said at a press conference: "As necessary economic activity increases and more people are out in their communities, it is imperative that we adopt further measures to protect all of us.
"Until a vaccine or cure is developed, this is going to be one of our best defenses."
California Gov. Gavin Newsom issued a mandate on June 18 and told Los Angeles' ABC7: "Our numbers are going up, not going down. Hospitalization numbers are just starting to creep back up, and I'm very concerned by what we're seeing.
"We think the most impactful thing we can do, short of going back to a stay-at-home order, is wearing face coverings when we can't practice physical distancing."
North Carolina Gov. Roy Cooper issued a face mask mandate on Wednesday, which will go into effect at 5 p.m. local time on Friday. However, several North Carolina sheriffs have said that they will not enforce the mandate.
Which states have mandated masks?
California
Connecticut
Delaware
Hawaii
Illinois
Kentucky
Maine
Maryland
Massachusetts
Michigan
Nevada
New Jersey
New Mexico
New York
North Carolina
Pennsylvania
Rhode Island
Virginia
Washington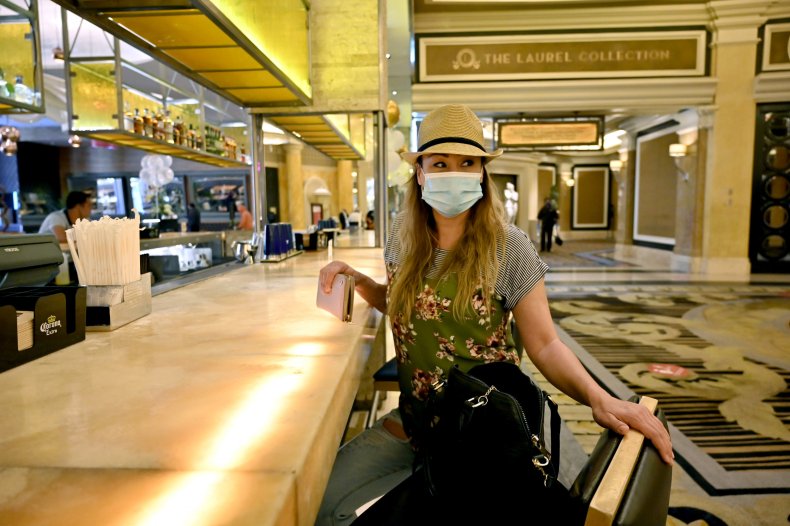 Some states issued face mask mandates as early as April, including Connecticut, Delaware, Hawaii, Maryland, New Jersey, New York, and Pennsylvania. Others followed suit in May, including Illinois, Kentucky, Maine, Massachusetts, New Mexico, and Rhode Island. Others issued mandatory face mask orders in June, like California, Michigan, Nevada, North Carolina, and Washington.
Mask mandates also vary by state, with some requiring its residents to wear a mask in all public settings, while others are less strict and require the public to wear masks when entering a business.
For example, on May 11, Kentucky Gov. Andy Beshear said everybody working at an essential business should wear a mask and everybody who enters a business or a place where social distancing could be broken should wear a mask. Unlike other states, Kentucky issued the order without announcing any penalties for noncompliance.
Beshear said: "For the general public, I am asking, I am urging, if I have to I will plea, but no one is going to be fined or penalized at the end of the day this is your decision, but it is one that impacts the lives around you."
While some states have not issued mask mandates, some counties within those states are requiring masks. Additionally, some states, including Tennessee, are encouraging its residents to wear masks but have not issued a mandate.
Other states and cities are preparing to issue a mandate, like Anchorage Mayor Ethan Berkowitz, who said on Tuesday: "That order is ready and could be implemented at any time. If the number of cases and the type of cases that we see continue over the next two or three days we're going to implement that order."
The U.S. Centers for Disease Control and Prevention (CDC) recommends wearing face coverings to slow the spread of the coronavirus, but state and local governments have the authority to make wearing a mask mandatory or not.
According to Johns Hopkins University, the U.S. has reported 2.4 million cases of the coronavirus and more than 124,000 deaths.
The graph below from Statista shows a new surge in COVID-19 cases in the U.S.