Which States Participate in Super Tuesday? 14 States Holding Primaries Today
On Tuesday, 14 states and U.S. territories will go to the polls on Super Tuesday to help determine which Democratic candidate will receive the Democratic National Committee's nomination.
Eight candidates are still competing for the Democratic Party's nomination for the 2020 general election. Vermont Senator Bernie Sanders leads with 60 delegates. He's followed by former Vice President Joe Biden with 53 delegates. Massachusetts Senator Elizabeth Warren and Minnesota Senator Amy Klobuchar have eight and seven delegates, respectively. Mike Bloomberg, Tom Steyer, and Tulsi Gabbard have not received any delegates prior to Super Tuesday.
Former South Bend Mayor Pete Buttigieg had 26 delegates, before ending his campaign on Sunday.
Super Tuesday is an important point of each election, as candidates can take significant leads or make serious ground in getting closer to the nomination. Besides being a day when candidates can win a massive amount of delegates, it's also the first round of primaries after the early voting states Iowa, Maine, Nevada, and South Carolina. This year 1,344 delegates are available.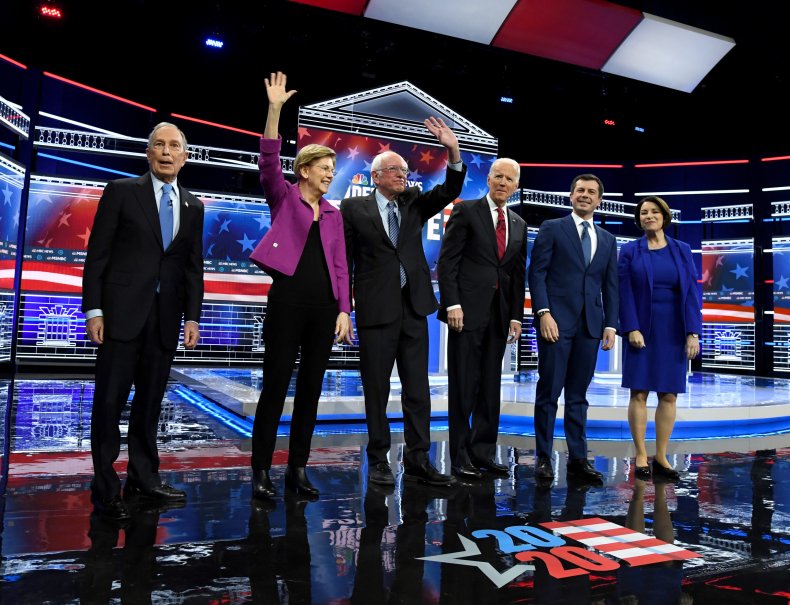 The candidate to receive a majority of 1,991 delegates will become the nominee for the 2020 general election. If no candidate has the majority by the Democratic National Convention, a second ballot will be cast among undecided superdelegates to determine the candidate. According to a recent Five Thirty Eight poll, there is a 52 percent chance of no candidate reaching the majority required to become the nominee.
The Democratic National Convention will happen from July 13 to 16.
The following states will vote on Super Tuesday, arranged by number of delegates for each state, with poll opening and closing times.
California-415 delegates, 7 a.m.-8 p.m.
Texas-228 delegates, 7 a.m.-7 p.m.
North Carolina-110 delegates, 6:30 a.m.-7:30 p.m.
Virginia-99 delegates, 6 a.m.-7 p.m.
Massachusetts-91 delegates, 7 a.m.-8 p.m.
Minnesota-75 delegates ,7 a.m.-8 p.m.
Colorado-67 delegates ,7 a.m.-7 p.m.
Tennessee-64 delegates, polling times vary by county.
Alabama-52 delegates, 7 a.m.-7 p.m.
Oklahoma-37 delegates, 7 a.m.-7 p.m.
Arkansas-31 delegates, 7:30 a.m.-7:30 p.m.
Utah-29 delegates, 7 a.m.-8 p.m.
Maine-24 delegates, 6 a.m.-8 p.m.
Vermont-16 delegates, opening times vary between 5 a.m. and 10 a.m. Polls close at 7 p.m.
Along with the 14 states, the territory of American Samoa will also vote on Super Tuesday with six delegates for grabs.
Voters in Super Tuesday primary states can find their polling places at Vote.org.
Of all the primary elections and caucuses, Super Tuesday is each candidate's last chance to make an impact this big before the convention. The next primary date with the most delegates available is on April 28 with 663 delegates from Connecticut, Delaware, Maryland, New York, Pennsylvania, and Rhode Island.