Which Teams Could Sign Colin Kaepernick? Possible Landing Spots for Former 49ers QB
Almost three seasons since he last played in the NFL, Colin Kaepernick will hold a private workout on Saturday in Atlanta, Georgia.
The event, which will include on-field work and an interview, was organized by the NFL and the league and has sent an invitation to attend to all the 32 franchises.
When news of the workout broke on Tuesday, Kaepernick—who hasn't played professional football since 2016—said he had been caught by surprise by the short notice, but insisted he would be ready.
The former San Francisco 49ers quarterback and his representatives asked the league to hold the event on Tuesday when most coaches and general managers would be free, as opposed to Saturday—a day traditionally busy for NFL franchises as it comes just before game day.
The NFL refused the request and confirmed the event will be hold this Saturday, although it has backtracked on its decision to agree to provide the list of executives and coaches that will attend the workout.
Kaepernick rose to prominence in 2016 when he opted to kneel rather than stand during the national anthem as an act of silent protest against social and racial injustice. He subsequently became a free agent and sued the 32 franchise owners for colluding with each other to prevent him from returning to the league.
Saturday's workout could be his best—perhaps final—shot at getting back into the league, so which teams could be interested in signing the 32-year-old?
Cincinnati Bengals
According to Sportsbetting.ag, the Bengals are 4/1 favorite to sign Kaepernick. Cincinnati benched veteran Andy Dalton in favor of rookie Ryan Finley last week, but the 24-year-old endured a difficult debut against the Baltimore Ravens.
At 0-9, the Bengals season has long been written off and while Kaepernick could help them avoid going winless, Cincinnati is in pole position to land the number one overall pick of the 2020 draft and could choose one between Joe Burrow and Tua Tagovailoa instead.
Pittsburgh Steelers
Despite losing veteran starting quarterback Ben Roethlisberger for the season with an elbow injury at the beginning of the season, the Steelers are still in the hunt for a wildcard spot,
Backup quarterback Mason Rudolph has missed two games himself and Kaepernick would add considerable experience to the team as the race for the playoffs approaches its crucial stage.
Conversely, relying on a quarterback who hasn't played for two years is as big a gamble as any in the NFL and Pittsburgh may prefer to stick with Rudolph instead.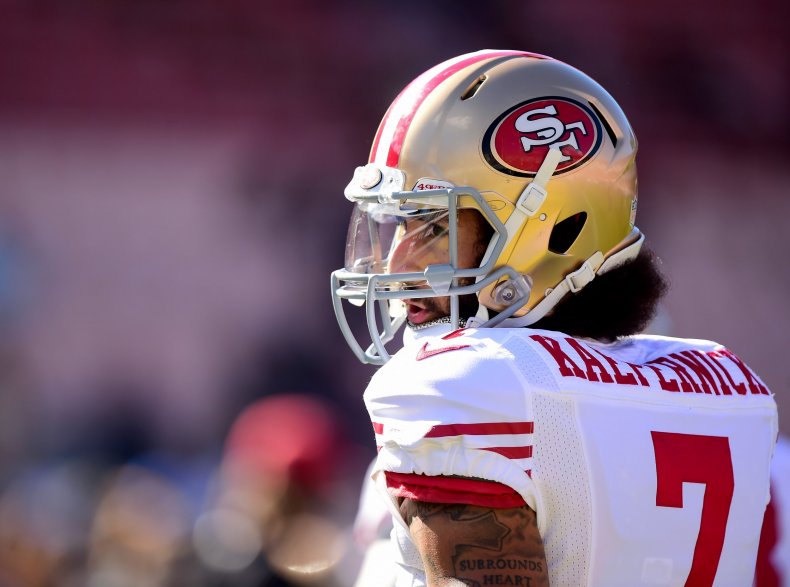 Indianapolis Colts
Like the Steelers, the Colts are still in the hunt for a playoff spot despite a trouble-laden season at quarterback. Indianapolis lost Andrew Luck to retirement before the beginning of the season and Jacoby Brissett's last week left them to rely on Brian Hoyer in Week 10.
Hoyer threw three picks and completed just 18 of 38 passes in a surprise loss to the Dolphins, which significantly complicates Indianapolis' path to the postseason.
Kaepernick would be a reliable insurance policy for the Colts, should Brissett's injury prove more serious than expected.
Chicago Bears
Bar a major upturn in fortunes, this season may well come to be regarded as the winter of the Mitch Trubisky era in Chicago. The second-overall pick of the 2017 draft has thrown for just 1,390 yards and eight touchdown passes—three of which came in the win over Detroit last week—and three interceptions.
Trubisky ranks 31st in the league in terms of quarterback rating and averages just 5.8 yards per play, a figure which goes a long away to explain Chicago's offensive struggles. The Bears boast one of the best defenses in the league but risk wasting its potential because of a misfiring offense and coach Matt Nagy could well opt to call time on the Trubisky experiment.
New York Jets
In familiar fashion, the Jets have resembled a dumpster fire this season. Adam Gase's appointment was expected to help Sam Darnold's development, but the second-year quarterback has regressed at a rate of knots this season.
Darnold as the worst statistics of the quarterbacks with five or more starts and a bout of mononucleosis meant the Jets had to rely on backup Trevor Siemian—who has since been ruled out for the season with an ankle injury—and Luke Falk.
Darnold remains the Jets' first choice under center, but Kaepernick would at the very least provide them with a useful backup.
Detroit Lions
Unlike most of the other teams in this list, the Lions need a quarterback because of injury problems, rather than because of poor production.
Matthew Stafford has passed for 2,499 yards and 19 touchdowns so far this season but was ruled out of Week 10 with an unspecified injury and ESPN reported on Sunday that he has fractured bones in his back.
That could keep the 31-year-old out for a while and with Jeff Driskel unimpressive in his first start of the season Detroit could opt to bring in Kaepernick.
Carolina Panthers
Cam Newton may have played his last game for the Panthers after being shutdown for the season with a foot injury.
CBS Sports' Jason La Canfora reported last week that Carolina was unsure about giving the former MVP an extension even before his injury and it wouldn't be a surprise to see Newton wear a different jersey next season.
In his absence, Kyle Allen has deputised well, winning five of his seven starts and throwing for 1,598 yards, 10 touchdowns and five interceptions. Whether the Panthers believe that is enough to hand him the keys to the offense for next season, however, remains to be seen.
Kaepernick could prove a useful plan B for the Panthers, where he would reunite with Eric Reid, one of the first players to join his national anthem protest.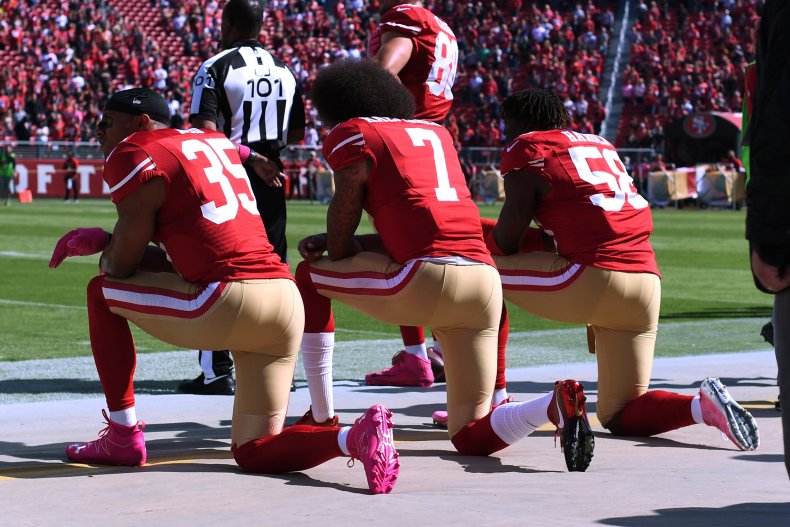 New England Patriots
As left field as the idea of Kaepernick signing for the Patriots may sound, New England could with do with having an experienced quarterback to back up Tom Brady.
Taking a more long-term view, the Patriots will eventually find themselves having to look for Brady's replacement as the six-time Super Bowl winner will be 43 before next season starts.
Kaepernick might not be the man to usher the Patriots into a new era but could be the steady hand to bridge the gap. Few coaches in the NFL have made a habit of recruiting talent that's been left out of the NFL as much as Bill Belichick, so don't rule out New England making a move just yet.