While Australia's Wildfires Burn, Drought-Stricken Areas Are Getting Rain, but Is It Enough?
Rain in Australia could give firefighters enough of an advantage to build containment lines for smaller wildfires, but it won't be enough to make a significant, long-term impact on the flames.
"Any sort of progression that was made yesterday and today might be lost later this week again," AccuWeather Senior Meteorologist Andy Douty told Newsweek.
Wildfires that have been raging for months claimed thousands of homes and nearly 30 lives since September, and have sparked an international call for help. In 2019, Australia's hot temperatures and prolonged drought conditions broke records and with months left of the summer season, officials warned fires could continue for weeks.
On Monday, parts of the country saw rain and cooler temperatures, bringing some relief to firefighting efforts, but Douty said he was confident that it "definitely" wouldn't be enough to put the flames out. For there to be a long term impact on firefighting efforts, Australia needs multiple "good, soaking rainfalls" that will extinguish the flames and restore moisture to the dry soil.
"I don't think there's any sort of magic number [of inches of rainfall] to put out the fires," Douty said. "It takes time to recover from something like this ... You don't just get one heavy rain and it's gone."
Rainfall between January and August 2019 was the lowest on record in areas of Queensland, New South Wales (NSW), South Australia, Western Australia and the Northern Territory, according to the Bureau of Meteorology (BOM) in Australia. This caused the root-zone soil moisture—the water available to plants—in parts of every Australian state to be below average and even the lowest on record in some areas.
With insufficient water drying out vegetation, effectively creating timber to fuel the flames, the BOM reported Australia was "primed" for dangerous wildfires.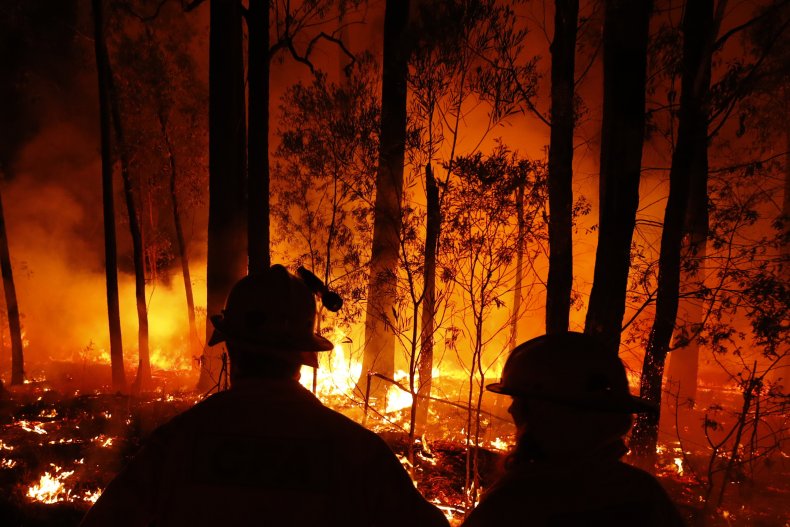 Although most of Australia wasn't expected to receive a heavy enough dose of rain to sufficiently soak the soil, Douty explained that rainfall had short term benefits. The most recent rainfall and the moisture expected for Friday night and into Saturday could help slow the progression of some of the fires. For smaller fires, the respite from rapid spreading could be enough to help firefighters reinforce containment lines.
Rainfall in Victoria ranged from less than a millimeter to 21 millimeters, the equivalent of 0.8 of an inch, according to the BOM. The majority of New South Wales received less than nine millimeters of rain and only three stations reported having between 10 and 24 millimeters.
Tropical Cyclone Blake, a Category 1 storm, was expected to dump heavy rain in the eastern Pilbara on Tuesday and Wednesday, according to the BOM. The rain would bring relief to the drought-stricken area but since it was on track to remain in Western Australia, it would do little to help the fires in Victoria and NSW, located in the eastern part of Australia.
On Tuesday morning local time, in New South Wales, at least 130 fires were still burning and 2,000 firefighters were working to contain them. More than 31 fires were burning in Victoria on Monday.
Victoria state Premier Daniel Andrews told the Associated Press that people can't be "complacent" because the area was "by no means out of this." Andrews added that "big fire danger" was headed Victoria's way later in the week and the next few days and months would be challenging.
Dry conditions were expected to return to Australia in between the two light rainfalls and an upcoming cold front could pose new challenges. Jonathan Erdman, senior meteorologist for The Weather Channel, posted on Twitter that strong winds from the cold front expected for Saturday could change the direction of the fire front moves.
Douty told Newsweek weather conditions and rainfall should improve over the next two months, adding that it was hard to say exactly when significant relief would come. On a seasonal basis, the meteorologist said, they should see increased moisture as summer continues. He reiterated that the impacted areas needed multiple heavy rainfalls to turn the tide of the fires.
"That doesn't look like it's going to happen anytime soon and a lot of these big fires can burn for weeks to months before they're put out," Douty said.