While Many Unions Work to Undermine Biden's Vaccine Mandate, Some Are Suing to Widen Them
Labor unions and interest groups across the country have taken to fighting President Joe Biden's vaccine mandates through lawsuits. Last week, a coalition of the nation's largest unions also announced they too would file a suit against the mandate. However, this coalition is seeking expansion.
The AFL-CIO, United Food and Commercial Workers (UFCW), and Service Employees International (SEIU) unions sent a petition to the U.S. Court of Appeals for the District of Columbia requesting the court review vaccination requirements, CNBC reported.
Though the petition did not include a summary of their arguments, a representative for the food workers union told CNBC that the coalition wants the president's mandate expanded to cover more of the nation's workers. They also want the Labor Department to require employers to finance employee COVID tests and face masks, something not mandated under the current rules.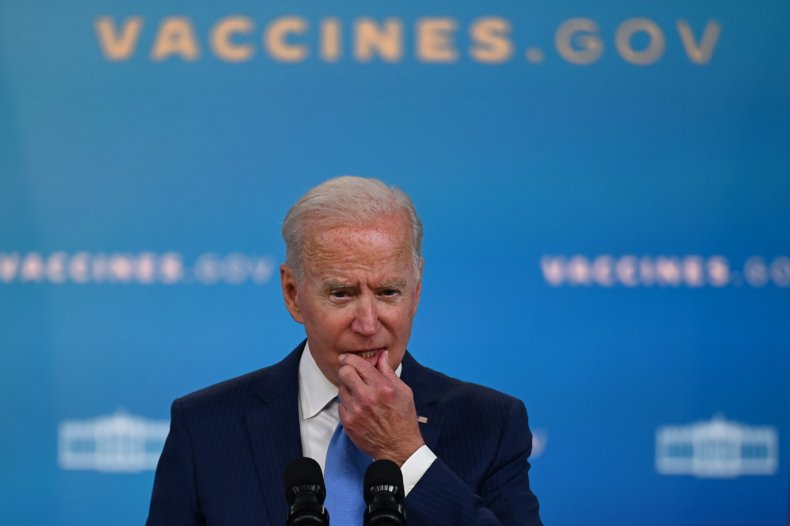 "(United Food and Commercial Workers wants to) strengthen the worker protections to ensure that as many workers are covered as possible, that frontline employees have a voice in how vaccine requirements are implemented, and that employees do not shoulder the cost of masks, testing, or other critical safeguards needed to keep workers and customers safe," the union said in a statement sent to the outlet.
This move follows a filing last week by the SEIU to the U.S. Court of Appeals for the Second Circuit that also challenged the confines of Biden's current vaccine and testing requirements. The union, which represents workers in healthcare, public services and property services, argued the current mandate "fails to adequately protect all workers who face a grave danger from COVID-19 exposure in the workplace."
Under the current Occupational Safety and Health Administration's (OSHA) mandate, employers with a staff of over 100 people must vaccinate their workers by January 4. The SEIU wants this rule to apply to businesses with less than 100 workers.
"We believe that we all have to do our part to help our communities return to normal and that the COVID vaccine or test mandate should be broader in scope to also apply to employers with less than 100 employees," SEIU 32BJ President Kyle Bragg told CNBC. "An exemption for these employers undermines the effort to protect public health."
In a speech on Labor Day, Biden said he would be "the most pro-union president leading the most pro-union administration in American history."
Newsweek contacted the Department of Labor for comment on the suits.