While Most New York Dems Don't Want Andrew Cuomo to Resign, 57% Wouldn't Back Re-Election
New York Democrats do not want embattled Democratic Governor Andrew Cuomo to resign but are not in favor of him serving an additional term.
A 61 percent majority of Democratic New York voters said that Cuomo should not resign in a poll from progressive think tank Data for Progress, which was exclusively shared with City & State and published Friday. A similar majority of Democrats, 57 percent, said that they believe it is "time for someone new" when the 2022 election comes along. Only 18 percent said they would vote to reelect Cuomo, while 29 percent were in favor of his immediate resignation.
Cuomo, who is facing allegations of sexual harassment from nine different women and heavy criticism over his handling of nursing homes amid the COVID-19 pandemic, has been under increasing pressure in recent weeks as a majority of New York lawmakers including Democrats have called for his resignation.
The poll found that a majority of New York voters overall want Cuomo to immediately resign, although results depended on how the question was asked. When asked simply whether Cuomo should resign or not, a 49 percent plurality of New Yorkers were in favor of resignation, while 42 percent were not and 9 percent said they "don't know."
However, when respondents were presented with the fact that many lawmakers have called for Cuomo's resignation, a 58 percent majority agreed that the governor should resign. When it was mentioned that most Democratic lawmakers are also in favor of Cuomo resigning, 59 percent of respondents agreed. Democrats were still largely against Cuomo resigning, although when Democratic calls for his resignation were mentioned, 47 percent of Democratic voters agreed.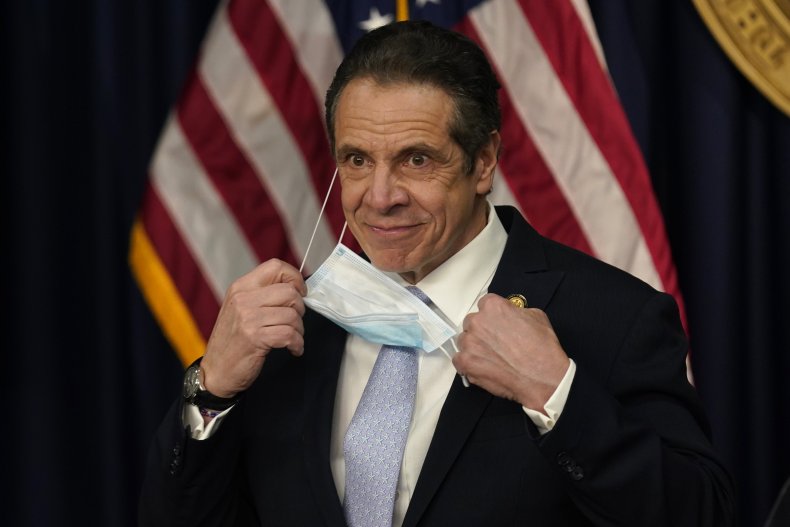 The Data for Progress poll was conducted online among 484 likely New York voters between March 13 and March 16. It has a margin of error of 4 percent.
A Quinnipiac University poll released Thursday found that 43 percent of all New York voters were in favor of Cuomo resigning, while 49 percent were not. While a two-thirds majority of Democrats were against Cuomo resigning, 52 percent of Democrats were also opposed to him running for reelection. The poll was conducted among 905 New York voters on March 16 and March 17, with a margin of error of 3.3 percent.
In 2019, Cuomo announced that he would be seeking a fourth consecutive term in the 2022 election. Cuomo has been in office for over 10 years, with New York being in the minority of states that have no term limits for governors. If he remains governor and continues to seek reelection, Cuomo could face formidable challenges, including from within his own party.
Although no other candidates have officially declared they are entering the race, Democratic New York City Mayor Bill de Blasio has expressed interest in running for governor. Other prominent figures like Rep. Alexandria Ocasio-Cortez (D-N.Y.) and New York Attorney General Letitia James, who is currently investigating the allegations against Cuomo, have also been floated as potential candidates.
Newsweek reached out to Cuomo's office for comment.