While Trump Twiddles and Tweets, Putin Bullies His Neighbors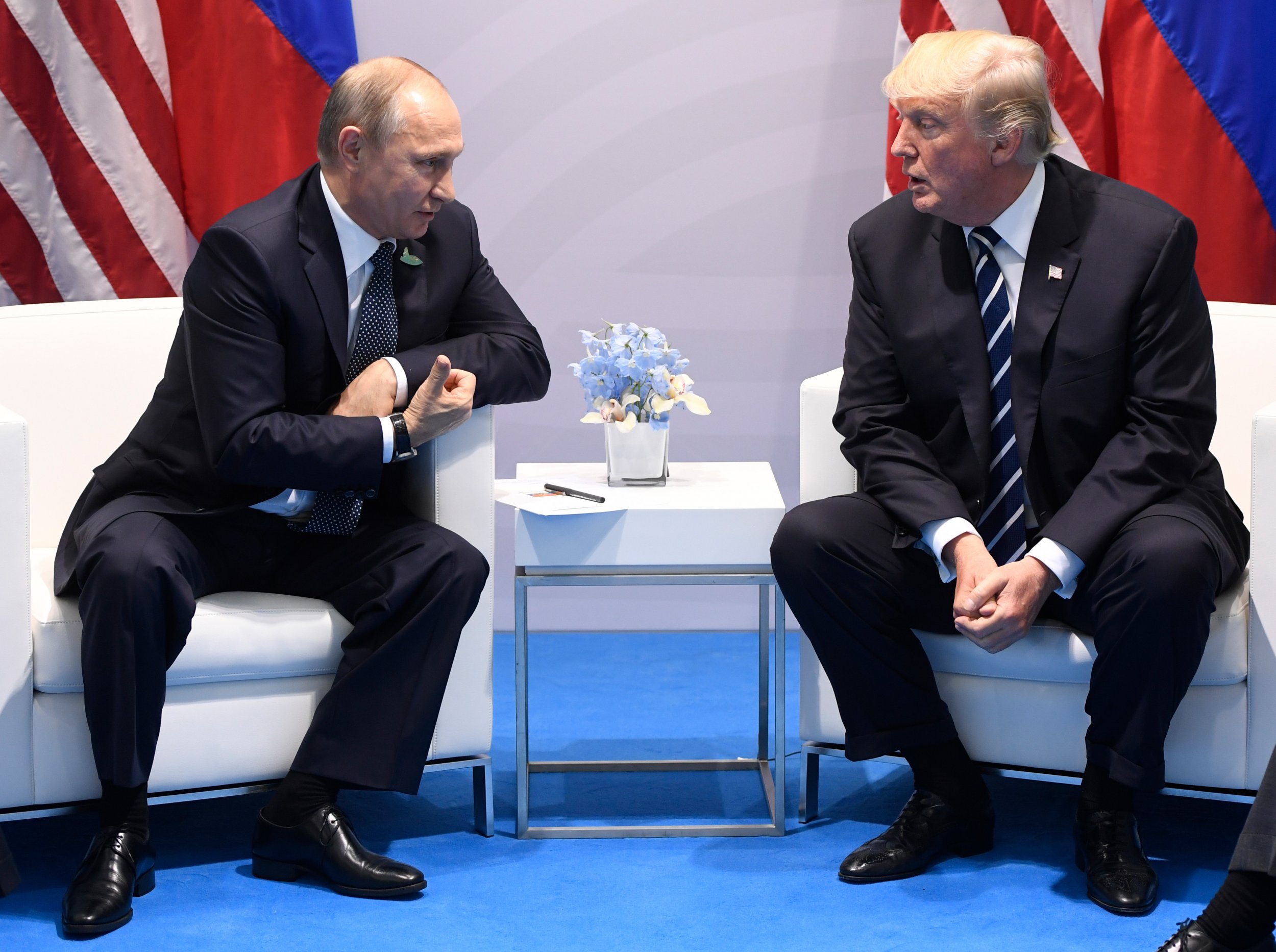 This article first appeared on the Atlantic Council site.
Russia President Vladimir Putin and US President Donald Trump likely agreed to restrict intervention in the affairs of third countries at the G-20 summit.
This agreement, however, contradicts Russian foreign policy. In Armenia, Azerbaijan, and Georgia, Russia seeks to curtail the ability of these governments to pursue independent foreign policies.
A series of recent probes in the region demonstrate that Trump's agreement with Putin is worthless and that the sovereignty and territorial integrity of these states is meaningless from Moscow's standpoint.
Russia feels free to intervene in their affairs at any time, threaten their compatriots in Russia, and regularly brandish military and other forms of power to intimidate them.
Unless Washington, Brussels, and NATO step up their game, this region will either explode or be compelled to shelter under Russian power. The West cannot simply look away: European security is linked to the security of the South Caucasus.
In Georgia, Russia continues to press Tbilisi to accept the abridgement of its territorial integrity, stonewalls Georgian efforts to negotiate, and insists that the country renounce its NATO and EU aspirations.
In early July, Russian forces unilaterally moved 700 meters deeper into Georgia in a process called "borderization." Russian troops are now less than a kilometer from the Baku-Tbilisi-Poti highway, one of the main regional highways.
In Armenia, Russia curtailed Yerevan's ability to conduct an independent foreign and economic policy years ago. It has forced Armenia into Moscow's Eurasian Economic Union, reserves the right to veto any Armenian agreement with the EU, and obtained army and air bases in virtual perpetuity at Gyumri and Erebuni.
Ostensibly these bases defend Armenia against Turkey or Azerbaijan, but they also ensure Moscow's de facto protectorate over Armenia and are vital to the projection of Russian power into the Black Sea and Middle East.
Russia has recently stepped up its pressure on Azerbaijan. In Nagorno-Karabakh, Russian border troops have abandoned any pretense of neutrality and have reportedly held drills with Armenian troops in July 2017. At the same time, Russia and Iran jointly launched drills in the Caspian Sea, which threaten Azeri energy installations there.
These drills take place in the context of other signs of Moscow's efforts to pressure Azerbaijan into joining the Eurasian Economic Union, refrain from becoming a major pro-Western outpost, and block it from becoming an energy competitor to Russia in the Balkans.
As is typical in such campaigns, Russia's Ministry of Foreign Affairs has fabricated charges of discrimination by Azerbaijan against Russians. Russia's courts also closed the main lobby organization of Azeris in Russia, the All-Russian Azerbaijan Congress, while Russian officials appear to be paying heed to Armenian diaspora organizations in Russia, and Foreign Ministry spokeswoman Maria Zakharova publicly humiliated journalists from Azerbaijan.
The recent tragic killing of an Azerbaijani woman and her infant granddaughter by Armenian troops firing upon supposed Azeri targets in Nagorno-Karabakh underscores the fact that this conflict is a simmering one that may catch fire at any time. The broader point is this: what happens in Nagorno-Karabakh will not stay in Nagorno-Karabakh.
As we saw from the 2008 Russo-Georgian war and as scholars such as Robert Legvold and I have written, the security of the Caucasus is inextricably linked to European security. Another conflagration in the region will have serious repercussions across Europe, the Middle East, and on the international order.
The good news is that things are changing in Washington. The Obama administration essentially ignored the Caucasus and trouble spots like Nagorno-Karabakh, while US Secretary of State Rex Tillerson recently met with Azerbaijan President Ilham Aliyev in Istanbul.
The new administration has an opportunity to display a stronger presence in helping Baku and Yerevan negotiate a peace settlement that meets both countries needs and reduces the likelihood of future military intervention.
It's critically important for Tillerson, Vice President Mike Pence, Trump, and their European counterparts to make clear to Russia through regular visits to Baku, Tbilisi, and Yerevan that the West will defend these states' sovereignty and integrity and actively play a role in the peace process.
Of course none of these countries has suffered the depredations loosed upon them by Moscow to the extent that Ukraine has, but the same principles are at work. For the Russian president, these are not real states and he alone decides to what degree they may "pretend" to act as such.
But here's the rub: the continuation of Russian foreign policy in the South Caucasus may entail war, since these states will not indefinitely renounce their statehood. Moreover Moscow, by fanning the flames of conflict in South Ossetia and Abkhazia against Georgia and in Nagorno-Karabakh by selling high-performance weapons to both sides, encourages the very outcome it professes to abhor.
Russia's policies all but ensure that ancient grudges will lead to new wars — an outcome that neither Washington nor Europe can passively accept. As Tillerson's visit suggests, the time for neglect is over and the time for engagement is now.
Stephen Blank is a senior fellow at the American Foreign Policy Council.