'Whining': Jared Kushner Dismissed White House Counsel Concerns Over Jan. 6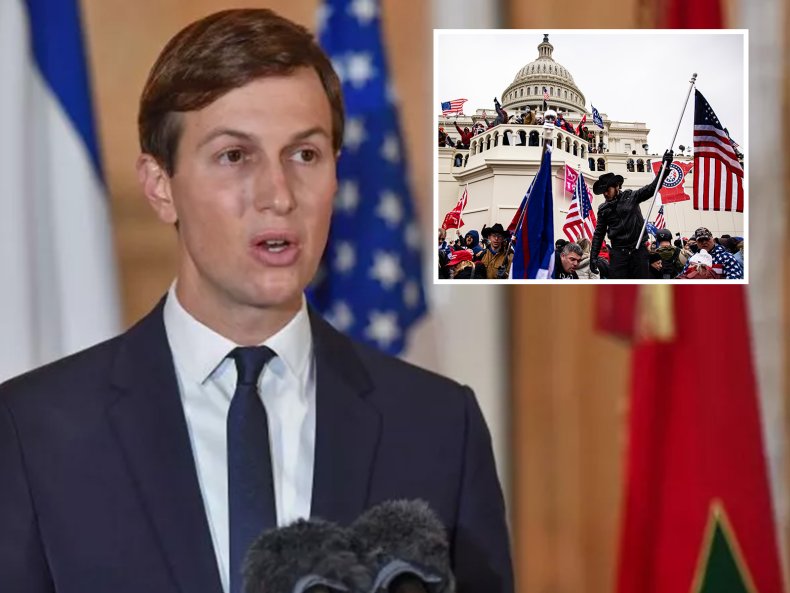 Jared Kushner, former adviser to ex-President Donald Trump, dismissed then-White House Counsel Pat Cipollone's threats to resign as "whining" in the lead-up to the January 6 siege on the U.S. Capitol.
Kushner, also Trump's son-in-law, made the remarks in testimony played during Thursday night's primetime hearing of the House Select Committee to Investigate the January 6th Attack on the U.S. Capitol. Kushner was responding to a question from Representative Liz Cheney of Wyoming, one of two Republicans serving on the committee, who asked if he was "aware of instances where Pat Cipollone threatened to resign."
Cheney explained that Cipollone was "so concerned about potentially lawless activity" connected to January 6 and Trump's false claims of a "stolen" 2020 election that "he threatened to resign multiple times."
"My interest at that time was on trying to get as many pardons done," Kushner said. "And I know that, you know, he was always, him and the team were always saying, 'oh we're going to resign, we're not going to be here if this happens, if that happens.' So, I kind of took it up to just be whining, to be honest with you."
Cheney took exception to Kushner describing Cipollone's threat as "whining" after the clip of his testimony played on Thursday night.
"Whining," she said. "There's a reason why people serving in our government take an oath to the Constitution. As our Founding Fathers recognized, democracy is fragile. People in positions of public trust are duty-bound to defend it, to step forward when action is required."
Days before a crowd of Trump supporters stormed the Capitol in an ill-fated attempt to stop Congress from certifying President Joe Biden's Electoral College victory, Cipollone reportedly threatened to resign during a White House meeting where Trump touted a plan to use the Department of Justice (DOJ) to help him reverse his loss.
The plan involved replacing then-acting Attorney General Jeffrey Rosen with DOJ lawyer Jeffrey Clark, a Trump loyalist who he thought might be more willing to overturn the election result, according to The Washington Post. Cipollone and others reportedly "pushed back against the idea of replacing Rosen" during the meeting and "warned of a mass resignation."
There have been other indications that Cipollone had a sometimes rocky relationship with the former president, particularly toward the end of his term. Trump would allegedly "yell at" Cipollone and other lawyers because he "didn't like them telling him that things he wanted to do were unethical or illegal," according to White House press secretary Stephanie Grisham, writing in her memoir, I'll Take Your Questions Now: What I Saw in the Trump White House.
Thursday night's January 6 committee hearing was the first of at least seven public hearings expected in the coming months.
Newsweek reached out to Cipollone for comment.