'Whiskey Cavalier' Cast: Meet the Characters of Scott Foley's New ABC Show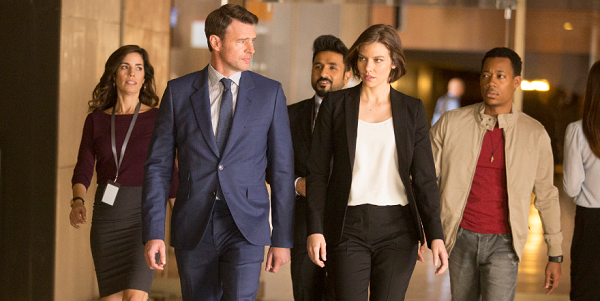 Following a lengthy tenure on the ABC's beloved former series Scandal, Scott Foley is making his way back into viewers' hearts and leading the network's newest action show, Whiskey Cavalier. Although viewers were given an early sneak peek of the new show when it aired after the 91st annual Academy Awards on Sunday, the series, which follows Foley's FBI agent Will Chase and his many gun-wielding, explosive and close-to-death missions, is set to officially premiere on Wednesday.
Albeit ABC's newest action front, Whiskey Cavalier won't skimp on the underlining romances and friendships. Foley is joined by a number of familiar television faces, who help the show's protagonist not only succeed in his high-risk assignments but get over his broken heart too.
Read on for a rundown of Whiskey Cavalier's cast and characters below. Whiskey Cavalier airs on ABC at 10 p.m. ET on Wednesday.
Will Chase—Code name: Whiskey Cavalier
If B613 agent Jake Ballard had a brother that worked internationally for the FBI, he would be Will Chase, otherwise known as Whiskey Cavalier. When fans meet the lovesick agent, he's in Paris nursing wounds left by his ex-fiancée Gigi who has abruptly ended their relationship for the most sinister of reasons (although, fans will have to get through the first episode to find out the real cause of their called-off engagement). Still, Will is a professional and manages to get through his missions as best he can, despite the many hiccups that come along the way. He finds himself in a particularly interesting pickle when his boss Alex Ollerman (Dylan Walsh) sends him to Russia to retrieve an NSA agent who has broken into the State Department's security system and stole very important classified information.
Frankie Trowbridge—Code name: Fiery Tribune
Lauren Cohan stars as the CIA operative Frankie Trowbridge, known to those in the field as Fiery Tribune. The agent is much like the name suggest: Every bit of a leader, feisty and sassy with a sizzling attitude and blistering tactics to match. Unlike the friendly and upbeat Will, Frankie is a bit closed off, with an exterior hard shell thicker than the bulletproof vest she totes. She's similarly been given orders by the CIA to recover the NSA agent and find out where he's hidden the top-secret information, and Will, in her opinion, is just a small fry in her way. However, when their worlds collide in the most unexpected of ways, she may find that sensitive Will is the partner she needs to get the work done not just for her job but for herself as well.
Edgar Standish
Tyler James Williams stars as the NSA agent—yup, the one both Whiskey Cavalier and Fiery Tribune are chasing after. With the FBI and CIA on his tail in Russia, it would seem as though Edgar is the bad guy, and that assumption only seems to heighten when he refuses to reveal the whereabouts of the tarball (the device the classified info he stole is hidden). But, as the saying suggests, viewers shouldn't judge a book by its cover, and the same can be said for Edgar, who is perhaps least alarming standout character on the show.