Whistleblower Complaint Alleges DHS Officials Wanted to Downplay White Supremacy Presence in the U.S.
A whistleblower complaint filed on Tuesday by a former Department of Homeland Security employee alleges that top DHS officials wanted to downplay the threats that white supremacy posed within the U.S. in the agency's most recent domestic threat assessment.
Former acting Undersecretary for Intelligence and Analysis Brian Murphy filed the complaint with the DHS's Office of Inspector General. Representative Adam Schiff of California, chair of the House Intelligence Committee, announced in a Wednesday news release that the committee had received the complaint. He said he sent Murphy a formal request asking him to address the allegations within the complaint during a deposition hearing on September 21.
The complaint describes instances in which Murphy alleges that top DHS officials committed perjury while addressing Congress, instructed him to limit his assessments of the ways in which Russia interfered in the 2016 presidential election and told him to minimize certain domestic threats in official reports.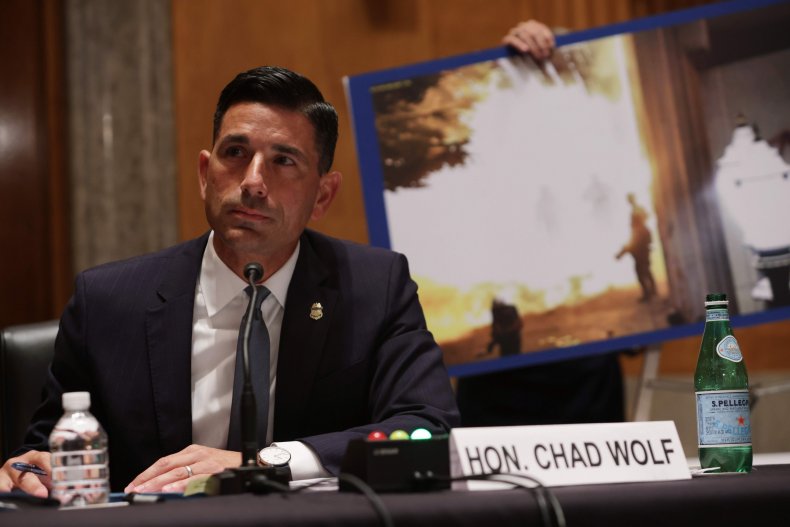 In composing his team's Homeland Threat Assessment report earlier this year, Murphy said he was told to "specifically modify the section on White Supremacy in a manner that made the threat appear less severe, as well as include information on the prominence of violent 'left-wing' groups." The instructions came after Acting Secretary Chad Wolf and Deputy Secretary Ken Cuccinelli reviewed Murphy's initial report and raised concerns "regarding how the HTA would reflect upon President Trump," the complaint alleges.
The two areas of particular concern to Wolf and Cuccinelli were white supremacy and Russian influence in the country, according to the complaint.
The complaint says that Murphy resisted making the requested changes to the report and found out in August that a new version was in progress without his input. Murphy alleges in the complaint that he discovered Wolf was the one who requested a new version of the report, despite Murphy's earlier resistance to the requested changes.
"It is Murphy's assessment that the final version of the HTA will more closely resemble a policy document with references to ANTIFA and 'anarchist' groups than an intelligence document as originally formulated by DHS I&A," the complaint says.
Between late May and late July, the complaint alleges that Murphy attended meetings with Wolf and Cuccinelli during which they discussed ANTIFA, a left-wing political movement. Murphy alleges that he was told to make changes to his intelligence reports on ANTIFA and other "anarchist" groups "to ensure they matched up with the public comments by President Trump."
Schiff said in a statement about the complaint that it reveals "grave and disturbing allegations that senior White House and Department of Homeland Security officials improperly sought to politicize, manipulate, and censor intelligence in order to benefit President Trump politically."
"This puts our nation and its security at grave risk," Schiff's statement said.
According to one early draft of this year's HTA obtained by Politico, DHS officials identified white supremacists as the "most persistent and lethal threat" to the U.S. Later draft versions toned down the language on white supremacy, according to Politico's analysis.
A DHS spokesperson told Newsweek that the department denies all of the allegations Murphy made in his complaint.
"The Department generally does not comment on the specifics of OIG referrals, but we flatly deny that there is any truth to the merits of Mr. Murphy's claim," DHS spokesperson Alexei Woltornist said in a statement. "DHS looks forward to the results of any resulting investigation and we expect it will conclude that no retaliatory action was taken against Mr. Murphy."
Referencing the 2020 State of the Homeland address that Wolf made at the DHS headquarters in Washington, D.C., earlier on Wednesday, Woltornist added, "DHS is working to address all threats to the homeland regardless of ideology. The Acting Secretary is focused on thwarting election interference from any foreign powers and attacks from any extremist group."
Updated 9/09 at 6:40 p.m. ET: This story has been updated with additional information, background and a response from DHS spokesperson Alexei Woltornist.