Impeachment Witness Lt. Col. Vindman's Brother Responds to Trump's Alleged Veterans Comments: 'We Are a Family of Public Servant Suckers'
The twin brother of Trump impeachment witness Lt. Col. Alexander Vindman took to Twitter on Friday to respond to President Donald Trump's alleged comments calling fallen U.S. soldiers "losers" and "suckers."
In his tweet, Lt. Col. Yevgeny Vindman wrote: "I'm a loser, my wife is a loser, my twin brother @AVindman is a loser. We are a family of public servant suckers... #losers #HereRightMatters"
He included photos of himself, his wife, and his brother in military uniform.
Trump's alleged comments on the military were first reported by The Atlantic, which cited four unnamed sources who said the president called American Marines who died in World War I "losers" and "suckers." These sources also recounted Trump saying that wounded veterans should not march in a military parade and making other cruel remarks about fallen and active U.S. soldiers, according to The Atlantic and other news sources who have corroborated parts of the story.
White House officials quickly denied these accounts, calling them false and noting the president's admiration towards the military.
"If people really exist that would have said that, they're lowlifes and they're liars. And I would be willing to swear on anything that I never said that about our fallen heroes. There is nobody that respects them more," Trump told reporters on Thursday after campaigning in Pennsylvania.
Countless veterans and military families fired back at Trump's alleged remarks on Twitter, posting photos of themselves and loved ones who have served in the military and expressing their anger towards the president's reported sentiments about service members. Many have even embraced the words "losers" and "suckers" as a form of retaliation.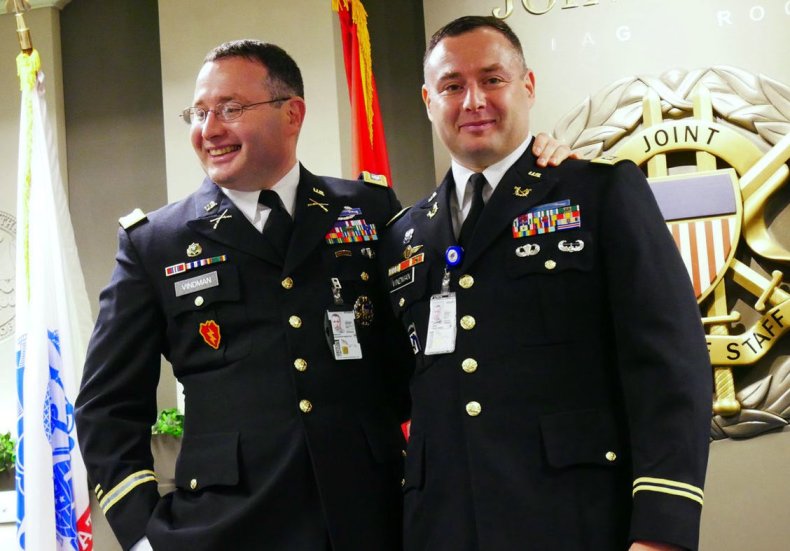 Like Yevgeny Vindman, several high-profile service members have spoken out about Trump's belittling remarks in The Atlantic report. Pilot Chesley "Sully" Sullenberger III, the Air Force veteran responsible for "The Miracle on the Hudson," took aim at Trump in a series of tweets on Friday, calling out the president's "egregious behavior."
"It is time to call out egregious behavior for what it is," Sullenberger wrote. "For the first time in American history, a president has repeatedly shown utter and vulgar contempt and disrespect for those who have served and died serving our country.
He added: "We owe it not only to those who have served and sacrificed for our nation, but to ourselves and to succeeding generations to vote him out."
U.S. Senator and Purple Heart recipient Tammy Duckworth also wrote on her Twitter page: "When our Black Hawk went down in Iraq, my buddies risked their lives to carry my body to safety—even though they thought I was dead. Because in the US military, NO ONE is left behind. This Coward in Chief doesn't deserve to be the commander of the world's greatest military."
At the time of publication, Yevgeny's tweet had over 124,000 likes and nearly 30,000 retweets.
The Vindman brothers were fired from the White House National Security Council in February after Alexander's congressional testimony in the impeachment inquiry. Last month, Yevgeny filed a whistleblower complaint with the Pentagon alleging that he was improperly punished for his role in the impeachment and for raising concerns about Trump's 2019 phone call with Ukraine President Volodymyr Zelensky.
On August 31, three days before the publication of The Atlantic report, Alexander posted a Twitter thread responding to Trump's slip in popularity among U.S. troops, according to a Military Times poll reported that same day.
"The people of the Armed Forces of the US know the truth: Trump has not rebuilt the military nor has not he made the US safer," Alexander said in response to the poll. "In fact no other president has done more to undermine US security. Military members cannot speak out but listen to what they are telling you here."
Newsweek reached out to the White House for comment, but did not receive a response in time for publication.