Whistleblower Complaint: Why Did Trump Want Ukraine to Investigate Joe Biden's Son, Hunter Biden?
In the recent whistleblower scandal, the Trump administration has been accused of asking the newly elected Ukrainian president to find information on Hunter Biden, the son of current 2020 Democratic presidential candidate Joe Biden. But why was President Donald Trump so interested in Hunter Biden?
In a press release issued April 18, 2014, oil company Burisma Holdings welcomed then-Vice President Joe Biden's son, Hunter Biden, to its Board of Directors. Five years later, Joe Biden is poised to win the Democratic nomination for the 2020 presidential election. With these facts in mind, Trump alarmed members of his intelligence community by using a congratulatory phone call to pressure the Ukrainian president-elect to help him look for dirt on the Bidens, according to a Wall Street Journal report issued Friday evening.
The younger Biden's role at Burisma was no secret back in 2014. Hunter Biden and Devon Archer, his business partner at investment firm Rosemont Seneca Partners LLC, joined Burisma's board at the same time. BuzzFeed News went so far as reporting on the appointment the month after it happened, pointing to a strange interview with Archer published in Ukrainian paper Kapital that Burisma translated (poorly) back into English and republished on its site.
The uncomfortable, mysterious variables in the Biden-Ukraine equation—the factors Trump hoped would tarnish Joe Biden's image enough to knock him out of the 2020 presidential election—revolved around Burisma's murky corporate history and Ukraine's deeply troubled government.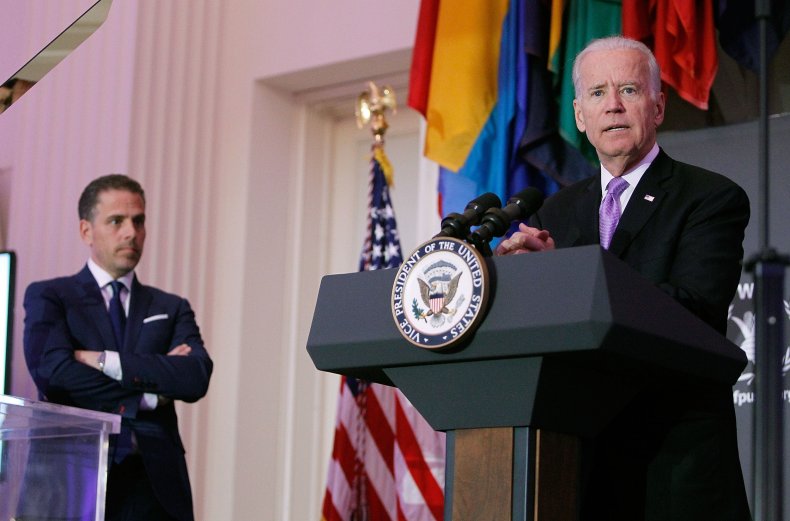 Burisma Holdings is the largest non-governmental oil and natural gas operator in Ukraine. Though registered in Cyprus, a European tax haven, Burisma operates primarily in Ukraine and is owned by Ukrainian businessman Mykola Zlochevskyi, who was widely reported to be a political ally of ousted Ukrainian president Viktor Yanukovych.
Yanukovych's time in office was marked by allegations of cronyism, massive corruption, press censorship and human rights abuses, including imprisoning political opponents. Yanukovych fled Ukraine and was disavowed by his own political party just two months before Hunter Biden joined the board of Burisma.
From spring 2014 to fall 2015, Rosemont Seneca received bank transfers from Burisma averaging more than $166,000 a month, according to reporting by The Hill. At the same time, the United States under President Barack Obama, with Vice President Biden acting as mediator, was encouraging Ukraine to disentangle itself from Russia.
Even after its eastern neighbor forcibly annexed the Crimean Peninsula in 2014, Ukraine remained dependent on its aggressor for oil and gas. It was a sticky situation, further complicated by the possible conflict of interest posed by Biden's familial ties to Ukraine's largest private domestic oil company.
At an event in January 2018, Joe Biden recounted a day two years earlier, in 2016, when he claimed to have pressured the new Ukrainian government under President Petro Poroshenko into firing the country's Prosecutor General Viktor Shokin. Shokin was both notoriously bad at prosecuting corruption in a gravely corrupt country, and had recently investigated Burisma. Both Bidens have repeatedly denied allegations that Hunter Biden's role at Burisma had anything to do with the pressure campaign.
The New York Times began a lengthy feature on the Bidens' Ukraine connections with the Shokin anecdote. In the report, an aide who worked with Joe Biden on Ukraine pointed to the former vice president's commitment to prosecuting Burisma founder Mykola Zlochevskyi as evidence that the politician was not acting on his son's behalf in the region.
"I was in almost every single meeting that Vice President Biden had with President Poroshenko, I was on every trip, and I was on most of the phone calls, and there was never a discussion about his son, or Burisma," Amos J. Hochstein told the Times.
The same story, published May 1, pointed to ongoing efforts by Trump's personal lawyer Rudy Giuliani to promote Joe and Hunter Biden's complicated history in Ukraine to the press. The president's man had already had some success getting the story on right-wing and right-leaning outlets including Fox News and Breitbart by July, when Trump allegedly implored Poroshenko's successor, President Volodymyr Zelensky, more than eight times to "work with [Mr. Giuliani] on Biden," according to The Wall Street Journal.
That phone call, led a member of the U.S. intelligence community to file a whistleblower complaint against Trump, which has added fire to already-simmering discussions of impeachment among Trump's adversaries on Capitol Hill.
As TV pundits discussed the president's seeming total inability to navigate international relations Friday, the president may have successfully diverted the public's attention: Google searches for "Hunter Biden" skyrocketed around 4 p.m. ET while searches for "impeachment" were trending down slightly from earlier in the week.