Whistleblower's Attorney Calls for GOP Senator to Resign from Senate Whistleblower Caucus After 'Hostile' Comments
Mark Zaid, attorney for the anonymous whistleblower whose testimony became central in the impeachment proceedings against President Donald Trump, called for the resignation of Tennessee Senator Marsha Blackburn from the Senate Whistleblower Caucus on Thursday. Zaid called some of Blackburn's comments about the whistleblower hostile and "completely contrary" to the ideals of the caucus.
"Senator @MarshaBlackburn should resign from Senate #Whistleblower Caucus," Zaid tweeted. "Her comments are completely contrary to everything that Caucus is supposed to stand for and protect.#ProtectTheWhistleblower"
"Sen #Whistleblower Protection Caucus was launched by bipartisan group in 2015 to raise awareness of need for adequate protections against retaliation for govt employees who call attention to wrongdoing," Zaid tweeted a few hours later. "Why is Sen @MarshaBlackburn still member given her hostility towards #WBers?"
Zaid's tweets were in reference to a tweet made by Blackburn in November in which she called impeachment witness Lieutenant Colonel Alexander Vindman "the 'whistleblower's' handler."
Blackburn has also tweeted about the whistleblower being considered for recognition as Time magazine's yearly Person of the Year award.
"How do you put an unidentified "whistleblower" on the @TIME short list for person of the year? Answer: It's TIME. #FakeNews"
"Is the 'whistleblower' a Democrat operative?" Blackburn tweeted in December.
Newsweek reached out to Blackburn for comment but did not receive a response in time for publication.
Formed in 2015 by Iowa Senator Chuck Grassley, a Republican, the Senate Whistleblower Caucus was designed to "raise awareness of the need for adequate protections against retaliation for private sector and government employees who call attention to wrongdoing," according to a news release. Blackburn was named to the caucus this year.
Blackburn is currently serving her first term in the senate having previously been voted into Tennessee's 7th Congressional district. She is the first female U.S. Senator to represent Tennessee.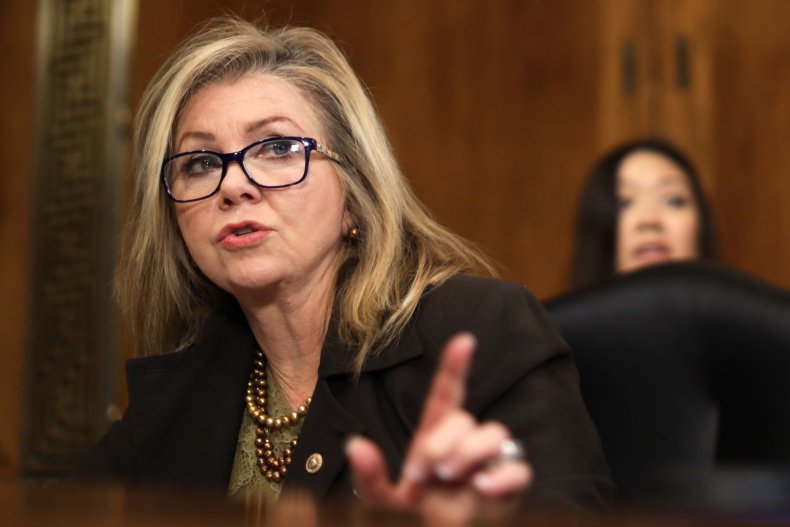 Republicans made repeated public attempts during impeachment proceedings to have the whistleblower's identity revealed or for that person to come forward and testify.
In an op-ed published in November by USA Today, Representative Jim Jordan of the House Committee on Oversight and Reform agreed that whistleblowers should be protected, but wanted to make an exception in this case.
"A fundamental tenet of due process is the ability to confront one's accusers," Jordan wrote. "On a matter as grave as impeachment, Americans should assess for themselves the credibility and motivations of the individual who initiated the inquiry. That is why the 'whistleblower' must testify under oath and in person."
Jordan apparently attempted to learn who the whistleblower was by asking Vindman with whom he had discussed the telephone call between President Donald Trump and Ukraine president Volodymyr Zelenskiy. Vindman would not name one of the people, naming the person only as a member of the intelligence community.
House Intelligence Committee chair Adam Schiff stopped attempts to have the whistleblower's identity revealed during Vindman's testimony.
"I want to make sure there's no effort to out the whistleblower through the use of these proceedings," Schiff said in November.