Democrat Angrily Rebukes Whitaker Dodging Questions: 'We Are Not Joking Here, and Your Humor is Not Acceptable'
Amid a contentious hearing with Acting Attorney General Matthew Whitaker before the House Judiciary Committee on Friday, one Democrat scolded the Department of Justice chief, accusing him of not taking the lawmakers' questions seriously.
Whitaker, who is set to be replaced with the Senate's likely confirmation of William Barr in the coming weeks, repeatedly dodged questions fielded by Democrats and provided conflicting answers about any previous influence he may have had over special counsel Robert Mueller's investigation, and any contact he may have had with President Donald Trump or other senior administration officials about the Russia probe before he assumed his role.
A series of questions from Democrat Sheila Jackson Lee later led to a fiery exchange and scolding from the Texas congresswoman.
"You did not have a confirmation hearing, and you have not yet appeared for an oversight hearing, yes or no?" Jackson Lee asked Whitaker. After refusing to answer in a yes or no fashion, and following him questioning whether she had the authority to continue asking questions because her time had expired, Jackson Lee rebuked the acting attorney general.
"Mr. attorney general, we're not joking here. And your humor is not acceptable," Jackson Lee said. "Now, you are here because we have a constitutional duty to ask questions, and the Congress has a right to establish government rules. The rules are that you are here, and I need to ask the question and I need to have my time restored so that you can behave appropriately."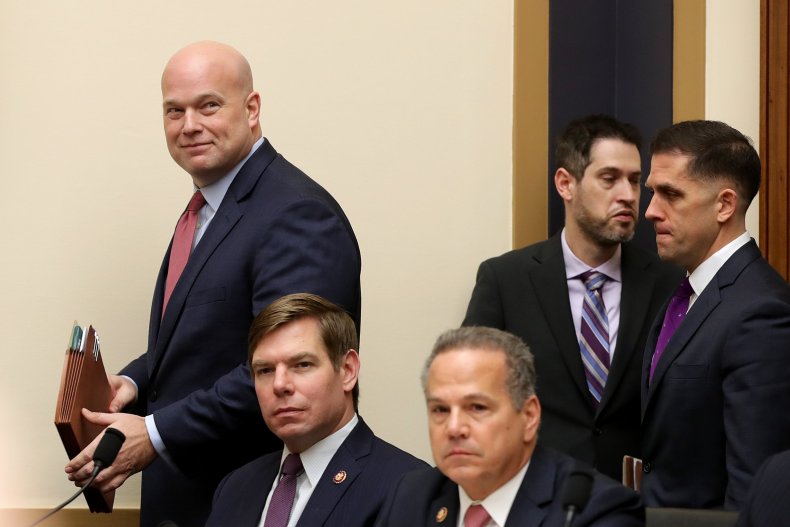 Committee Chairman Jerry Nadler and other Democrats accused Whitaker throughout the day of stalling and deflecting questions. Despite previously telling reporters that Mueller's investigation was "close to being completed," Whitaker said he could not answer questions about ongoing investigations. Nadler said he would "not allow the witness to stall and waste the members' time."
"He came to bluster, to deflect and certainly to perform in the way that he thought was appropiate," Jackson Lee told Newsweek following the hearing. "I felt it was necessary to remind him of our Article 1 authority...and that we've established this congressional oversight and he needed to respect that. I hope he heard my answer."
At a separate moment in the hearing, Whitaker was more direct with Nadler: "There has been no event, no decision that has required me to take any action, and I have not interfered in any way in the special counsel's investigation... At no time has the White House asked for, nor have I provided, any promises or commitments concerning the special counsel's investigation or any other investigation."
However, he would not discuss "private conversations with the president of the United States," in addition to not giving direct answers to other questions.
"Prior to Attorney General Jeff Sessions's firing, did you discuss or share your private opinion of the special counsel's investigation with [then-Chief of Staff John Kelly], Trump family members, and others?" Jackson Lee asked. She also asked Whitaker to confirm or deny media reports saying he had one-on-one phone calls with the president and Kelly.
"Again, congresswoman, is there someone that provides you the basis for that question or is that an anonymously sourced article?" Whitaker responded. "As I've mentioned several times, I am not talking about the conversations that I've had with the president or the rest of his senior staff."
"So that is a no?" Jackson Lee asked.
"I don't think you can assume anything from that," Whitaker responded.
Trump ousted Sessions in November, right after the midterms, and Whitaker, his chief of staff, was appointed acting attorney general. Much to the concern of Democrats, Whitaker has made several public anti-Mueller comments before assuming his current role. That included appearing on national news outlets and writing op-eds to say the investigation was becoming a "witch hunt."
This story has been updated with comments made to Newsweek by Jackson Lee.