Charles Starks, a Little Rock, Arkansas, police officer who was fired after fatally shooting a Black man during a traffic stop before being reinstated, submitted his letter of resignation on Friday, citing "intolerable" working conditions created by Police Chief Keith Humphrey.
"This resignation is because of the manner in which I have been treated by you or at your direction since having to use deadly force to protect myself," Starks wrote. "You and Mayor Scott have never acknowledged that Mr. Blackshire put my life in danger. You have done everything possible to make my working conditions intolerable and, you have succeeded."
The letter addressed to Humphrey, which was obtained by KATV, states that Starks will be stepping down from his position effective September 26.
The Little Rock Police Department confirmed to Newsweek that it has received the letter from Starks but that it has yet to make "its way through the Chain of Command." Both the department and Humphrey declined Newsweek's requests for comment at this time.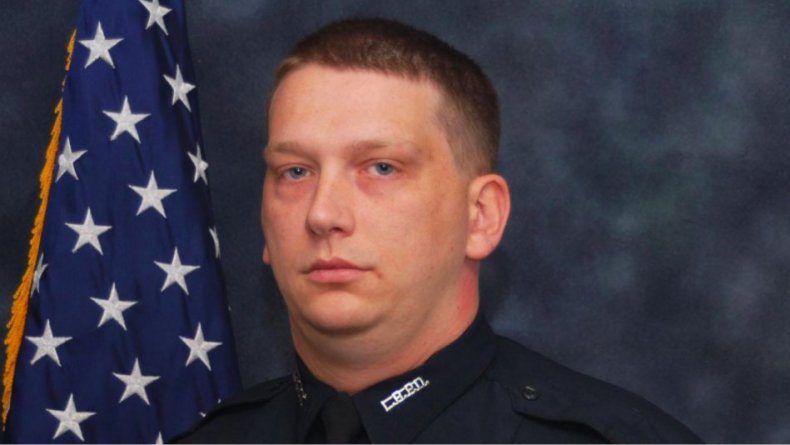 In February of last year, Starks fatally shot Bradley Blackshire after the officer pulled Blackshire over for allegedly driving a vehicle that had been reportedly stolen, according to police.
The department said after Blackshire had stopped the vehicle before accelerating and hitting Starks, at which point the officer opened fire 15 times through the windshield. Blackshire was struck eight times before he died.
After an internal investigation, Humphrey fired Starks three months later for violating department policy, which prohibits officers from voluntarily placing "themselves in a position in front of an oncoming vehicle where deadly force is the probable outcome."
However, a judge in Arkansas ordered the Little Rock Police Department to reinstate the officer, with an unpaid 30-day suspension and salary reduction, early this January, arguing that termination of employment was too severe of a punishment for the offense.
Starks said while his colleagues have supported him, Humphrey created a work environment that a counselor, arranged by the department's Wellness Unit, called "toxic."
"My fellow officers have been substantially supportive but, that doesn't overturn the manner in which you have treated me or caused me to be treated," Starks wrote.
"That counselor has recommended I resign because of the toxic environment that I am forced to work in because of how I have been treated," he added. "While I am physically capable of performing the job of a police officer; in the opinion of that counselor the working conditions at L.R.P.D. have unnecessarily caused and are continuing to cause extreme stress, which is not conducive to the performance of law enforcement duties or good mental health."
Starks said that it is "impossible" for him to remain on the police force so long as Humphrey is its chief.
Humphrey has been the target of five separate lawsuits from officers who have accused the police chief of retaliating against Starks and colleagues who have supported him. Officers have alleged that Humphrey has withheld employee records and back pay on top of "covering-up a hostile work environment," according to one of the suits.