White Bystanders With Rifles Stare Down George Floyd Protesters: 'You Ain't Got No Guns'
A viral video shows a group of protesters confronted by bystanders toting assault rifles after a demonstration against the death of George Floyd in Indiana this week.
The video, which was has circulated on multiple social media platforms, was taken after a protest in Crown Point, Indiana on Monday. It shows a group of young, diverse protesters walking down a trail after the demonstration as they are stared at by 21 counterprotesters lined up along the side of their path, some of whom are carrying oversized weapons. A white woman standing near the end of the line scoffs and loudly remarks to the protesters "you ain't got no guns" as they pass by.
It is legal to openly carry rifles or shotguns in Indiana, although handguns require a permit. Police can be seen in the video standing guard in at the end the trail, where they are thanked by some of the protesters.
"Many of the communities in Lake County, with obviously Crown Point being one, have had recent protests and marches at which citizens chose to have rifles with them," Crown Point Police Chief Pete Land told Newsweek. "Our specific protest was planned and peaceful. Those that attended saw a great display of citizens showing their passion on a very important issue. I commended the protesters and speakers as I spoke with them at the protest. It was during our march that these individuals chose to be present along the route."
"I wished that they all would have attended the actual protest to see and hear the messages being delivered," he added. "And that while there have been demonstrations in other communities that have had violence, this group was not one of them."
Widespread protests have continued to take place across the U.S. more than a week after the death of Floyd, an unarmed black man who was filmed dying after his neck was pinned to the ground by the knee of white police officer in Minneapolis, Minnesota on May 25.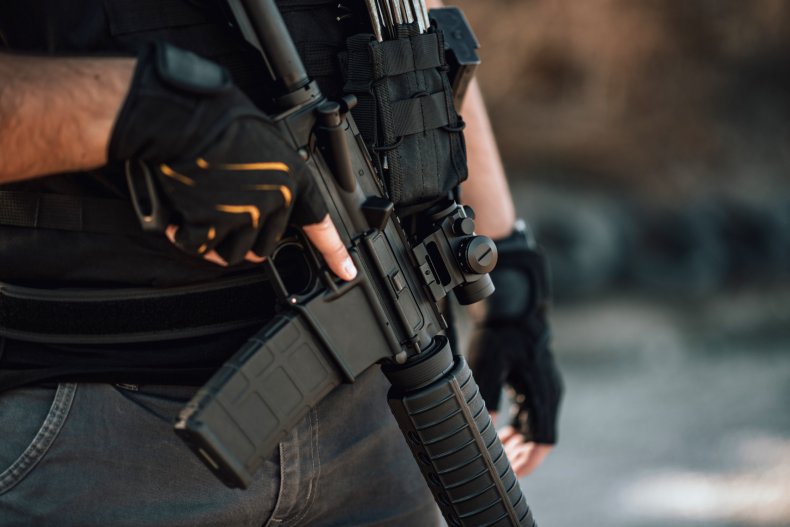 The protest in Crown Point, a city of around 30,000 residents, lasted nearly three hours long and is said to have drawn dozens of locals advocating against racial inequality and police brutality.
Cedric Caschetta, a 20-year-old college student who attended the protest, told the Associated Press a group of counterprotesters was present and engaged in "intimidation" tactics. Caschetta, who is black, said that the group gathered on the opposite side of the street and shouted disparaging remarks to protesters, including "You don't belong here," "You're the problem" and "Get a job."
Multiple reports have emerged throughout the U.S. of counterprotesters arriving at demonstrations while brandishing weapons. Although most incidents have not turned violent, some observers have denounced the displays of force as attempts to intimidate or incite otherwise peaceful protesters.
A 57-year-old Utah man was arrested and charged with three felonies on Thursday after allegedly shooting arrows at protesters the previous weekend. He claimed he was attempting to "protect the police" from the protesters. A video posted to social media shows the man brandishing a bow and shooting arrows after loudly proclaiming that he is an American and "all lives matter," before being quickly swarmed and beaten by the protesters.