Will You Have a White Christmas? Here's the Probability and Snow Forecasts
The holidays are just around the corner, but there's no guarantee that cities with cooler climates will wake up to snow on December 25.
So we've rounded up the latest weather forecasts from the National Weather Service (NWS) for ten of the most populated U.S. cities with a reasonable likelihood of a white Christmas.
The National Oceanic and Atmospheric Administration (NOAA) defines a white Christmas as one or more inch of snow on the ground on the morning of December 25.
To get a better picture, we've also looked at the latest data from NOAA's National Center for Environmental Information, which has worked out the probability of snow from historic Christmas Day weather between 1981 and 2010.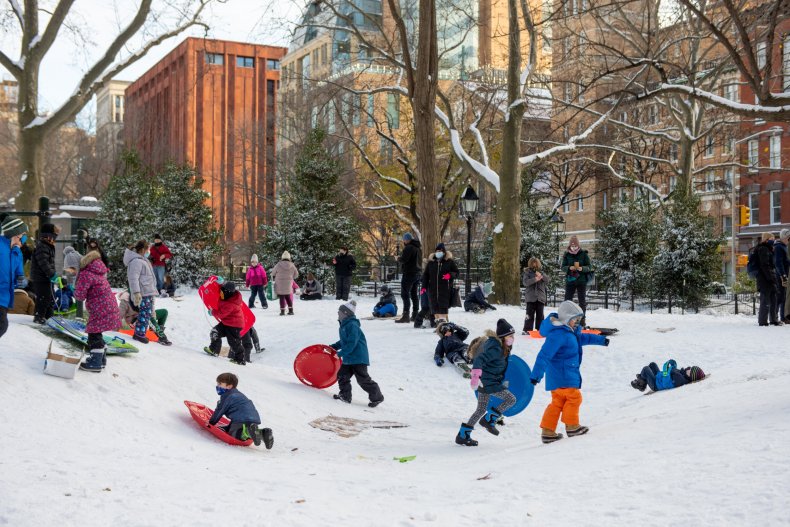 It's important to note that global temperatures have been warming at an increased rate over the last 30 years, causing more extreme and unpredictable conditions, according to the Environmental Protection Agency (EPA). Within the U.S., temperatures in parts of the North, the West and Alaska have increased the most, the EPA said.
Researchers from the nonprofit climate communication organization Climate Central identified recently revealed how snowfall patterns have changed since the 1970s in 143 American cities that receive annual snowfall of at least 5 inches.
This change in weather patterns may have had an impact on the historic probability of snow since 2010. Meanwhile, NWS forecasts could also change in the next few days as conditions unfurl.
For now, most cities that we looked into do not have snowfall forecast for December 25. However, there is a chance of flurries sweeping in before Christmas Day.
The temperature must be 32 F or lower for snow to settle—with the exception of a really heavy dumping. Based snow will also only last insofar as it stays cold.
So for people to wake up to a blanket of snow on the ground, there must be either a very heavy snowfall or flurries in freezing temperatures that last through to Christmas morning.
A huge winter storm swept across the northeast of the country last week, bringing a massive snowfall, freezing temperatures, strong winds and disruption— as well as beautiful scenery.
In New York City, the snowfall came at a rate of two inches an hour last Wednesday night, according to NWS. Central Park had 6.5 inches of snow and sleet by midnight.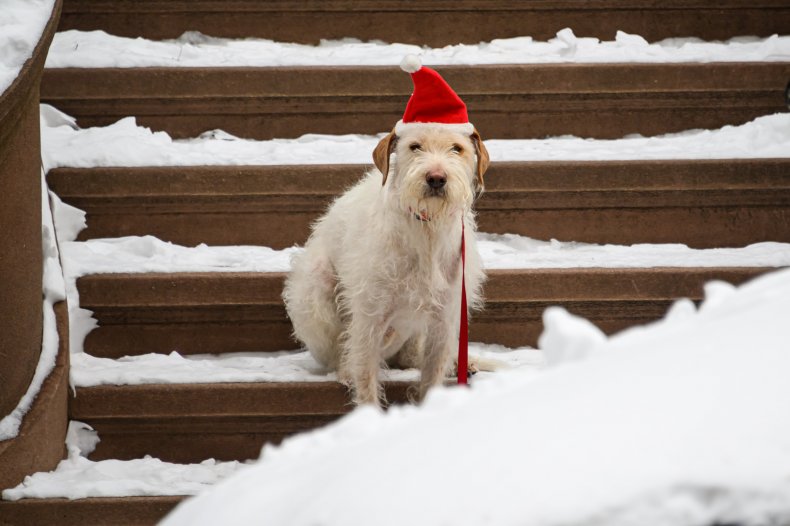 The U.S. won't see anything near this pre-Christmas white-out on the big day.
But here's the forecast and the statistics for ten of the biggest U.S. cities with a reasonable chance of a white Christmas.
New York
Snow forecast? No
NWS Forecast: Showers likely, breezy, high of 42 F.
Snow on the ground? Very unlikely.
Probability of white Christmas: Up to 17 percent
Chicago
Snow forecast? No
Snow on the ground? Maybe. There's a chance of snowfall on Wednesday night and Thursday with the temperature remaining below 32 F until after Christmas Day.
NWS Forecast: Mostly sunny with a high near 23 F.
Probability of white Christmas: Up to 40 percent
Philadelphia
Snowfall forecast? Yes
NWS Forecast: Rain and snow showers likely before 10 a.m., then a chance of snow showers between 10 a.m. and 1 p.m. Partly sunny, with a high near 37 F. Chance of precipitation is 60 percent.
Snowfall on the ground? Unlikely as the air temperature looks to be higher than 32 F but it depends how many inches fall.
Probability of white Christmas: Up to 12 percent
Columbus, Ohio
Snowfall forecast? No
NWS forecast: Forecast Mostly cloudy, with a high near 22 F.
Snow on the ground? Possibly. There's a chance of snowfall on Thursday and Thursday night, which will see a low of around 15 F.
Probability of white Christmas: Up to 23 percent
Indianapolis
Snowfall forecast? No
NWS forecast: Mostly sunny, with a high near 23 F.
Snow on the ground? Maybe. There's a chance of snowfall on Wednesday night and Thursday, with a high of around 29 F.
Probability of white Christmas: Up to 30 percent
Denver
Snowfall forecast? No
NWS forecast: Sunny, with a high near 51 F.
Snow on the ground? Unlikely.
Probability of white Christmas: Up to 40 percent
Boston
Snowfall forecast? Yes
NWS forecast: Rain before noon, then a chance of showers between noon and 2 p.m. High near 51 F. Southwest wind 13 to 16 mph, with gusts as high as 29 mph. Chance of precipitation is 80 percent.
Snow on the ground? Unlikely. The temperature's set to be higher than 32 F.
Probability of white Christmas: Up to 19 percent
Detroit
Snowfall forecast? Yes
NWS forecast: A chance of snow showers. Mostly cloudy, with a high near 25 F.
Snow on the ground? Likely. There's snow forecast for Thursday and Thursday night as well as Christmas Day with the temperatures generally remaining below 32 F
Probability of white Christmas: Up to 36 percent
Minneapolis
Snowfall forecast? No
NWS forecast: Mostly sunny, with a high near 21 F. West wind 5 to 10 mph.
Snow on the ground? Maybe. There's snow forecast for Wednesday and Wednesday night with the temperatures generally remaining below 32 F until Christmas Day.
Probability of white Christmas: Up to 74 percent