White School Board Candidate Uses Stock Photo Of Black Family in Campaign Ad, Rejects Criticism About It
A white candidate for the Cincinnati Public Schools board rebuked criticism he's trying to deceive voters into believing he's black over a campaign advertisement that used a stock photo.
Several Cincinnati officials are asking the public "not to be fooled" by a campaign ad paid for and distributed by CPS board candidate Steven Joseph Megerle. The former city council chief of staff mocked critics of the "Elect Megerle School Board" ad which shows a smiling African-American family and the caption "protecting taxpayers." Megerle scoffed at criticism from current school board member Mike Moroski who tweeted that Megerle is "a white guy pretending to be black to get votes."
Megerle argued the stock photo picture is relevant to his campaign because of what he described as an overwhelming majority of black students in "failing" Cincinnati Public Schools. According to district statistics, 64 percent of the student population is black while U.S. Census data shows wider Hamilton County is 26 percent African-American.
"Just stopped by to tell you not to be fooled by this ad with Black faces," wrote Cincinnati City Councilwoman Tamaya Dennard in a Sunday Facebook post blasting Megerle's ad. "All facts. Say NO to this pretender."
Megerle lashed out on Twitter Tuesday and called criticism of the stock image campaign ad a "partisan attack" and said he's "Fighting 4 all Taxpayers including my STOCK PHOTO FAMILY!" He also shared a nonprofit group's post which used stock images to offer support for CPS students, "Where is the outrage? #FakeNews Stock photos strike again!"
City Councilwoman Dennard was one of several Cincinnati officials who noted Megerle's ardent support of President Donald Trump and described him as "a joke of a Conservative who used to work at City Hall. Don't be deceived. Last year, he was at City Hall hanging up Trump and [Mike] Pence pictures. I think inclusive ads are great but that isn't what is happening here. He's trying to deceive people."
But Megerle told the Cincinnati Enquirer he is looking forward to working with Dennard, the city council and other school board members to help recruit African-American teachers to the school district through community block grant funding.
"Seventy percent of the students in our failing Cincinnati Public Schools are African American," Megerle said. "I am running so the children can have a chance to succeed and rise out of poverty."
Megerle did not immediately respond Wednesday to voicemails left by Newsweek.
School board candidates do not have to declare party affiliation on the ballot, but Megerle appears in several photos posted to social media which show him with a range of top national Republican Party members including Vice President Mike Pence, Kentucky Senator Rand Paul and South Carolina Senator Lindsey Graham.
Megerle insisted to The Enquirer on Sunday that claims he's trying to "mislead" voters are "nonsense" and he went on to label such accusations, "A partisan attack. They have no plan to solve our failing schools." Megerle confirmed to The Enquirer that the stock photo ad was paid for by his campaign, which sparked additional ridicule on his personal Facebook page this week.
"So who is running for school board, a member of this African American family or you?" remarked one critic.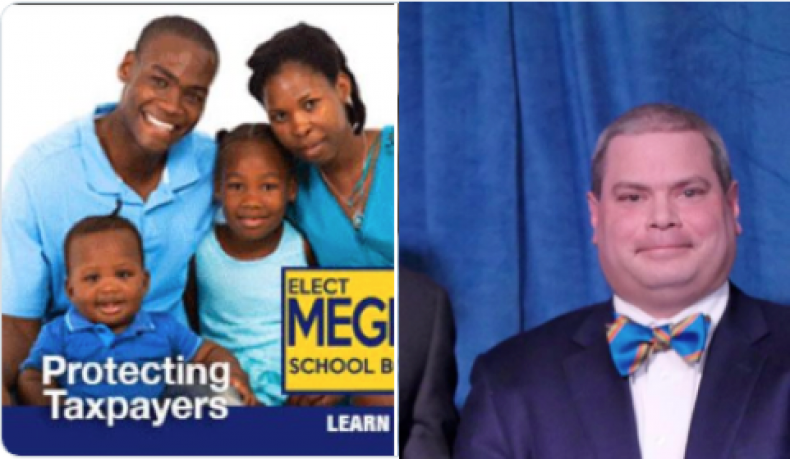 Regardless of whether or not Megerle intended to purposely mislead voters, a series of white conservative candidates have previously succeeded in the ballot box doing just that. In 2013, a white Texas Republican unseated a 24-year incumbent in a Houston Community College Board of Trustees campaign after candidate Dave Wilson used several African-American faces on flyers pulled from stock images. Many residents admitted to local TV stations they had been fooled by the ruse.
Wilson also claimed he was endorsed by a popular black Texas politician named Ron Wilson, but later admitted after winning that it was in fact just a reference to his own family member who shares the same name.
White School Board Candidate Uses Stock Photo Of Black Family in Campaign Ad, Rejects Criticism About It | U.S.