White Cop Punches Black Business Owner Who Reported Robbery of His Own Business
Kevin Penn, the 47-year-old owner of the Star Spirits & Beverages liquor store in Decatur, Alabama, was punched and tackled by police after reporting a robbery at his own business. Although the incident occurred last March, video of police assaulting Penn appeared online this last weekend and had no audio.
In a press briefing Monday evening, Decatur police showed bodycam footage with audio, showing the full altercation between Penn and officers. Officers apparently told Penn to step away from his firearm, but Penn argued he had a right to keep it at hand.
On March 15, Penn contacted police after a man tried to steal from his store. Penn had caught the would-be thief and held him at gunpoint, forcing him to lay face-down on the floor as Penn called the police to take his report and apprehend the thief.
When police arrived at the liquor store, Penn reportedly showed that he had a gun. He then removed its clip as well as the bullet from its chamber, and then laid the gun on a counter.
The one-minute video without audio released this last weekend shows Penn holding the gun while walking around his shop. As the police enter, one shines a flashlight in Penn's face as he turns to talk to them. After angrily pointing a finger towards one officer, the officer then punches him in the face and puts him in a headlock. Two other officers quickly restrain him and help tackle him to the floor.
Penn's lawyer, Carl Cole, says Penn had his jaw broken and several teeth knocked out because of the scuffle, according to the state news website, AL.com. Cole says Penn had to have his jaw wired shut for several weeks in order to heal.
Police bodycam footage played at a press briefing on Monday evening shows officers entering the liquor store. One officer tells Penn, "I get you, but you need to have your gun put down now."
"I'm not going to put down my gun if you got guns," Penn responds.
The officer yells, "I'm telling you to put your gun down."
"I have a right to have my gun," Penn yells back.
"You can put your hands up. I'm going to file a complaint," Penn says, just before the police tackled him.
Decatur police then slowed down the bodycam footage at the press briefing to show that Penn had his hand on the gun upon the counter while speaking to officers just before the officers punched and tackled him.
Police arrested Penn on the misdemeanor charge of obstructing governmental operations. A department spokesperson said that although Penn reported the theft as a robbery, something which implies an armed thief, the shoplifter had no weapon.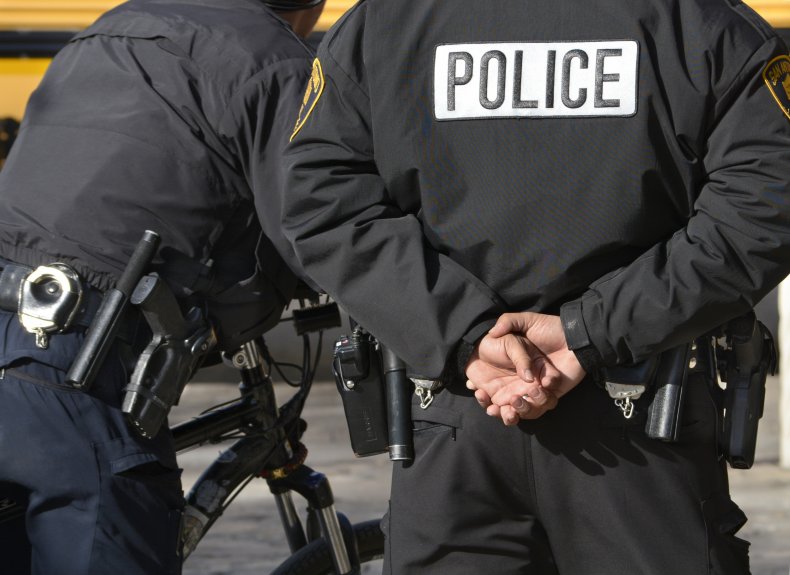 At a press briefing on Monday evening, Decatur police say they apprehended the shoplifter, but worried both about the presence of a weapon and that the thief might be armed.
"[Penn] refused to obey lawful commands to put down and back away from a firearm while officers were attempting to investigate a robbery," Decatur police Officer J. Rippen wrote.
Penn has since filed an internal affairs complaint and handed video footage over to the police.
While the officers who assaulted Penn are still on the force, a Decatur police spokesperson at the briefing said that an internal investigation is ongoing and Penn has filed a lawsuit against the police department.
Newsweek reached out to Decatur Police Department for comment/further information. This story will be updated with any response.