White Couple Blocks Hispanic Man From Parking in His Garage in Viral Video
A white man and his girlfriend attempted to block a Hispanic man from entering the parking garage of his own San Francisco apartment complex, according to a video that has gone viral since being posted on social media Thursday.
"You don't have a right to come in here," the white man, identified on social media as William Beasley, can be heard saying.
Apex Systems, a technology services business where Beasley had been employed, announced Thursday morning that they had made the decision to fire Beasley, effective immediately.
"We will not tolerate violent or racist behavior of any kind at Apex Systems," read the statement, which was posted to the company's Twitter account.
Michael Barajas, 28, said he had been out buying fruit Tuesday night when the driver in front of him would not let Barajas pull forward into his apartment complex's parking garage.
Barajas, who is Mexican-American, told NBC Bay Area that Beasley quickly became aggressive, claiming that he was trespassing and threatening to call police.
"If you have a key card, you can get in yourself. You're not coming in the f–king garage," Beasley said, according to the video. "I called the cops, so you got about five minutes to get out of here."
Barajas told Beasley he did have a key fob multiple times throughout the interaction, according to the video.
Barajas said he had been wearing black and that his tattoos were showing, telling ABC 7 that Beasley might've seen his appearance and decided he was a threat.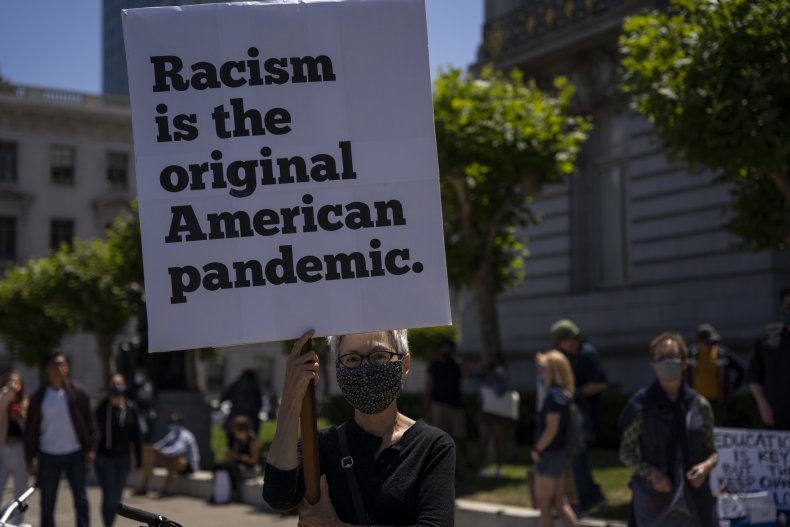 Beasley, who was sitting on the passenger side of a white SUV with a Florida license plate, and his girlfriend, who was driving, continued to block Barajas from entering the garage.
A bystander, who noticed the altercation, can be heard smacking Beasley's car and yelling for him to move, according to the video.
Beasley got out of the car and shouted, "You don't f—king touch this car," and then looked as though he was about to kick the bystander, who is then seen on the ground.
"I'm protecting our f--king place," Beasley yelled.
Allison Maxie, a spokeswoman for the San Francisco Police Department, wrote in a statement to Newsweek that officers from the Southern Station had been called to the apartment complex for a report of a battery.
"Officers met with a male victim who said that he saw a verbal argument ensuing between residents about entry into the building. The victim attempted to intervene and was assaulted by a male suspect," according to the statement. "The suspect left the scene prior to police arrival."
The victim declined to file a formal police report, Maxie wrote.
Officers from the Southern Station had contacted the original 911 caller to see if he would like to make a report but had not yet been able to reach him, according to the statement.
It is unclear whether the 911 caller is Barajas.
The viral video and Beasley's subsequent firing comes amidst protests around the world over police brutality and systemic racism.
"Both of you are f—king racist," Barajas can be heard saying in the video. "In the political climate that we're in right now, and you guys are going to act like this?"