White Evangelical Men Can't Get Enough Of Trump
A record number of white evangelical Christians say they support President Donald Trump.
According to a poll from the Public Religion Research Institute released on Thursday, 75 percent on white evangelicals said they had a favourable view of the president and just 22 percent saying they had an unfavourable view.
And white evangelical men are the most likely of that group to back the president, with 81 percent holding a favourable view of Trump compared with 71 percent of white evangelical women.
This is a dramatic jump in support for Trump when compared to the rest of the population, with a recent poll from ABC News/Washington Post putting the president's approval rating at just 40 percent. Another survey from NBC News/Wall Street Journal put Trump's approval rating at 39 percent.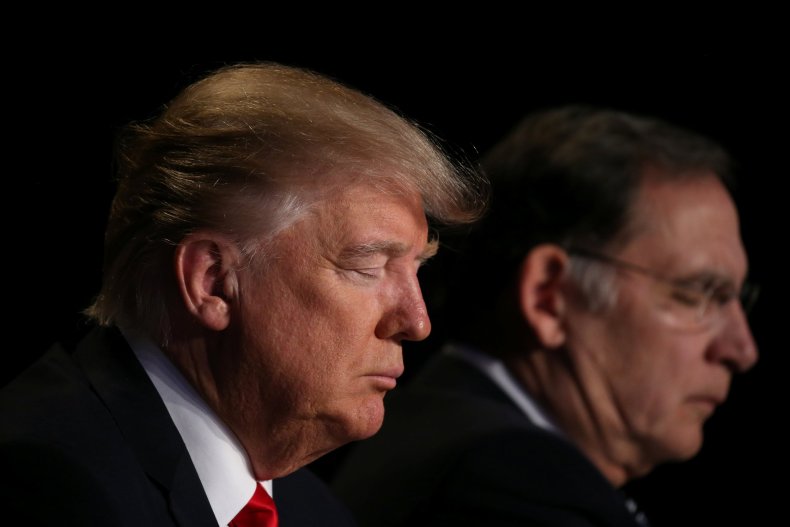 The president has also seen support fall in his previous stronghold, the South, with the majority of Southerners saying they disapprove of the president's performance, an NBC News/SurveyMonkey poll showed.
However, evangelicals appear to be flocking to Trump in droves, with support for the president in this particular group increasing over time, PPRI reported. Indeed, despite fluctuating at various points since Trump's inauguration, support for the president from white evangelicals has never fallen below 65 percent.
Given the support Trump received from white evangelicals in the 2016 presidential election (with Pew Research Center showing 81 percent voted for Trump), the president has taken several steps to repay the support since his inauguration, signing both a religious freedom order and reinstating the Mexico City Policy—which blocks funding to overseas abortion providers
Trump also reportedly has a number of evangelical Christians "on speed dial," with one member of the president's board of evangelical advisers, Johnnie Moore, telling Newsweek evangelicals had more of a voice under Trump than under former president Barack Obama.
"It's a totally different time now. They're not only on our speed dial, we're on their speed dial. In my opinion, it's good for America," says Moore.