White Evangelicals Are the Most Islamophobic Americans, Poll Shows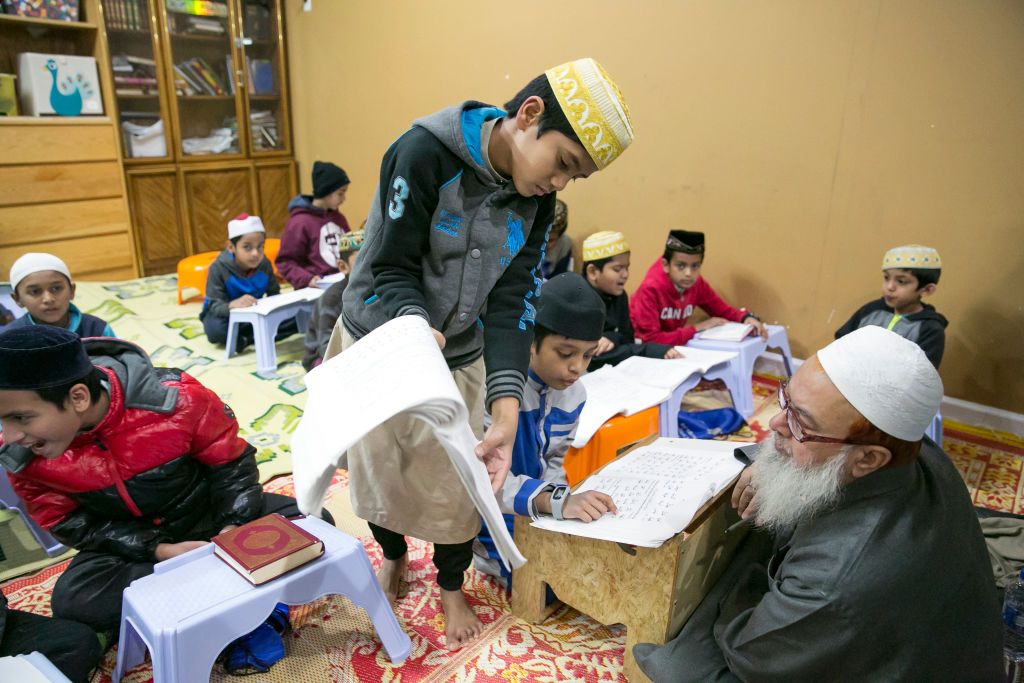 White evangelicals, more than any other religious or ethnic group in America, were the most likely to hold Islamophobic views, while U.S. Jews were the least likely to hold such views, a recent poll found.
The poll, released by the Institute for Social Policy and Understanding, surveyed Muslims, Catholics, Jews, Protestants, white evangelicals and those who considered themselves nonaffiliated about their views on Islam.
The poll treated white evangelicals as a separate group because of what the study called "their unique social and political characteristics."
Of all the religious groups surveyed, with the exception of American Muslims, Jews, by a larger margin than any other group, reported having a positive view of Muslims, at 53 percent. Thirteen percent of American Jews said they had a negative view of Muslims.
At the same time, 44 percent of white evangelicals said they had a negative view of Muslims, double the number that said they viewed Muslims favorably (20 percent), as the below chart from Statista indicates.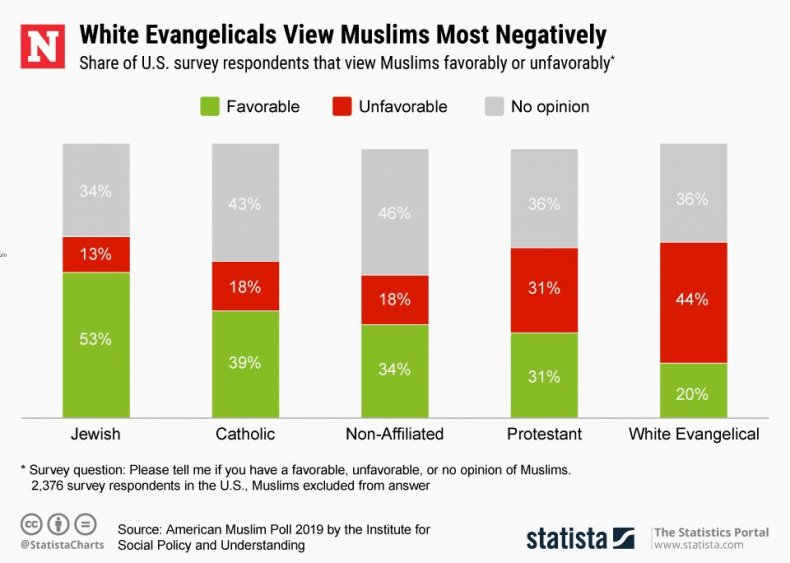 When broken down by race, Hispanic Americans were found to be five times more likely to hold positive rather than negative views of Muslims. Fifty-one percent said they had positive feelings toward Muslims, compared with 10 percent who said they had negative feelings. Black Americans were seven times as likely to have positive opinions of Muslims as opposed to negative ones.
White Americans were almost equally likely to have a negative as a positive opinion of Muslims, if they had an opinion at all. Forty percent of white Americans polled said they had no opinion about the Muslim community.
Muslims, according to the poll, gave President Donald Trump the lowest approval rating of all the religions surveyed, with only 16 percent of Muslim Americans saying they approved of the job Trump was doing. Other groups gave the president approval ratings that averaged between 24 and 50 percent. Seventy-three of white evangelicals said they believed the president was doing a good job, highlighting a divide between them and American Muslims when it came to their views of the president.
A separate poll of Jewish-American attitudes also found that a majority of Jews disapproved of Trump's record in office. In a broad indictment of the Trump presidency from the Jewish community before the 2020 elections, a survey by the Jewish Electorate Institute found that two-thirds of Jewish voters remained "firmly aligned" with the Democratic Party. The poll found 39 percent of U.S. Jews said they wanted to work actively to defeat the president in 2020.